And so the SASILS are back in the headlines. Can't say I've missed them, but seeing a sunglassed Robert Vadra strutting around oozing privilege from every pore in old footage did give me a mildly nostalgic shock of sorts. You know, for the good old days of beefsteaks and free speech and a-scam-a-day. (Btw, in case you're wondering, SASIL stands for Sons And Sons-In-Law.)
I'm looking at his return to the headlines as positive news for Rahul Gandhi, though. It sort of implies that people are warming to Rahul again, and so we've got to be reminded of his obnoxious brother-in-law, the biggest mystery about whom has always been not how he acquired his wealth but how he acquired Priyanka Gandhi. Robert really is India's SASIL #1, especially as he has the name of a Hindi movie villain's henchman and seems to relish the role.
But to be fair, all the credit for Robert's return to the headlines can't go to Rahul alone. It must be tabled that there is another SASIL in town. One who belongs to a top political family by birthright and didn't, you know, have to marry into it. So, he already has that over Robert. Besides, he's much quicker on the uptake—the moment a story appeared in a leading news website commenting on how unnaturally Jay Amit Shah's wealth had grown since daddy came to power, he immediately threatened to sue said website for Rs 100 crore. You've got to admire such speed and aplomb. Such a nice round sum, too—poore sau crore (a total of 100 crore), as Gabbar would've said, with his lilting, eastern UP cadence. But then, if you're a top quality SASIL, you might as well do things in style.
And he's got his PR act together as well. Barely a few days after the story broke, the media pulled out a plane ticket and a bunch of emails, back from 2012, linking Robert Vadra to an absconding arms dealer. Such good timing, na?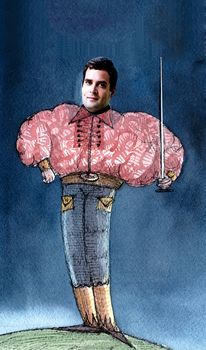 And so now the drama of bhala aapka SASIL mere SASIL se safed kaise (how can your SASIL be cleaner than mine) is playing out on our television screens, which is actually sort of good, because, let's face it, the Mayweather-McGregor fight turned out to be pretty flat, firecrackers have anyway been banned and the recent movie releases weren't particularly paisa-vasool.
Hmm, maybe our movies are seeming so lacklusture because there's so much action happening on our news channels. In the role of the hero, we have our doughty PM of course, fighting a corrupt system, in the best Salim-Javed style of the seventies. For comic relief we have clowns like Sangeet Som who call the Taj Mahal 'a blot on the nation' and claim they will 'change history'. (Umm, how, by destroying the Taj? That won't change history, you moron, it will just lose us our biggest tourism-dollar earner.) For that essential sanskari Alok Nath touch we have Pranab Mukherjee rebuking Rajdeep Sardesai for having bad manners and no etiquette. For twists and turns we have the various slabs of the GST. For that towering Bachchanesque factor we have Yogi Adityanath, who is planning to build a 100m tall statue of Lord Ram on the banks of the Sarayu. Once that is installed, its magical properties will ensure that (just like in the climax of Amar Akbar Anthony) no child will catch Acute Encephalitis Syndrome again. For shady villains we have our darling SASILS. And for re-entry after plastic surgery we have the post-Berkeley Rahul Gandhi. Nobody knows how much he remembers, if he's good or evil, or what his plans are, but at the moment, he seems kinda essential to moving the plot forward.
Anuja Chauhan is an author and advertiser.