Advertising #101: once you become top dog, you are no longer underdog. It is true for brands, it is true for people and it is true for people who become brands. Shah Rukh Khan was an underdog once, when he came to Mumbai with the famed 37 rupees in his pocket. So was Mahendra Singh Dhoni, growing up all goldilocked and grimy in Ranchi. And so was Narendra Modi, back in the day when he was Bal Narendra, selling chai on the roadside to sevaks going on tirthyatras.
They are romantic stories, all of them, featuring an audacious, upright underdog squaring off against a cynical, entrenched enemy—the star system in one case, the golden triad of Sachin-Sourav-Rahul in another and the corrupt Congress in the third. They are reminiscent of David versus Goliath, the 300 Spartans versus the might of Troy and the Cola wars of the 1990s, when a pipsqueaky Pepsi sassed Coca Cola with its cheeky 'Nothing Official About It' campaign, or later, when a pipsqueaky Sprite sassed (a much more grownup) Pepsi in turn. Consumers loved those campaigns, because consumers are underdogs, too, and there is nothing more fun than a Tom & Jerry style fight when a big dumb guy loses out to a clever little challenger.
Trouble is, once Little Shah Rukh grows into King Khan and Little Mahi grows into MSD and our favourite chai boy grows into Prime Minister Modi, the crown of underdog is taken from them. And they have to prove themselves to be good top dogs, or lose the top spot. That is just the way kaju katli crumbles. Shah Rukh and Mahi get this, but Modiji's team doesn't seem to have gotten the memo yet.
Guys, the good old days of pointing fingers at a corrupt ruling regime are over. Now, you are the ruling regime. You are Lutyens Delhi, your address is Lok Kalyan Marg, your pin code is 110001. Sunanda Pushkar, Bofors scam, Rahul Gandhi's various gaffes, all this is small beer—irrelevant, immaterial and misleading. It will barely keep the 24/7 media monster fed. You could try and make Pakistan/China/Presstitutes/Maoists/Muslims the Goliaths to your David, but eventually it ain't gonna be enough. You are the biggest wrestler in the ring, and nothing is going to be more compelling viewing for the audience than watching you get pulped.
(The Germans have a word for it—schadenfreude—a gloating joy in the misfortune of others. And the bigger and brighter the Other, the sweeter the taste of the schadenfreude.)
It is starting already. There is a faint sound of grousing, of trolls finding new paymasters, of honeymoon sunglasses being folded with a businesslike snap and put away. The DeMON debacle, the incomprehensible, arbitrary GST slabs, Aadhaar's encroaching on privacy are all aiding the mood swing. There are even hushed whispers doing the rounds that perhaps, just perhaps, Rahul Gandhi is not a moron/cokehead/borderline autistic after all, but just the victim of a sustained character assassination campaign—one straight out of a biopic on Parveen Babi, Silk Smitha or even Kangana Ranaut. No, really.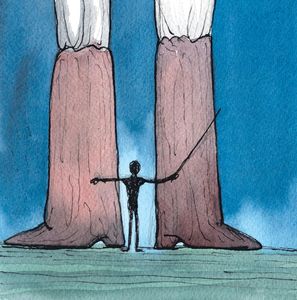 It is nothing personal, of course. Just a natural cycle. A pendulum swinging back has no personal animosity towards any direction; it just swings back because swinging back equally in the opposite direction is its natural law.
But, it is a warning to our ruling party to stop playing the underdog-underdog game, and grow up to do some real, statesmanlike leading, for a change. Eschew shiny, quick-fix 'item number' type initiatives like bullet trains, fancy statues and the printing of new notes in lurid colours, and do the sort of work that leads to you being declared an undisputed all-time great. Shah Rukh gave us DDLJ, Chak De and My Name is Khan. Dhoni won us back our pride as well as two world cups. What will you do that will make you an all-time classic?
Chauhan is an author and advertiser.