"ADGP S.M. Sahai had said that, as home minister, Mehbooba was in the know of all operations. This led to speculation that she cleared the action targeting Burhan."
Zakir Rashid Bhat could be the new chief of the Hizbul Mujahideen in Kashmir. But, residents of Noorpura village in Pulwama district find it difficult to believe this. The 22-year-old was a swashbuckler. He would thunder down the winding roads of the Tral mountains on his Yamaha YZF-R15, scaring basket-laden women lugging fresh produce to and from the markets. During the 'stone-throwing protests' in the valley, he took to the streets. But, so did many other youth.
His father, Abdul Rashid Bhat, is a senior government engineer and Zakir was his favourite son. Zakir's eldest brother is a doctor, and sister a bank employee. A sportsman, Zakir had represented Jammu and Kashmir in two national junior-level carroms tournaments. Bhat Sr was relieved when he got admission in a Chandigarh engineering college, and he gifted him a Honda Brio.
But, on July 17, 2013, Zakir left home to join the Hizbul Mujahideen. He left a note saying jihad was the only way to fight injustices faced by Kashmiri Muslims. His parents and siblings are deeply disturbed by the turn of events. And, as if in illustration, the R15 and the Brio gather dust outside the Bhat home.
Zakir's inspiration was Burhan Muzaffar Wani, 21, the social media savvy chief of the Hizbul Mujahideen. Burhan and his associates Sartaj and Azad were shot dead in an encounter with the Jammu and Kashmir Police in Kokernag village, Anantnag district, on July 8. While security agencies celebrate Burhan's death, the valley is afire in protest.
Thirty casualties have been reported, including a nine-year-old girl and police driver. The policeman drowned to death when protesters pushed his vehicle into the Jhelum river in Anantnag district. The number of injured has touched 1,300, including at least 100 security personnel.
Most of the injured have suffered eye trauma from pellet guns used by the police. Doctors fear some could lose sight in one or both eyes. An example is Umar Ahmad Wani, 11, of Pulwama. He has pellet wounds all over his body, and a few pellets are lodged deep in his eyes. Doctors doubt whether surgery will reverse the damage.
Sri Maharaja Hari Singh Hospital and Sher-i-Kashmir Institute of Medical Sciences, both in Srinagar, are handling most of the cases. Journalists, especially photojournalists, faced the ire of relatives who objected to victims' photos being clicked. They said they feared being identified by the police later. The brother of a patient demanded this reporter's ID, yet he refused to say where or how the victim was injured.
SMHSH STAFF ALLEGED the police fired tear-gas shells inside the hospital on July 9, and then whisked away two young men with pellet injuries. Reportedly, 25 ambulances, too, have come under attack from enraged security personnel.
Health department sources said that a total of 70 doctors were manning the casualty wards in both hospitals. In addition to this, nine ophthalmologists are working on eye trauma cases. A general surgeon who refused to be identified said he had performed 10 major surgeries on victims, since July 9.
The violent uprising in the valley has hit the ruling allies—Jammu and Kashmir Peoples Democratic Party and the Bharatiya Janata Party. This is the second major riot since Chief Minister Mehbooba Mufti took over on April 4. In the first riot, five protestors were killed in Handwara in Kupwara district. The victims were part of a crowd that attacked an army bunker alleging that a soldier had tried to molest a girl.
In the current riots, most of the violence and deaths have taken place in PDP strongholds of Anantnag, Pulwama, Shopian and Kulgam. Most PDP leaders are avoiding public contact. Some shifted to secure locations after crowds torched the house of Abdul Rahim Rather, MLA from Kokernag.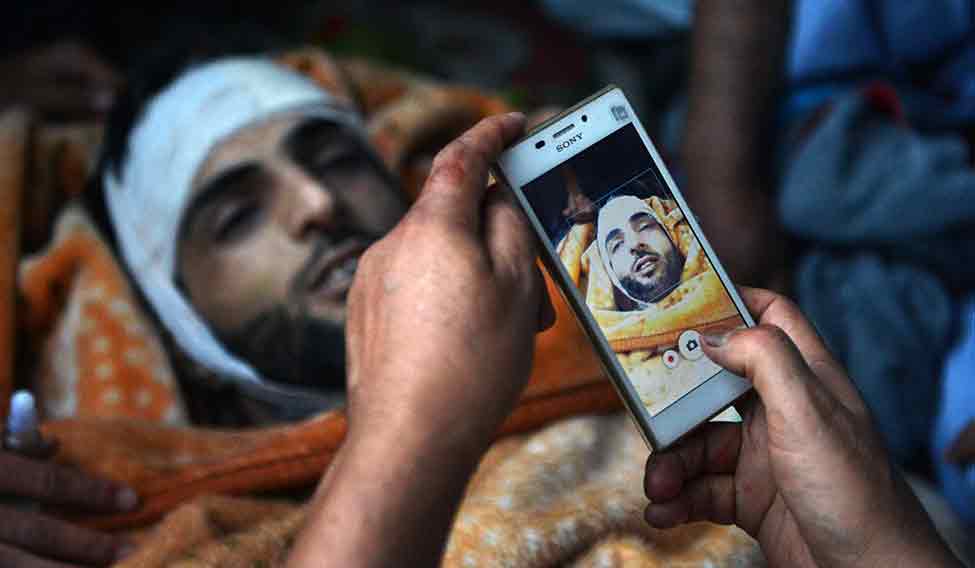 After Mehbooba appealed for help from political parties and separatists for restoring clam, National Conference working president and former chief minister Omar Abdullah hit out on Twitter: "Please don't take the easy option of hiding behind your spokesperson & your police officers. No one elected them, the people elected you." Hurriyat Conference leader Syed Ali Shah Geelani was attacked on social media after he appealed for calm.
Naeem Akhtar, government spokesperson and minister for education, left a news briefing midway when he was asked why the government was not resigning over civilian deaths. The PDP had asked the NC government to quit during the 2010 riots.
Additional Director General of Police Shiv Murari Sahai had said that, as home minister, Mehbooba was in the know of all operations in Kashmir. This led to speculation that she cleared the action targeting Burhan. Interestingly, Mehbooba had built her political career by sympathising with the families of slain militants, especially Hizbul Mujahideen cadre.
The Centre is closely monitoring the situation. Home Minister Rajnath Singh directed Central forces to provide all assistance to the state government. Amarnath pilgrims stuck in Srinagar were escorted out and taken for the yatra. Those stranded at higher altitudes have been escorted back. But, the pilgrimage has been suspended from Jammu to Srinagar. Most tourists are confined to hotels and houseboats.
Security personnel are divided on the gains from Burhan's death. Some feel it has dealt a crippling blow to the Hizbul Mujahideen, while others say he was a soft target who never attacked security forces. "His strength was that he used social media to glamorise militancy," said a veteran police officer. "Most Kashmiris are not good at military tactics, unlike the foreigners like the Lashkar-e-Taiba. There are many FIRs against him, but none pertains to IPC 302 [murder]."
A secret report filed by the Jammu and Kashmir Police to the Union home ministry said that during the 2010 summer unrest, accessibility to social media in Kashmir was 25 per cent. It was at 70 per cent in 2015, the report said. Most of the users are youth who grew up in the conflict years. Burhan appealed to them and was rewarded.
Burhan was tracked down by human intelligence, not electronically, a senior police officer said. The arrest of a few Hizbul Mujahideen workers in Awantipora, Anantnag district, led to more arrests in south Kashmir. Interrogation revealed the location of a militant hideout and arms cache in Kokernag. "It [interrogation report] had no mention of Burhan's presence," the officer said.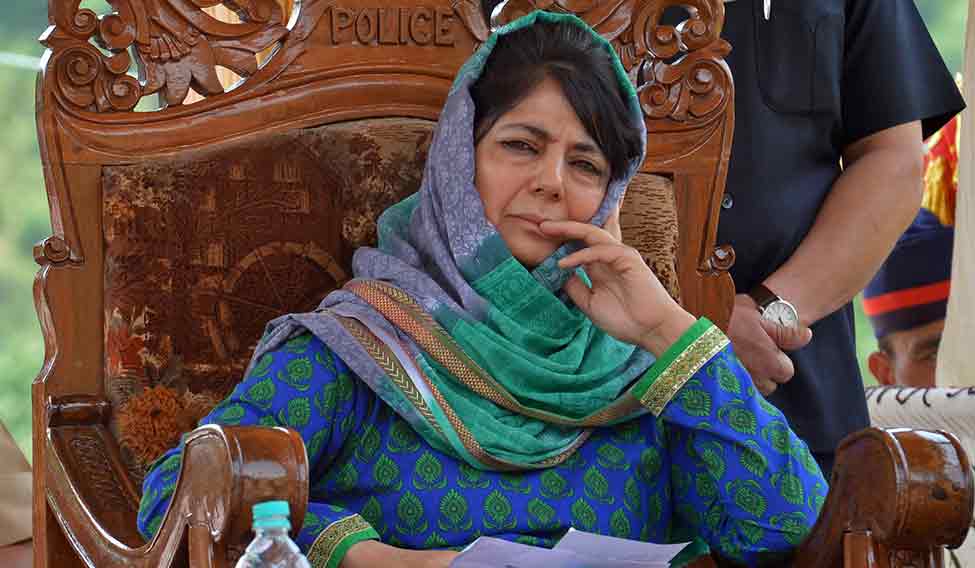 The police felt they might be on to something big and mobilised a Special Operations Group from Srinagar, rather than alerting the one in Anantnag. The SOG teamed up with 19 Rashtriya Rifles and raided the hideout. One source said Burhan tried to flee, but was trapped in a narrow lane near the hideout. Two SOG men were injured in the attack.
Burhan had a close shave on April 13, 2015. His brother Khalid Muzaffar Wani and three friends had gone to meet him in Kamla forest in Tral. Khalid was carrying lamb curry and rice for his younger brother. The foursome met Burhan and three associates in the forest. But, an army patrol accidentally discovered them. Though a firefight ensued, Burhan and Co escaped. Khalid and the others fell into the Army net. Under pressure from villagers, they were handed over to a special operations group of the Jammu and Kashmir Police.
But, it was Khalid's body that reached the family that evening. "Since Burhan left home, I would imagine a procession walking to our house carrying his body," said Muzaffar Wani, his father, last year. "I had been mentally prepared for it. I never thought it would be Khalid." Muzaffar was the principal of a government school in Tral.
After Burhan's death, Muzaffar told THE WEEK: "I am happy he has achieved martyrdom. Victory or martyrdom is what I had hoped for. [If he was taken prisoner,] the security forces would have tortured him. Khalid was tortured. I looked at every inch of his body. There was no bullet mark. All his teeth had been damaged. His nose was broken. His forehead and skull, too, were broken."
Khalid's death motivated Sabzar Ahmed, 28, and Shakir Ahmed, 15, to join Burhan. Shakir is reportedly the youngest member of the Hizbul Mujahideen. How many will be inspired by Burhan's death?