Rohit Sharma has changed. And, it is not just about his game. The dashing Indian opener has shed a few kilos and now sports a beard and a moustache, which seems to be on its way to giving serious competition to the one sported by his opening partner Shikhar Dhawan.
In all, there is a 'feel good' air about Rohit. His prolific performances in One-Day Internationals and Twenty20s have made him one of the most dangerous, high-impact batsmen in recent times.
What's behind the change? "I think it's the marriage. Certainly people are talking about that!" he quips, with a laugh.
Rohit married his girlfriend Ritika Sajdeh in December last year. "It is my space which has gone. Ritika's things have taken over my bathroom. I feel the change most in this aspect," he said, when pestered by a fan during a Facebook chat, just ahead of India's match against New Zealand in the ICC World Twenty20 Championships.
Rohit has no qualms taking personal questions and discussing his past failures and present successes. No wonder that people associated with him define him in two words: chilled out.
Rohit made his ODI debut in June 2007 and his T20 debut two months later on the basis of his sheer talent and performances in domestic cricket and the 2006 Under-19 World Cup. The first six years of his international career, however, failed to sparkle. Stellar innings were sporadic.
In 2011, selectors left him out of the team that won the ICC World Cup at home. He returned to Team India as a replacement in 2013. Then began a new phase in the Mumbaikar's cricketing life.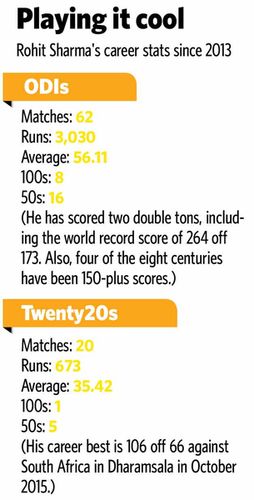 Rohit, 28, soon evolved as a match-winner. One key factor was that he found his niche as an opener. Post Sachin Tendulkar's retirement and as players such as Yuvraj Singh lost their slots, the team management backed Rohit as an opener.
"Since I started batting at top of the order, I have known that there is the responsibility of batting 20 or 50 overs," he says. "Since one has the opportunity, one can take time to settle in. Over the years, I have understood that. I have corrected mistakes, I think about shot selection a lot more now."
Rohit, however, has no plans to change his natural game. "If I see the ball, and if it is in my arc, I will still go for the shot. In the process, I might get out," he says.
Interestingly, akin to Sachin, Rohit was keen on becoming a bowler in his growing years. Like Dennis Lillee did in Sachin's case, Rohit's coach and mentor Dinesh Lad steered him towards batting.
NOWADAYS, ROHIT IS more self-tutored. "He was always mentally secure when it came to the skill aspect of his game," says close friend and Mumbai teammate Abhishek Nayar. "Post 2011, he worked hard on his physical fitness. He lost weight, and mentally felt good. Opening the batting, too, gave him quite a bit of confidence. All these changed things completely."
Team India director Ravi Shastri says, "It has been just a case of mind over matter. There is a lot of self-belief in him."
In lean times, the best are known to head back to the drawing board and dissect each aspect of their game, but not Rohit. "He is not the kind of guy who talks a lot about his game," says Abhishek. "He knows what his batting strengths are. He was pretty secure in knowing how to get runs; it was just about making sure he was mentally in a good space. What you see now is the result of the fact that he is secure about his position and career."
Rohit, whose roots are in Dombivli, now lives in a swanky apartment in Bandra. He spent a large part of his childhood away from his parents, and was with his uncles in Borivali, so that he could train well.
Friends recall him being easygoing and undemanding—traits he displays even now. When asked what upsets him the most while batting, he thinks hard and scratches his head. "The movement behind the sight screen," he says.
One hallmark of Rohit's personality is, in his own words, "the ability to look ahead". He is not the kind who would go into a shell, mope about or get carried away.
Even as he reflects on his past failures, there is no trace of dejection. "At that point, you are a rookie and do not understand your game much," says Rohit. "There are guys who understand it pretty early in their careers, but I was not one of them. I certainly took a lot of time. I know my game now, I understand it really better. I always look forward."
Abhishek describes his mate's chill-out nature best. "Rohit is someone who can forget a good innings as quickly as a bad one. He never gets overexcited about his performance," he says. "He just looks to enjoy his cricket."
Take the way Rohit reacted to a question on being 'in the zone' post the recent T20 against Sri Lanka in Ranchi. "I do not want to think that I am in the form of my life. I just want to continue doing the same," he said. "When you have got something going for you, you hold on to it and keep looking forward. Every game I play, I leave it behind me."
For now, Hitman Rohit, who loves eating out with friends and his wife, and exploring new places, is in a zone of his liking—marital bliss, consistent form; enjoying life, enjoying cricket. And, that is good news for Team India.