Apurvi Chandela could well pass off as another sweet, soft-spoken, pretty sociology graduate from Jesus and Mary College, New Delhi. There is an air of calm around the 22-year-old as she practises at the Karni Singh Shooting Range, under the keen eyes of coach Stanislav Lapidus. Her training complete, she calmly dismantles her Walther rifle, packs her shooting uniform away and leaves the range to meet the team physio. As it is all done without fuss or arrogance, she hardly makes a ripple as she walks out.
Chandela is the second Indian shooter to secure an Olympic quota slot for Rio 2016; pistol champ Jitu Rai was the first. She had five podium finishes in the last two years (see graphics). So, she is one of the world's best. "No," she says, with a surprising ferocity. "I will only accept that when I perform at the Olympics."
She, however, acknowledges that the Commonwealth Games gold was a confidence booster. Especially because she had just missed the bus to the World Championships then. Lapidus is credited with moulding Chandela into an Olympic contender. The Kazakh's critics say he does not spend equal time with all rifle shooters. But, he delivered an Olympic medal through Gagan Narang in 2012. And, he is expected to deliver in Rio, too.
Lapidus has coached Chandela from the time she was in the junior national side. Before that she trained on her own in Jaipur, picking up pointers from coaches. After London 2012, the National Rifle Association of India asked Lapidus to focus on the senior team. But, Chandela and Elizabeth Koshy were asked to continue training with him as they were on the cusp of making it to the senior level.
Lapidus's trust in Chandela proved correct as she started performing consistently in key competitions as a senior. "When she got quota for Rio in the World Cup in Korea, most people were surprised," he says. "But, I was not. I knew she was ready. My job is not just to improve her technique. I spent more energy making her understand her potential and helping her become mentally confident. A shooter needs time to adapt and accept that she is part of the elite shooters in the world. Apurvi became one very quickly. She had to recognise herself as one of the top shooters in the world.
"When she was in the junior team, she was not ready to show results. I had to take a few steps back to work with her. She would come with her mother and train privately at the Karni Singh range, even when no camp was on. After watching her, I asked her to join us for the finals with the senior team." That was in 2013 and, since then, Chandela has not looked back.
Chandela's is a classic example of an Olympic medal-winner inspiring a generation. "I was in Class 11 when Abhinav Bindra won the Olympic gold," she says. "I was watching one of his interviews, as I was keen on shooting. So, my parents and uncles asked me to start. One day, my father took me to the range. I tried pistol and rifle shooting. I liked the rifle better."
Chandela's father, Kuldeep Singh, is a hotelier, and her mother, Bindu, is a former athlete. An alumnus of Maharani Gayatri Devi Girl's School, Jaipur, Chandela moved to Delhi to hone her skills. She now lives alone in Gurgaon and drives daily to the range in Faridabad. Kuldeep has also set up a range for her at their Jaipur home. Bindu, a homemaker, accompanies Chandela to competitions. "My mom is always calm and meditative," says Chandela. "She can handle pressure very well. My father cannot! When he travels with me, he will not enter the range. He gets tense."
Her daily routine is uncomplicated, like her shooting. "At home, I wake up at around 6am, spend an hour with my family and play with my dogs. Then I go running and swimming. Then, five to six hours of shooting. That's 300 to 400 shots. I do not shoot continuously. I take a break when I am tired, and then go back and shoot."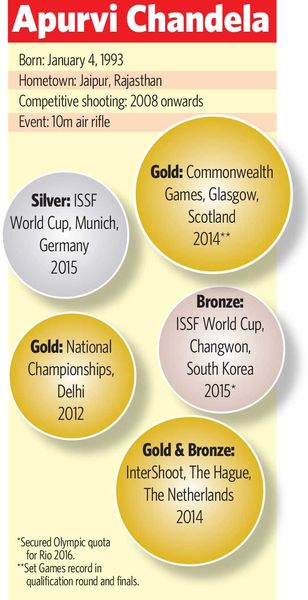 Interestingly, Chandela's support system is her entire clan. Not just her parents and elder sister, but her extended family. Fifteen members of her family flew to Glasgow to cheer for her. When a World Cup is on, family members track the scores online and post them on their WhatsApp group.
Even Lapidus, who detests too much limelight on his shooters, acknowledges that Team Apurvi has a crucial role. "They have family spirit," he says wryly. "The family is like her team. Parents sacrifice attention to their business to support her. In Glasgow, I had to tell the relatives what to think and say to her! Not to interfere, but to support. It is very difficult for shooters to shoot in front of relatives. I had to convert the pressure to support."
Chandela admits that winning the Olympic quota was a huge relief. "The World Cup was my first chance for a quota. I was very relieved to get it there, as I now have more time to prepare for Olympics."
The key to her steady rise has been consistent results. "Maintaining consistency in every match I play is my goal," she says. "I am only focused on executing the technique well and keeping nerves calm. It is the same feeling for me then, not too many ups and downs. That brings consistency. I do a lot of self talk and tell myself that at the end of the day my gun should speak. Expectations will be there always now, so I cannot keep thinking about it."
Not that it is smooth sailing for Chandela always. She does have her sticky moments, enough to stress out Lapidus. "In the Korea World Cup, she jumped into the finals in her last three shots," he says. "That is very dramatic. She had dropped to 12th position. She could have missed her final. I told her that what she was doing was very risky. I had to shake her brains. After that she went and shot 10.7, 10.6 and 10.8, and made it to the finals."
She meditates to stay calm, relaxed and focused. She has also started reading books, mostly biographies of champions like Michael Phelps, Rafael Nadal and Bindra.
Chandela is from that lucky generation of Indian shooters who have Olympic medallists Bindra and Narang to guide them. Bindra speaks to her about the mental aspect of the sport, while Narang guides her on the finer points of the gun, an area which deeply interests the London Olympics bronze medallist. "I can ask Gagan bhaiyya and Abhinav bhaiyya anything," Chandela says. "I watch them while they are shooting, how calm they are when they release their shot."
However, while Bindra and Narang have complex layers to their shooting, Chandela strives to keep her technique simple. She says, "If I keep going too deep, I might just complicate things that are now going for me. The things working right for me are quite simple."
For now, she is focusing on the 8th Asian Airgun Championships to be held at the Karni Singh range from September 25. "Shooting in the finals is very important, and it is different shooting," says Lapidus. "Shooters have to expect and survive the stress. That is why this event is important." The preparation for Rio has started.