In August, Mahendra Singh Dhoni underwent training at the Paratroopers Training School in Agra. The honorary lieutenant colonel completed one of the five mandatory jumps from an Air Force aircraft and was well on his way to becoming a qualified paratrooper. Yes, Dhoni was soaring high. Meanwhile, his on-field career was in free fall.
A few weeks later, India lost the Twenty20 series 2-0; the last match of the series was washed out. As, it seemed, was Dhoni. The first ODI in Kanpur brought no cheer either, as the skipper stumbled in the last over. Chasing 303, India fell short by five runs. Soon enough, critics started questioning Dhoni's place in the team. The finisher was finished, they chorused.
In the first innings of the second ODI in Indore, Dhoni hit the last ball, and the criticism, for a six. He was unbeaten on 92 and helped India reach a respectable total of 247.
Said former chairman of selectors Dilip Vengsarkar: "He still has some gas left in the tank, I am sure about it. He is batting at a position where he needs to score quickly. And, at the moment, he is doing justice."
Former Indian captain Sunil Gavaskar, too, defended Dhoni. "It is unfortunate that he has been made a scapegoat," he told a news channel. "I feel Dhoni is good enough to play for another three to five years."
The legend of Dhoni has been growing since his ODI debut in 2004. He started as a big-hitting match winner and soon became a famed finisher. He teased opposition bowlers and would drag the match into the last over, often finishing it with a few helicopter shots.
And, statistics don't lie. Dhoni's career ODI average is 52.11. Of his 8,651 runs, 3,571, at an average of 45.78, have come batting at number six.
But, times have changed. In a syndicated column, former Indian captain Krishnamachari Srikkanth said: "Dhoni used to be great when the ball was pitched up to him. The bowlers have understood that they cannot give him any room and Dhoni won't be the same again. He can still be an accumulator, but not the same devastating MSD."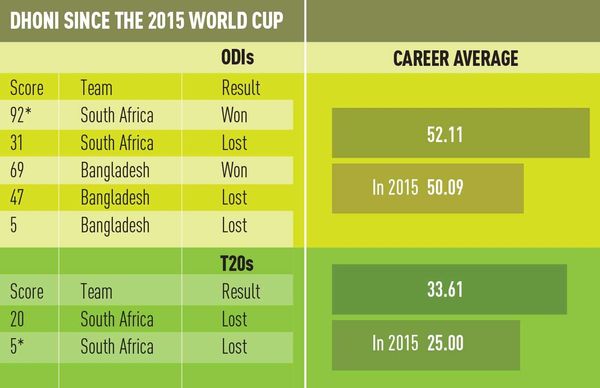 Yes, he is not the same. In Indore, for instance, his hard-fought innings on a difficult wicket was not a reflection of the old, swashbuckling Dhoni. Instead, it showed a man who knew his limitations. Though, with the 92, Dhoni seems to have partly answered his critics, one good innings isn't enough to silence them. Their have been arguments that his cricketing abilities have been on the wane. In his last few matches, he has been relying more on his running than his batting, say critics. And, questions about his captaincy and future continue to haunt the captain.
Former Indian spinner Bishan Singh Bedi, a long-time critic of Dhoni, said: "I believe that Dhoni's best years are behind him," said Bedi. "Nobody forced him to quit Test captaincy, especially when he had been made the skipper for the entire tour of Australia in 2014. After the first Test, he decided to chuck it. If that was not a clear indicator of the man's thought process, then what is? I sympathise with him. The change at the top in the Board of Control for Cricket in India has affected not just Dhoni, but many in the BCCI." Bedi seemed to be implying that Dhoni is no longer protected by former BCCI president N. Srinivasan. The return of no-nonsense hardliner Shashank Manohar seems to have affected him. "It shows on his face, his physical appearance and reactions to the media. He is a ruffled man," said Bedi.
Dhoni's recent statements have been confusing. Before the Kanpur ODI, he said he wanted to bat up the order. "One of the reasons I want to bat slightly up the order is [I wanted] someone else to take the responsibility of batting at five or six," he said. "Six is a crucial position. Till they are not exposed to it, we won't really know who is good in that position." However, in the match, Ajinkya Rahane batted at number three, which has been Virat Kohli's position, while Kohli and Dhoni came in at four and five. Dhoni had batted at number four in the ODI series against Bangladesh earlier this year. He scored 69 and 47, but India lost the series.
Moreover, Dhoni's indecision seems to be destabilising the batting order. After the Kanpur ODI, he said: "Sometimes, even number four is quite low for him [Rahane]. I think he is somebody who should bat up the order. Opening is a slot that fits him really well." But Dhoni knows that Shikhar Dhawan and Rohit Sharma are well-established openers and, to move Rahane up the order, he would have to displace Kohli from number three, a slot that produced most of his ODI centuries. Perhaps it was Kohli's lean patch that urged Dhoni to remove him from the vital position.
While on commentary during the first ODI, former Indian captain Anil Kumble said Kohli should continue at number three and that Rahane had the ability and talent to succeed even at number five if need be. Bedi, too, seemed unhappy with the change in the batting order. "Rahane can bat at three, four or five or any position," he said. "He has age on his side and has the ability to adapt. Dhoni, even if he moves up, will be swimming against the tide."
And, even if Dhoni regains his form, it is clear that he won't be around for a long time. Who after Dhoni seems to be the question. "The selectors need to have a closer look at what Dhoni is doing in the side, not just as captain but also as a player," former Indian pacer Ajit Agarkar told a leading cricket website. "He has been a great player for India but you don't want him to become a liability. The selectors might need to look at where the Indian team is heading."
This is where the problem lies. While chief selector Sandeep Patil has expressed full confidence in Dhoni's leadership for "this series", the selectors haven't said anything about the future. Said former chief selector Kiran More: "The problem is selection. We need a couple of good fast bowlers. We have to look at Stuart Binny's utility. Kohli's performance has been pathetic. No one is talking of the team as a whole and the balance that various players are bringing or not bringing."
Dhoni's stamp on the playing eleven is evident. But, he is unlikely to lead or even be part of the team a year from now. While the selectors are struggling to bolster the bowling bench strength, they have not even thought of grooming a young wicket-keeper to replace Dhoni. Wriddhiman Saha and Naman Ojha are on the radar, but all eyes are on Sanju Samson.
But, with the ICC World T20 championships set to be held in India next year, the BCCI is unlikely to go for an overhaul. "The selectors lack courage and conviction," said a disappointed former Indian skipper.
Dhoni might have fended off critics with his latest innings, but it will take a lot more to keep them at bay.