Last September, Dutee took her fight to the Court of Arbitration for Sport. It was the first appeal in athletics challenging the hyperandrogenism rules.
She is everyone's favourite. In the searing June heat, her teammates call out and throw their jumpers at her as they prepare to leave the Jawaharlal Nehru Stadium in Delhi for a press meet at the Athletics Federation of India (AFI) office. She laughs, collects them all, bolts up a staircase to leave them in a room, and bolts back down. An official tells her a reporter and photographer are waiting to meet her. She looks around, spots THE WEEK team and smiles.
Dutee Chand has reason to smile. She would run the 4x100m relay at the Asian Athletics Championship in Wuhan, China. Though the team came fourth at the June 3-7 event, for Dutee, it was the first time she was allowed to compete on the international stage after 11 months.
At five feet four inches, Dutee is petite, her 19-year-old face a mix of the impishness of a youngster and the weariness of a battle-scarred veteran. Hair tied neatly in a ponytail, the fingernails on her left hand are painted a bright red, matching her red ear studs. Why nail paint only on her left hand? "Because I eat with my right hand," she giggles. The ice is broken.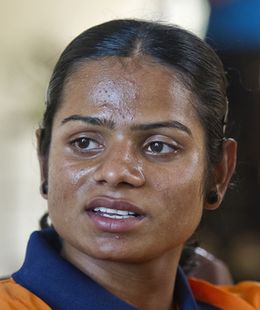 "Every athlete lives with the tension of performing well and winning a medal," says Dutee. "But I have double tension. The first is to do with competing and the second, regarding my case. When the final decision comes, I wonder if I will be able to compete or not."
On July 12 , 2014, Dutee's world came crashing down when AFI banned her from competing in the Commonwealth Games in Glasgow. Tests conducted at the Sports Authority of India (SAI) centre in Bengaluru showed that she had excess androgen, which meant that levels of testosterone in her blood were above the permissible limits prescribed by the International Association of Athletics Federation (IAAF) for female track and field event competitors. Their testosterone levels, as per rules, must be below 10 nanomoles per litre, the bottom limit of the "normal male range".
Dutee found herself being escorted out of the SAI centre. Only two months earlier was she hailed as India's next big sprinting star after she bagged two golds at the Junior Asian Athletic championships in Taipei. Glasgow was tipped to be her breakthrough event at the senior level.
Dutee went back home to Chaka Gopalpur village in Odisha's Jajpur district, where she and her family had to endure the trauma of seeing the controversy relayed endlessly in media. Some even asked her uneducated parents if Dutee was indeed a girl. "My mother asked me why journalists were asking this question," she says. Her elder sister Saraswati, an athlete and a constable in the Odisha Police, says her mother finally snapped at a reporter: "For 17 years I have brought up Dutee as a girl and dressed her like a girl. How can a girl suddenly be called a boy?"
Saraswati advised Dutee to leave the village. "I was worried she might get depressed and harm herself," she says. "I told her to go to her friend's house in Cuttack, and to enjoy herself, to shop and eat whatever she wanted." She told Dutee to treat this period as exile: "Like Lord Ram was forced into exile for 14 years, this is your exile. Don't look back at what has happened, concentrate on what lies ahead."
Researcher and activist Dr Payoshni Mitra heard about the controversy from a journalist who contacted her for her opinion on Dutee's case. Mitra, who specialises in gender and sports, has worked with athletes whose gender has been disputed, including Pinki Pramanik, whose gender was widely debated in 2012. Mitra offered help. "It has been a very difficult time," says Mitra. "As an athlete, Dutee has shown tremendous resilience and dealt with it like a true champion." Says Dutee: "I asked her if she could take me back to the track. She said she would try her best."
In September last year, Dutee took her fight to the Court of Arbitration for Sport (CAS) in Lausanne, Switzerland. World media called it a 'landmark' case, applauding her for being a pathbreaker, as it was the first appeal of its kind in athletics to challenge the hyperandrogenism rules. The AFFI had introduced the rules in 2011 following the controversial case of South African runner Caster Semenya, who, in 2009, was barred but later allowed to compete after undergoing humiliating gender testing.
Dutee is optimistic that her fight to run will be taken to the finish line, thanks to support from SAI, the Union and Odisha governments and Mitra. "The government's approach is changing," says Mitra. "It's more inclusive today. It is evident from the way the ministry of youth affairs and sports and SAI have supported Dutee. Today, the department of sports has withdrawn a standard operating procedure that supported the controversial IAAF regulations. They are defining 'fairness' in a fresh way. Dutee has got unparalleled support from government agencies." Her coach N. Ramesh, Saraswati, senior athletes and teammates have also stood by Dutee.
According to IAAF rules, Dutee can return to competition only if she lowers her testosterone levels to prescribed limits. She can do that through surgery or hormone-suppressing drugs. Dutee has refused to do either. She wants to be allowed to compete as she is.
The corrective measures have come under criticism worldwide for institutionalising genital mutilation. Dutee's appeal is being keenly followed across the world. She feels the IAAF ban is discriminatory as no similar hormone tests are conducted for male athletes.
Experts say that regardless of inherent natural characteristics, these regulations are discriminatory and contrary to the very spirit of sports, which celebrate human diversity. Moreover, the regulations have previously been questioned from scientific, ethical and medical perspectives as athletes with hyperandrogenism who wish to compete are required to undergo interventions that have potentially serious side effects and health risks.
Post her appeal, SAI has ensured that Dutee is provisionally allowed to compete. At the National Games in Kerala early this year, former SAI director general Jiji Thomson said: "Pending the decision in CAS, Ms Chand will continue in competition. SAI and the ministry of youth affairs and sports are committed to continue to support Ms Chand." She won a gold and two bronze.
The CAS heard Dutee's case two months ago. Her internationally-represented legal team worked pro bono and SAI covered all expenses. A favourable interim order allowed Dutee to go to Wuhan. Now, she awaits the final decision.