On December 14, as the body of Mumbai-based installation artist Hema Upadhyay, 43, was brought in for cremation, all cameras zoomed in on a tearful Chintan Upadhyay, her estranged artist-husband. He had been escorted by the Mumbai Police to the Juhu crematorium. He was called in for questioning on December 13—the day he landed in Mumbai from Delhi. He had flown in a day after the bodies of Hema and her 65-year-old lawyer Harish Bhambhani, stuffed in cardboard boxes, were found near a drain in Kandivali. On December 22, he was arrested on the charge of criminal conspiracy.
"We had never given Chintan a clean chit on the matter," said Fattesingh Patil, additional commissioner of police (north region). Chintan is the fifth accused to be arrested in the case apart from the Uttar Pradesh-based Rajbhars—Shivkumar alias Sadhu, Azad, Pradeep and Vijay—who allegedly executed the murders. But, for the Mumbai Police, the murder mystery is far from over as the main accused in the case, Vidhyadhar Rajbhar, is still at large. The police suspect Vidhyadhar, who owns a fabrication warehouse in Kandivali, was involved in the final act of murder, and could have instructed the other four accused, employees at his warehouse, to carry out the murder. He is said to be close to Chintan and his father, Vidyasagar Upadhyay, an abstract artist, and has worked with Chintan and Hema in a few of their collaborations. The police also need to ascertain whether the accused really wanted to kill Hema or just hurt her.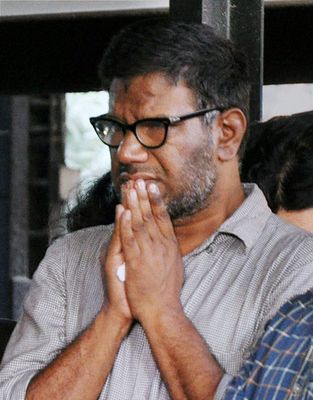 Coming close on the heels of the high-profile Sheena Bora murder case, this gory double murder has sent shockwaves across Mumbai's socialite and art circles. Those who knew the couple said Hema and Chintan had fire in their bellies. Originally from Baroda, Hema studied painting at MS University. She turned pro in 1997, initially doing group exhibitions, and then breaking forth in the contemporary art arena big time with solo shows both at the national and international levels. Said socialite Praveena Mecklai: "She was one of the sweetest persons I have come across and very affectionate, too. She was immensely good at what she did as a tier-one artist. She was gifted with a fertile imagination, and what has happened is indeed terribly unfortunate." Hema had her work displayed at Mecklai's gallery in 2001.
When Hema married Chintan, a maverick with occasional mood swings, in 1998, she thought she had found a natural match in him. In 2003 and 2004, the couple held a joint exhibition at Gallery Chemould in Mumbai and Gallery Viart in Delhi. Even as Hema found fame and recognition for her work, Chintan ventured out floating his own art production company, which fizzled out. According to a few associates of the couple, the critical acclaim that Hema's work fetched could have evoked a wee bit of jealousy in Chintan. Also, Chintan's eccentric ways could have contributed to their breakup. Over the years, the relationship between the two grew more transactional and need-oriented. Hema rarely discussed their strained relationship in the art fraternity. The couple divorced in 2010, but they were still fighting court cases, including one over alimony. Chintan, who was initially unwilling to pay alimony, reportedly sent a cheque for 02 lakh to Bhambhani as part of its first instalment just a day before the murder.
Renowned contemporary artist Jitish Kallat, a close friend of Hema and Chintan, was among the first few to raise an alarm when Hema could not be traced on December 12. Shocked and numb at the turn of events, Kallat now doesn't want to talk either about the murder or about Chintan's arrest. "I want to holiday out of this matter as I am tired of explaining things to people around," he said.
But is the murder only a fallout of a marital discord? Or, is there a property angle to it, pertaining to the couple's Juhu flat and other properties? Chintan apparently told Hema that he wanted the Juhu flat to be sold off and the money equally divided between them. Also, he had been consistent in claiming that all was hunky dory with their relationship even after their divorce. But clearly, the police don't believe him. They, however, will have to substantiate their suspicions with evidence and motive.