"I have always remained a pawn in the interplay of equations between powerful IPS lobbies. I have suffered much all these years and I wish to get on with life" - Daya Nayak, sub-inspector, Mumbai Police
Penury at home took Daya Nayak from a village in Karnataka's Udupi district to Mumbai after class 7. He soon started working as a cleaner at a hotel. He stayed and studied on the hotel's veranda for eight years. After graduation, he worked as an apprentice plumber. Then, he cleared the Maharashtra Public Service Commission examination and joined the Mumbai Police as a sub-inspector in 1995.
His life changed on the night of December 31, 1996. While the city was busy partying, Nayak intercepted two hoodlums of the Chhota Rajan gang at Juhu. They opened fire, and he gunned them down.
Soon he was inducted into an anti-gangster squad. In less than a decade, the 6ft-tall muscular officer—never seen without a .38 revolver or a 9mm pistol—became synonymous with the term 'encounter specialist'. By 2004, he had killed 80 gangsters and three Lashkar-e-Taiba terrorists.
Now, Nayak is back in the news. In July last year, he was suspended from service for not reporting for duty. In 2014, when Sanjeev Dayal had been the director general of police, Nayak was transferred to Nagpur. But he refused to take it. He told the government that he feared for the safety of his family, and that he could be "singled out and killed" anywhere outside Mumbai.
On January 14 this year, Nayak was reinstated in the Mumbai Police. "The order instructing him to join the Nagpur police was cancelled by the government in August. Thereafter, there was no reason to continue his suspension," says DGP Praveen Dixit, who succeeded Dayal.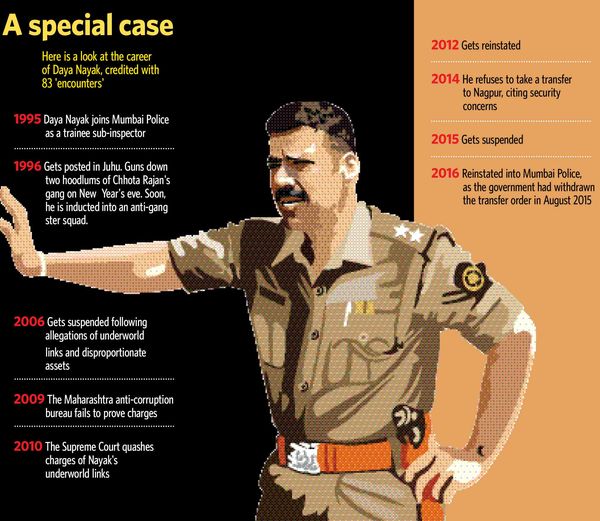 Nayak, however, is not elated. "I have always remained a pawn in the interplay of equations between powerful IPS lobbies. I have suffered much all these years and I wish to get on with life," he tells THE WEEK.
This was not the first time he was suspended and then reinstated. In 2006, Nayak was suspended following allegations of underworld links and disproportionate assets.
IN 2007, THE anti-corruption bureau sought sanction to file a chargesheet against Nayak. But then DGP A.N. Roy found the evidence against him "too flimsy". In 2009, the ACB failed to attach what it had described as Nayak's "benami properties" worth crores of rupees—a flat in a posh western suburb of Mumbai, luxury buses and hotels in Goa.
Subsequently, DGP S.S. Virk wanted the case closed as "there wasn't sufficient tangible evidence against Nayak".
In 2010, the Supreme Court quashed all charges of Nayak's underworld links, under the Maharashtra Control of Organised Crime Act. (Incidentally, the journalist-turned-activist Ketan Tirodkar who had levelled allegations against Nayak was arrested on charges of links with don Chhota Shakeel in 2004.)
In 2012, Nayak was reinstated and posted at the police arms unit. Later, he was shifted to Mumbai (West) control room. Then came the transfer to Nagpur and suspension.
Nayak refuses to elaborate on the developments. "IPS officers get after you in case you go beyond a point. It is better to lie low for the time being," he says. "I would talk at an opportune time and moment."
Nayak's life as an encounter specialist—based on which films such as Ab Tak Chhappan and Kagaar were made—remains a mystery.
Nayak's rise coincided with the Mumbai underworld's heyday, after the 1993 Mumbai bombings. That was also the time when don Chhota Rajan broke away from Dawood Ibrahim's gang.
"Criminal intelligence was critical then, and Nayak and those of his ilk cultivated rival gangsters as intelligence assets," says a former officer who spent years battling the underworld.
The macho, gun-toting Nayak became a poster boy of the Mumbai Police. His raw courage stood him out. The beauty of Nayak's functioning, however, lay the way he maintained a network of informants.
Nayak, sources say, worked out leads about Dawood's associate Chhota Shakeel and his activities in Mumbai. He is said to have played a key role in the arrest of Abdul Latif and Dalip Khan, accused in the 1999 hijacking of flight IC 814, from Mumbai in 2000. Nayak, in fact, worked closely with high-profile police commissioners such as M.N. Singh, D. Sivanandhan and Satyapal Singh.
There, however, are people who say the hero-like image of Nayak was a myth. "Nayak had a certain greatness thrust on him," says a fellow officer. "At times, even class II police officers end up becoming supercops. And Sub-Inspector Daya Nayak fit the bill in more ways than one. The media had a role in ascribing the larger-than-life status to Nayak and a few others like him."
IT IS ALSO alleged that what he paraded as his own network of informants was actually nurtured by a fellow encounter specialist. Nayak often was part of a team that included plucky officers such as Ravindranath Angre, Arun Barude, Aslam Momin, Pradeep Sharma, Vijay Salaskar and Sachin Waze.
"Most of what we dub as encounters were essentially a result of teamwork. So there is no crediting or discrediting one individual for engineering an encounter," says Assistant Commissioner Sunil Deshmukh.
Nayak's detractors ask why he was never promoted—not even to the rank of an inspector—had he been such an outstanding officer.
"He was like a bogey of a long train. The bogies went wherever the engine pulled them. He was never capable of doing things on his own, let alone neutralise gangsters," says an officer, who worked with Nayak on many missions.
There is a belief that Nayak hogged publicity and overshadowed the hard work of his contemporaries. "He was a clever operator," says another officer.
Nayak ignores all the allegations. "I do not want to look back at the life spent, but rather move on with new vigour and gusto," he says.