Chapal Bhaduri is 77. On stage, however, he transforms into a young enchantress with effortless ease. Masculine in appearance, Bhaduri has a markedly feminine voice. One of the last living actors in India's folk theatre who play female roles, Bhaduri has been mesmerising his audiences for over 60 years now.
Bhaduri stays at his sister's home—a roughly 100sqft room—in north Kolkata. Sitting on his bed, clad in a vest and lungi, and clutching a pillow, Bhaduri was all smiles when asked how he preserved his voice. "Did you understand that it was a man who was speaking when you called me to get an appointment? " he asked with raised eyebrows and a look so characteristic of Jatra, a folk-theatre form of Bengal. "I am what I am. And that has been my strength all along. Nobody can recognise me even today when I perform the character of a woman in her late twenties or thirties. People refuse to believe that I am actually an old man," said Bhaduri. "It is possible because I follow a disciplined life and maintain good health. I am a bachelor. Perhaps that's why I don't look as old as I am."
Bhaduri is the only living female impersonator in Bengali theatre today. His effeminate ways as a child would have made his parents worry, but what was a drawback proved to be a boon for him and his family, which was struggling to make ends meet. With the death of his father, his mother, Prova Debi, and sister Ketaki Dutta, both artistes who went on to make it big in folk theatre, persuaded Bhaduri to take up theatre as a profession. He was told specifically not to try for the role of a hero, but to enact girls of different ages on stage.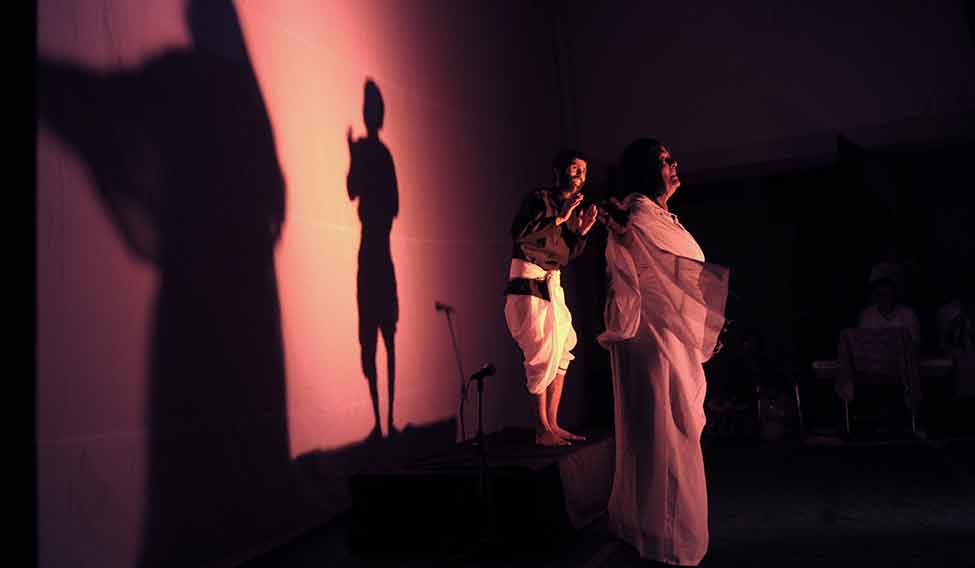 Bhaduri took up his roles as a challenge. "What else could I have done? In those days, women in West Bengal hardly appeared in theatre. They used to be very conservative. So men used to act as women on stage," he said. Did presenting himself as a woman on stage help him grow as an actor? He paused for a while, took a bottle of water, guzzled down half of it in one go, and said, "The issue is not whether I liked it or not. Bengali theatre needed women artistes at that time."
Bhaduri appeared on stage for the first time in 1957. The play was created by his mother and sister. It was a hit and many more followed. He was part of Natta Company, the famous Jatra theatre company in Kolkata, and travelled across India, especially to places where Bengalis lived. His characters included Draupadi of the Mahabharat and Urmila of the Ramayan.
Bhaduri does his own makeup and has mastered wearing saris in different Bengali styles. He is an expert at hairstyling, from tying the topknot to making traditional buns and embellished braids. "You see, I am not blowing my own trumpet," he said. "But I didn't have any rivals in the sixties and early seventies. I was competing with myself."
Bhaduri's charisma faded when Bengali theatre went through a phase of transformation. The traditional Jatra gave way to group theatre. In the 1970s, women broke the rules of society and joined theatre. There was no longer a need for a woman impersonator. Bhaduri and others lost their jobs. "I accepted the changes in theatre world then. The change in technology initiated by legendary Utpal Dutt fascinated me. But there were others who changed Jatra only with the intention of pushing it to the brink," he said.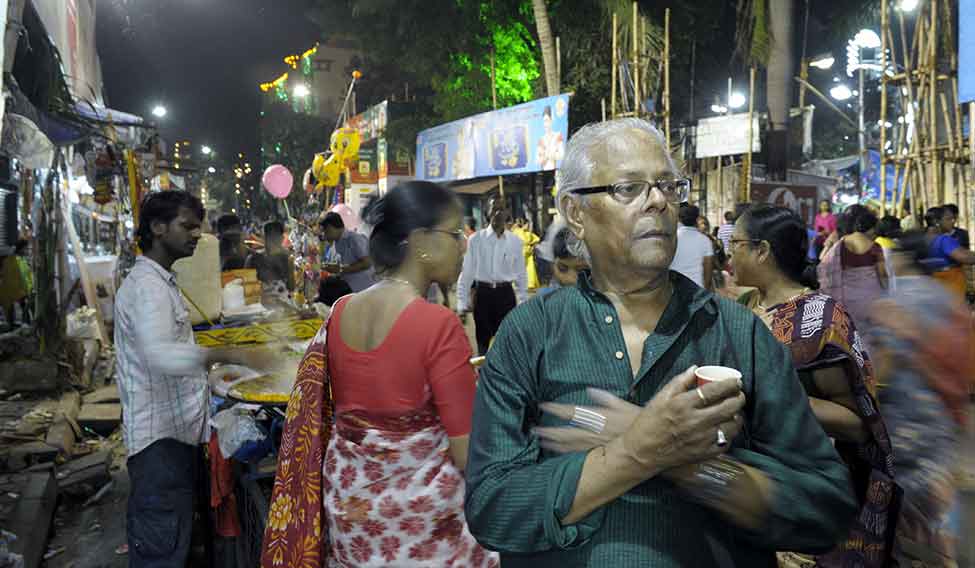 Bhaduri improvised with the changing times. He embraced group theatre and other forms of street theatres. His portrayal of the goddess Shitala drew huge crowds. But all this did not bring in enough money. Today, Bhaduri is dependent on others for basic necessities.
The cultural transformation of Kolkata has rendered him jobless. While theatre artistes were being driven towards television and cinema, Bhaduri also tried his luck in television, but there was no escaping misery.
Several Bengali movies and documentaries have been made on Bhaduri's life. The film, Arekti Premer Golpo, based on his life, was directed by Kaushik Ganguly. Rituparno Ghosh played the role of Bhaduri, while Bhaduri himself played another character in the film.
Bhaduri said the film portrayed his life wrongly: "Rituparno did a good job as an actor while portraying me. But I must say that the film did not tell the real story. Yes, I was paid good money for it. But I was disheartened seeing the movie."