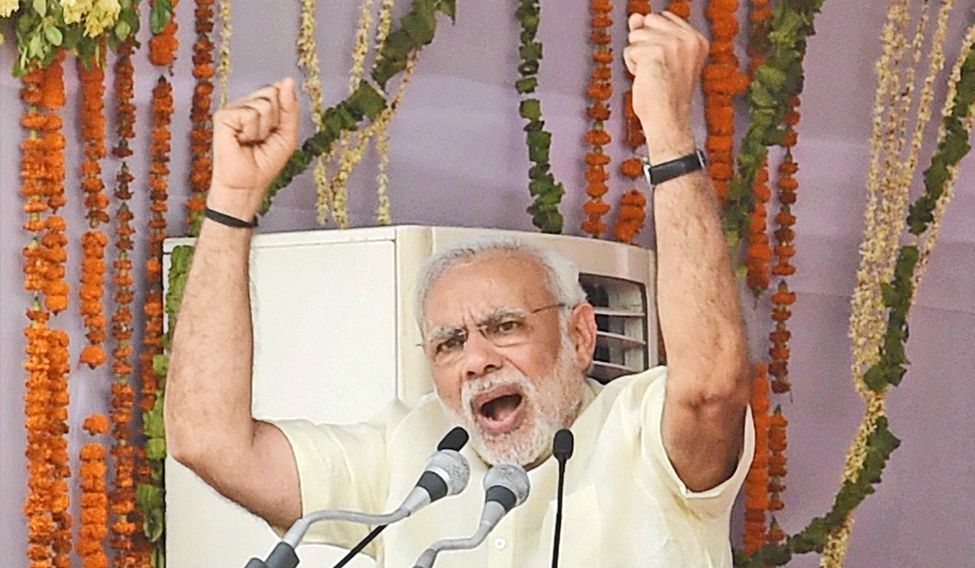 One year after the lotus bloomed at the Centre, the BJP government has launched a massive media campaign to showcase its achievements. The party says it has addressed the issue of black money, eliminated corruption and revived the national economy. Sources, however, say Prime Minister Narendra Modi is unhappy with the progress of at least three of his pet schemes—Swachh Bharat, Namami Ganga and Digital India.
Apparently, Modi has asked the ministers concerned to personally review and rework strategies to ensure that the projects take off.
The BJP is also being hounded by its Rashtriya Swayamsevak Sangh affiliates, who want action on pet issues such as the building of a Ram temple in Ayodhya, abrogation of Article 370 and the introduction of a uniform civil code. BJP president Amit Shah, however, said these "core issues" could only be taken up when the party had 370 seats, two-thirds majority, in the Lok Sabha.
"We have not got enough mandate to address core issues," he said. "We need 370 seats, according to the Constitution, to address these."
Home Minister Rajnath Singh had earlier said the government was unable to take up these issues as the National Democratic Alliance did not have a majority in the Rajya Sabha.
Shah said the party's biggest achievement was restoration of the people's confidence in the government. "This is a visible government unlike the previous United Progressive Alliance," he said. "We have restored the dignity of the prime minister's office. This government has brought the country out of policy paralysis."
The NDA has been holding press conferences across the country and has planned 200 rallies and 5,000 public meetings. Modi wrote an open letter to the people, thanking them for reposing faith in him. Reads the letter: "We systematically went about addressing these challenges. Runaway prices were immediately brought under control. The languishing economy was rejuvenated. Discretionary allotment of natural resources to a chosen few was replaced with transparent auctions. Firm steps were taken against black money, from setting up a special investigation team and passing a stringent black money law, to generating international consensus against the same. Our government is dedicated to the poor. We are working towards empowering them to become our soldiers in the war against poverty."
The letter also says this is just a beginning and a lot still needs to be done.
The Congress, meanwhile, launched a counter-offensive by fielding senior leaders, including P. Chidambaram, Ghulam Nabi Azad, A.K. Antony and Mallikarjun Kharge, to refute Modi's claims.
The party released a booklet tilted Ek Saal, Desh Badhaal (One Year, Nation in Disarray). It also uploaded a 12-minute video on YouTube showing Modi's poll promises and his U-turns. Said Congress leader Randeep Surjewala: "It has been [a year] of broken promises, boastful claims, shattered dreams, a nation betrayed. It has been a government of self, selfies and selfishness."
Modi's predecessor Manmohan Singh also joined the fray. He said the institutions of democracy were under threat and the entire edifice of the welfare state was being dismantled in the guise of promoting faster economic growth. "As far as I am concerned, I can say in all humility that I have not used my public office to enrich myself, to enrich my family or my friends. And still the BJP government keeps on harping on this theme of corruption because it wants to distract the people," he said at a National Students' Union of India event in Delhi on May 27.