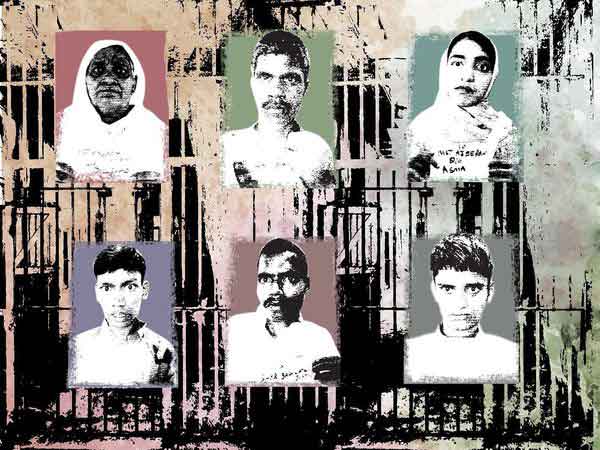 It came as a surprise, considering the tepid bilateral relations, when Pakistan recently gave India consular access to 17 prisoners, including four women, in its jails. According to officials in the foreign division of the ministry of home affairs, Pakistan informed New Delhi that 17 Indian prisoners had completed their term, but could not be sent back because they were unable to recall their antecedents. "These persons have not been able to disclose any other particulars during the consular access," conveyed the foreign ministry to the home ministry. Their names and latest photographs have been given to the home ministry to make a bid to identify their families.
A foreign ministry official said the prisoners were likely to be from Rajasthan and Kutch, as only through these borders did poor people stray to the Pakistani side, where they were caught. "They languished in jails, as nobody filed a missing report with the police. However, if Pakistan authorities have claimed that they are Indians, we will make sure they are brought back after verification," he said.
The home ministry is planning to use social media to identify these people. Former Intelligence Bureau director Arun Bhagat, however, is of the opinion that it might not be sufficient. "Possibly, these prisoners could be languishing for years. It would be difficult to identify them now with the latest pictures. The Indian authorities should ask the Pakistan authorities to provide them those pictures also which they might have clicked at the time of arrest," he said.
Bhagat said the task would be "arduous", and the Indian government needed to be careful in bringing them to India. The government should find out from which part of the border these people were arrested and when. "Once these facts are known, the border area police can be put to task to find out their families," he said.
The home ministry has asked the foreign ministry to find out from Pakistani authorities the location and timing of their arrests. "We are looking at social media just as a wild-card option, as the information we have is sketchy," said an official.
Former Indian envoy to Pakistan G. Parthasarathy said the government could go by a precedent and bring the prisoners back and keep them in "destitute homes" till their families are identified. "In 1982, when I was consular general in Karachi, I found 15 mentally unstable prisoners in the city's central jail. I asked for consular access and got four of them back after prima facie establishing them to be Indians," he said.
Replying to an RTI application last year, the government revealed that some Indians in Pakistani jails were mentally ill. Of 403 Indian civilians in Pakistani jails, about 350 are fishermen, says a list provided by Pakistan on July 1. India gave a list of 278 Pakistani prisoners. According to the Agreement on Consular Access, signed in 2008, the two countries are required to exchange lists of prisoners twice a year, on January 1 and July 1.
These prisoners undergo unimaginable torture. In April 2014, eleven Indian prisoners languishing in Kot Lakhpat jail in Lahore wrote to BJP Rajya Sabha member Avinash Rai Khanna and media houses requesting the Indian and Pakistani governments to shoot all of them so that they could end their "sorrowful lives". The letter said 21 other Indian prisoners, including four women, had become mentally unstable because of "excessive torture".
TOUGH TERM
* A list given by Pakistan says 403 Indians are in its jails; about 350 of them are fishermen
* India says it has 278 Pakistani prisoners
* Prisoners undergo unimaginable torture, which makes many of them mentally unstable
* According to a letter from some prisoners, 21 Indian prisoners, including four women, became mentally ill