Jayalalithaa made mincemeat of her opponents in the Lok Sabha elections and became a crucial pivot of support for Modi, with whom she shares a visceral dislike of Sonia Gandhi.

Mamata Banerjee is brimming with confidence, and feelers are being exchanged between the Congress and the CPI(M) for a tactical alliance to take on the Trinamool storm.
They say experience makes a boy a man. If so, the topsy-turvy year of 2015 gave Prime Minister Narendra Modi a lot of experiences, both pleasant and unpleasant. There was an unstable neighbourhood, electoral shocks in Delhi and Bihar, realities of parliamentary limitations that blocked the Land Acquisition Bill and stalled the Goods and Services Tax Bill, constant reminders by US President Barack Obama to ensure Modi didn't wreck climate accord, and an economy that refused to move at the speed of a bullet train.
2016 will, in addition to the issues of 2015, bring newer challenges for Modi. Politically, the country would be busy with five state assembly elections— Assam, Kerala, Puducherry, Tamil Nadu and West Bengal—in the first half of the year. Each of the states has its own unique set of contenders, with the national parties—the Congress and the BJP—confronting each other directly only in Assam, where Chief Minister Tarun Gogoi will be battling for a record fourth term. While Congress leads the ruling United Democratic Front in Kerala, it is not seen as a frontrunner in West Bengal and Tamil Nadu. Similarly, the BJP is not perceived to be a major political force in Tamil Nadu and West Bengal, but there is speculation on the damage it can do, in tandem with Ezhava leader Vellapally Natesan, to the Congress and CPI(M) in Kerala.
But the big question is how Modi will handle these elections. Ever since his landslide victory in the Lok Sabha elections, he has taken complete charge of the party, much like Indira Gandhi handled the Congress after her dream victory in 1971. Amit Shah is a rubber stamp party president who follows the directions of Modi completely. Shah has no independent status as a national leader without Modi's patronage. Modi, who used to take control of the nitty-gritty of electoral campaigning as chief minister of Gujarat, has continued his micromanagement at the Centre. In the assembly elections of 2014, held in the euphoria of the Lok Sabha victory, Modi said the party would fight the Maharashtra and Haryana polls without any allies. He refused to nominate chief ministerial candidates in these two states as well as in Jharkhand. He campaigned intensively, wearing local dresses and speaking native dialects. He was triumphant—the BJP became the single largest party in Maharashtra for the first time, wrested power for the first time in Haryana and won Jharkhand. But, despite Modi's campaign, the formula failed in Delhi and Bihar. The question raised was whether it was the formula that failed or Modi's magic.
Modi is now being advised by those who dare to speak to him that he should not treat each assembly election as a test of his charisma. He should not sideline local leaders, as he did with Shatrughan Sinha in Bihar. And now, the party has made Union Sports Minister Sarbananda Sonowal the campaign committee chairman in Assam, dashing the hopes of Himanta Biswa Sarma, a former Congress minister who, like the Pied Piper, brought a dozen Congress MLAs into the BJP. Modi is also allowing the Rashtriya Swayamsevak Sangh, which had imposed Nitin Gadkari on the party after the 2009 Lok Sabha defeat, to push its candidates to head party units in West Bengal and Kerala.
But if internal advice is for Modi to be less physical in the campaign, the leaders in poll-bound states want more and more of him. The BJP's once vaunted line of star campaigners has melted under the intense glare of Modi's dazzle. Yet, Bihar was personal for Modi. He had visceral hatred for Janata Dal (United) leader and Nitish Kumar, the chief minister who had refused to allow Modi to campaign in Bihar in 2010 and who had broken his party's 17-year-old alliance with the BJP because Modi was made BJP's prime ministerial candidate. Modi wasn't satisfied with defeating Nitish in the Lok Sabha elections; he wanted to deliver the knockout punch. There is no such personal score to settle in 2016.
Interestingly, it is Nitish who is refusing to give up the feud. If Shah had declared arrogantly that Bihar was the BJP's gateway to eastern India, Nitish now wants to see that the BJP fails to make headway in Assam and West Bengal. He is trying to persuade the Congress to tie up with All India United Democratic Front, a Muslim party, which has a good vote base in Assam. Founded by perfume baron Badruddin Ajmal, the front is being wooed by Nitish to ensure that the anti-BJP votes won't split. But Congress stalwart Tarun Gogoi, a master of strategies and victories, is not keen on an alliance as he doesn't want his bulwark Ahom, other Hindu and tribal votes to go to the BJP as a backlash.
In neighbouring West Bengal, the contest appears to be a four-way affair like in the Lok Sabha elections. Chief Minister Mamata Banerjee, who came to power in alliance with the Congress in 2011, is brimming with confidence. She broke with the Congress and yet swept the Lok Sabha polls, keeping a rampaging Modi at bay. She is confident that her bitter enemy, the CPI(M), is in the doldrums, and that the road to another five years of power is clear. But, for her opponents, desperate situations call for desperate measures. Feelers are being exchanged between the Congress and the CPI(M) for a tactical alliance to take on the Trinamool storm. New CPI(M) general secretary Sitaram Yechury, considered more accommodative than his predecessor Prakash Karat, is huddling with the Bengal leadership to see whether a political pact with the Congress will work at the local level or lead to erosion.
Another strong lady whose opposition is in disarray is Tamil Nadu Chief Minister Jayalalithaa. After the vicissitudes of a criminal trial, which sent her to jail and later restored her to the chief ministerial chair, the AIADMK general secretary was raised to a semi-divine status by her frenzied followers. Like Mamata, she made mincemeat of her opponents in last year's Lok Sabha elections, emerging as the leader of the third largest party and becoming a crucial pivot of support for Modi, with whom she shares a visceral dislike of Congress president Sonia Gandhi. The opposition in Tamil Nadu is scattered—the DMDK-BJP alliance seems to over, the DMK is split between the sons of patriarch M. Karunanidhi, the Congress is enfeebled after the departure of G.K. Vasan, and the PMK and the MDMK are ploughing alone. But, elections can draw opposites together. Jayalalithaa, for her part, wants to break the jinx of the past 25 years—Tamil Nadu has voted out a government in every assembly election. Puducherry, which has a tiny assembly, has all the players from Tamil Nadu and the local All India N.R. Congress led by Chief Minister N. Rangaswamy.
Kerala, too, is jinxed like Tamil Nadu. By that simple cycle of ups and downs, it must be the turn of the Left Democratic Front to rule the state, especially as Oommen Chandy, the Teflon-coated chief minister, has ridden the storm of one scam after another in a turbulent five-year rule. Yet, Kerala's development under his frenetic watch has been impressive, as key infrastructure projects have gone on stream and he has held a fragile coalition together. Interestingly, the change of guard in the CPI(M) at the state level has eased tensions between the dominant Pinarayi Vijayan and the populist V.S. Achuthanandan factions. Also, the nonagenarian Achuthanandan has his hat very much in the chief ministerial ring. However, the emergence of a Hindu front of the BJP and Ezhava leader Natesan has made both fronts recalculate their religion-caste matrix.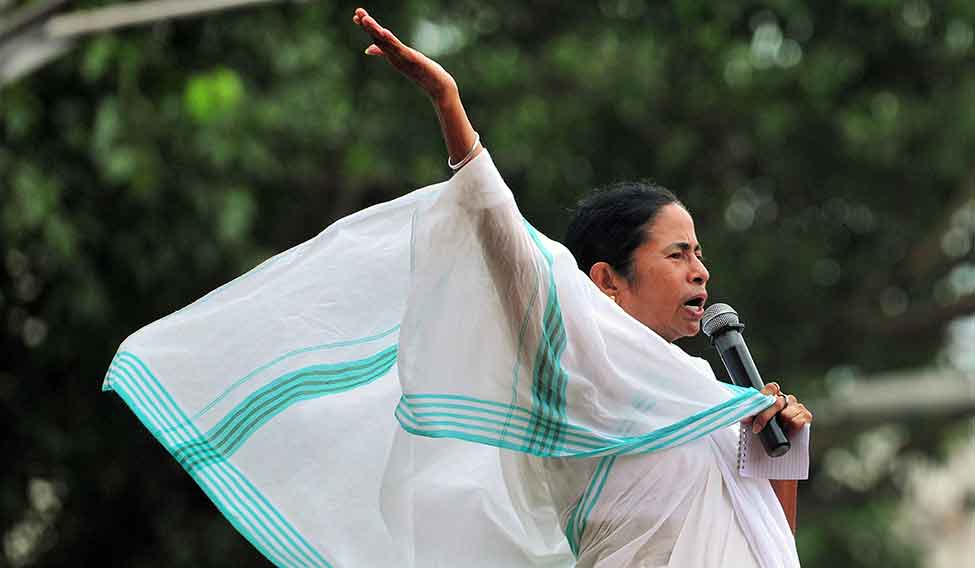 But it is not only politics that determines outcomes, it is also the economy. Apart from caste and hubris, the BJP was derailed in Bihar by the humble dal, the staple pulse of the common man. Modi's economic doctrine is that prosperity and job growth will come by making India the world's manufacturing hub, a clear imitation of the growth story of China under Deng Xiaoping and his successors, where trillions of overseas dollars made China every country's Manchester. Modi had succeeded in making Gujarat a major investment hub and he and his team would pursue the investment stream in 2016. The major changes in India's climate change doctrine under Modi are not only a sign of India's emergence as a strong economy, as claimed by the government, but are also rooted in the desire to get along with heavy investors like the US, Japan and Europe. New Delhi gave up the long-held dogma of 'polluter pays' by agreeing to sign the Paris accord, which let bygones be bygones and focused on the future. Similar accommodation is expected by India in the World Trade Organisation negotiations under way in Nairobi, Kenya.
In his pursuit of big ticket investments, which have started materialising as in the case of Rs.98,000 crore for the Mumbai-Ahmedabad bullet train, Modi is shedding a slew of protectionist attitudes that had made India such a difficult and obdurate player in international fora. Modi's big challenge in second generation reforms is in pushing new laws to replace the socialist economic architecture of 1970s in the banking, insurance, labour and taxation sectors.
Finance Minister Arun Jaitley's third budget on February 29 would give answers on how strongly the problem posed by subdued domestic demand for goods, accompanied by the steady fall in exports throughout 2015, would be addressed by the National Democratic Alliance. Industry is complaining of 25 per cent overcapacity which is inhibiting additional domestic investments. Jaitley is on a fiscal consolidation drive, where subsidies are under pressure and big government spending is happening only in the highways sector under the hyper energetic Nitin Gadkari. Jaitley, who may be forced to deliver a soft budget because of the state assembly elections, will also be under pressure to give big income tax concessions as was promised by the BJP during the Lok Sabha elections. There will be pressure to give more for rural sector from a cabinet dominated by ministers from cities. Modi may look at Vajpayee, who ensured there was more spending money for the middle class in almost all the six budgets of his era.
Critics have been demanding that Modi give up his wanderlust and concentrate on the domestic agenda. But the networker inside Modi would resent staying behind domestic walls as he feels each of his foreign visits has given extraordinary heft and success at the summit level. As India's external endgame lenghtens, Modi will have more commitments to fulfil. But, 2016 would also be the year where Modi should look at engaging South Asian neighbours, and give his maximum to sustain the restarted dialogue with Pakistan.
Even as Modi deals with his overflowing plate, the Congress has its task cut out. It has to defend its bastions in Assam and Kerala, and regain lost ground in West Bengal, Tamil Nadu and Puducherry, especially as its performance as part of the Grand Alliance in Bihar has shown green shoots of recovery. As a strong reaction to the pro-industry and pro-market philosophy of Modi, the Congress, under its aggressive vice president Rahul Gandhi, is harking back to its extreme socialist roots. It is in a permanent agitation mode both inside and outside Parliament. After winning the trust of the common man in 2004 and losing it in 2014, the Congress is striving to recover the lost constituency, and its performance in 2016 will be crucial. If Modi's slogan in 2014 was "Congress-free India", the Congress is hoping for the reverse. It is a battle royal!