President Pranab Mukherjee's visit to Palestine and Israel was seen as an icebreaker in terms of high-level contacts, as there has been no presidential or prime ministerial visit to the region since India gained independence. But the ice got vaporised in the most fiery circumstances, as violence gripped West Bank and Jerusalem during the four-day visit of the president from October 12. The vitiated atmosphere tested his statecraft and diplomatic skills like no other visit he has ever done. Even as the region swirled in the blood of victims on either side of the long-time divide between the Israelis and the Palestinians, Mukherjee stuck to the historic Indian position of having good relations with both sides, and called for peaceful coexistence.
There was pressure on Mukherjee to choose one over the other, but he walked the tightrope both in Ramallah, the de facto administrative capital of Palestine, and in the holy city of Jerusalem, which Israel calls its capital since 1967. Israel does not recognise Palestine as a state, preferring to call it the Palestine National Authority, while Palestine does not accept Jerusalem as the capital of Israel. The Indian government insisted that Mukherjee's two-day trip to Ramallah and the East Jerusalem suburb of Al Quds should be treated as a state visit and said India wanted Palestine to be a viable state with East Jerusalem as its capital, living in peace with Israel. Mukherjee neither condemned Israel's "state terror" as Palestinian President Mahmoud Abbas calls it, nor Palestine's "attempt to destroy Israel" as an emotional Israeli Prime Minister Benjamin Netanyahu put in Knesset (the Israeli parliament), in the presence of Mukherjee and Israeli President Reuven Rivlin.
The cycle of violence along the normally tense faultlines between the two nations, which consider the same piece of territory to be their homeland, was continuously felt by Mukherjee and his delegation, which included Union Minister for Social Justice Thaawar Chand Gehlot, Parliament's Pubic Accounts Committee Chairman K.V. Thomas, MPs Meenakshi Lekhi, Pratap Simha, Vinod Chavda, Subhash Bhamre and Anupam Hazra. The core official group which advised the president included his secretary Omita Paul, press secretary Venu Rajamony, secretary (east) in the ministry of external affairs Anil Wadhwa, Indian ambassadors Anil Trigunayat in Jordan and Jaideep Sarkar in Israel and Indian representative to Palestine Mahesh Kumar.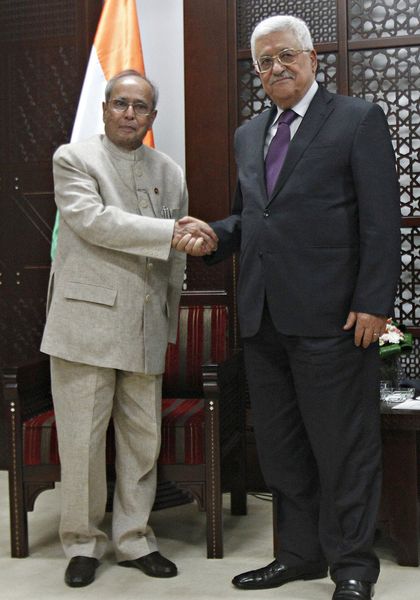 When Mukherjee landed at the Ben Gurion airport in Tel Aviv after a short flight from Jordan's capital Amman, there was tight security for his delegation, which continued on the short drive to the Bitunia checkpoint, just 45 minutes from the airport, off the highway to Jerusalem. The checkpoint, which is used by thousands of Palestinians and very few Israeli civilians, saw curious crowds. Both Israeli and Palestinian security had not allowed any flag waving local citizens as they feared miscreants could throw a stone, causing an international incident. "We are not taking any risk though a lot of people want to meet Mukherjee as he represents India, an old friend of Palestine," said ambassador Husam Zomlot from the Palestinian president's office. At the University of Al Quds, students were angry that the Palestinian youth were being targeted by Israeli forces. They planned a demonstration which could draw global attention to the Palestinian issue, but there was more violence happening on the streets of Jerusalem. The demonstration resulted in Mukherjee making a quick exit from the university and cancelling the plans to inaugurate a boys' school funded by India. Even as his motorcade left the campus, dark smoke from burning tyres thrown across the high walls into Israeli areas could be seen. In Jerusalem, too, the streets were less crowded and there were two armed policemen in each bus stop. Jerusalem, a bustling destination and a holy city for Judaism, Islam and Christianity, has seen a lot of cancellations of hotel bookings because of the non-stop violence since September.
Saddened by what he had seen and heard, Mukherjee, in his private conversations with Abbas and Netanyahu, asked them to be the advocates of peace and non-violence, by maintaining strong back-channel contacts. He was emphatic that he would not issue any fiery statements as it would escalate the tensions, and result in "direct implications for India", as he 
said at the impressive welcome ceremony hosted by Rivlin in Jerusalem. What Mukherjee left unsaid was that direct mediation should be continued by neighbouring West Asian countries, as well as the United States, the United Nations, the European Union and Russia, which 
formed the Middle East Quartet for the original negotiations between Israel and Palestine.
Mukherjee and his delegation knew the difficulty of travelling to Israel and Palestine although the Israel-Palestine peace accord was concluded between Yasser Arafat, the legendary founder of the Palestinian state, and the Israeli leadership in 1993, a year after India established full diplomatic relations with Israel. The Israeli leadership has been persuading every prime minister from P.V. Narasimha Rao to Narendra Modi to travel to the Jewish state and give full legitimacy of the relations. But various factors, including pressure from political parties and the sentiments of India's large Muslim community, made them hesitate to take the plunge. Modi, an admirer of Israel since his days as chief minister of Gujarat, met Netanyahu in New York last year and promised to visit Israel. But the external affairs ministry felt that Palestine, too, should be part of the itinerary, as is done by most leaders who visit the region. But as Modi was busy with his other trips, officials said Mukherjee can take the lead and the prime minister would follow. But Mukherjee, who had handled external affairs in the Rao and Manmohan Singh administrations, wanted Palestine to be his first stop, while the prime minister's office felt it should be Israel. Meanwhile, Commerce Minister Nirmala Sitharaman, who had visited Jordan for a trade dialogue, reported that King Abdullah II of Jordan had told her that the Hashemite kingdom was still awaiting an Indian dignitary while the King had already visited New Delhi. Moreover, the world's largest sulphuric acid plant in Jordan, which is an India-Jordan joint venture, was awaiting a formal dedication ceremony as reported by U.S. Awasthi, the chief executive officer of the Indian Farmers Fertiliser Co-operative Limited (IFFCO). It tilted the issue in favour of Jordan as Mukherjee's 
first destination.
Mukherjee focused on bilateral relations as the bulwark of his talks with the leaderships of the three countries, with his passion for education coming a close second. The president, who had handled economic ministries like finance and commerce for several years, emphasised on boosting economic relations. The members of the presidential delegation were mesmerised as he spoke most of the time with consummate command of all subjects. "The president responded to each point raised by the leaders and their delegations in all the three countries. He had no notes and had immediate recall of statistics and facts of the last seven decades," said Thomas.
Mukherjee announced a slew of concessions to Jordan, which has been hit hard by waves of refugees and is suffering from donor fatigue. He offered a line of credit of $100 million and asked the king to encourage Indian companies to invest in Jordan so that they could take advantage of the special trade ties Jordan has with more than 50 countries. In Palestine, he offered a $5 million budgetary support, more college seats and scholarships for Palestinian students to study in India and the establishment of computer centres and an India chair in Palestinian universities. In Israel, it was more of cooperation between two economic equals, as Mukherjee called for deeper ties in the areas of agriculture, irrigation, cyber security, information technology and, most crucially, defence equipment and platforms.
Interestingly, Modi found repeated mention in the public speeches of both Mukherjee and Netanyahu. Mukherjee, who was happy that the Indian democracy had produced a single party majority in a general election, said he had presided over a smooth transition of power. He promoted Modi's initiatives like Make in India, Digital India and yoga. Netanyahu quoted Modi as saying "India needs Israel", and said sky was the limit for Israel's relations and investments. When Mukherjee referred to Bengaluru as the Silicon Plateau, Netanyahu was nostalgic about his student days in Massachusetts Institute of Technology in the United States and recollected that many of his teachers were Indians. He also joked that in Silicon Valley, Hebrew and Hindi were the most popular languages, with only a few speaking English.
As Mukherjee told his delegation while winding up the historic three-nation tour, there were many positives to be counted from the visit. Leaders from both sides would follow in his footsteps into India and Israel, but Mukherjee will remain the first Indian VVIP to visit the three West Asian countries, each of which has special significance for India.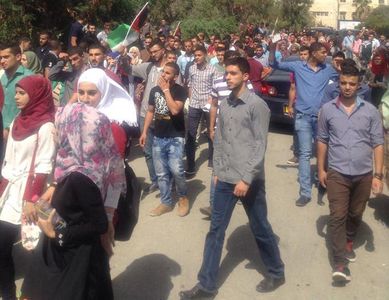 Watchful eyes
Pranab Mukherjee's chief security liaison officer, A.K. Verma, and military secretary, Major General Anil Khanna, heaved a sigh of relief that effective coordination with Israeli and Palestinian officials ensured that there were no incidents except protests by students (in pic) when the president visited one of the most tense regions of the world. No world leader who had visited Ramallah had spent more than a few hours in the de facto administrative capital of Palestine. They have also travelled by helicopters. But Mukherjee insisted on a night's stay and road journeys both ways. There was three-way co-ordination: although the Palestinians were in charge of main security, the Israelis, too, kept a wary eye.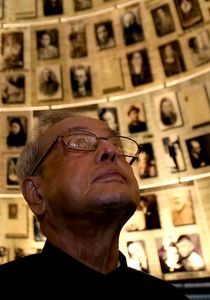 Limited itinerary
Pranab Mukherjee is not an enthusiastic tourist. He prefers to stick to his official engagements in the country he visits. But during the visit to West Asia, he was keen to visit the historic Al Asqa mosque in Jerusalem and the Dead Sea, a natural wonder of the world. He was also keen to see the archaeological site of Petra in Jordan. Security considerations, however, confined his visits to Amman, Ramallah and Jerusalem.
Gift hampered
The Israeli authorities kept the Indian officials on tenterhooks as they refused to clear a consignment of computers gifted by India to Al Quds University. The customs officials said the computers contained advanced communication systems which cannot be cleared as part of cyber security protocols. New Delhi insisted that the computers had to be cleared and their confiscation would cast a shadow on the presidential visit. Finally, ten computers were cleared just a day before Mukherjee's arrival, and the Indian mission had to pay $15,000 as demurrage. Mahesh Kumar, the Indian representative to Palestine, and his team worked overtime to ensure the computers were working. But it was all smiles when Mukherjee switched on the computers.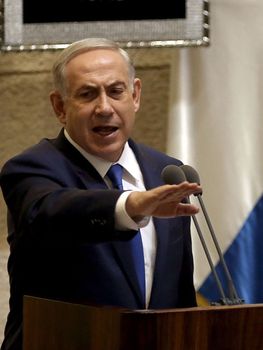 Lessons abound
The parliamentarian and the teacher in Pranab Mukherjee come out strongly during his travels. The visit to West Asia was no different. He wanted to visit parliaments and universities. At Knesset, the Israeli parliament in Jerusalem, he not only made a speech but also listened to two of the finest speakers of the Knesset. The first was Prime Minister Benjamin Netanyahu (in pic), who showed a lot of passion and commitment for India and its current leadership. But Netanyahu, the politician, also used the occasion to send out strong messages to the Palestinian youth who have started another intifada, and those who incite the youth through social media. The other speech was a scholarly exposition by opposition leader Issac Herzog on how the dilemmas of state and religion were handled by the Indian Constitution, and how a small country like Israel can learn from India to manage a plural society. While Netanyahu admired Indian mathematicians, especially Srinivasa Ramanujan, Mukherjee recalled how David Ben Gurion, the founder of modern Israel, had kept only the photograph of Mahatma Gandhi in his desert home.