Indira was a decisive leader who implemented her decisions in quick time. She was also an impulsive leader. But Congress leaders, who were used to the frenetic life under Indira and Rajiv, find Sonia to be a much milder and cautious person.
Even when she was not in politics, Sonia Gandhi had seen closely how political power was wielded by her husband, mother-in-law and brother-in-law during the turbulent decades of 1970s and 1980s. Indira Gandhi wrested absolute control of the Congress through her landslide victory in the 1971 elections, and survived an electoral loss and a party split in 1978 to bounce back. Her younger son, Sanjay, wielded enormous power as the heir apparent from 1974 to 1980. Sanjay's death in an air crash was followed by his mother's assassination, and Rajiv Gandhi became the party supremo for more than six years.
There was much which was similar and equally dissimilar to Indira and Rajiv in the way Sonia has run the Congress in the last two decades.
When there were internal revolts in the party, Indira would haughtily as well as doughtily split the party, and use the subsequent popular vote to assert control, as she did after the splits of 1969 and 1978. In contrast, Sonia, when confronted by the rebellion of Sharad Pawar, P.A. Sangma and Tariq Anwar, chose to use the resignation weapon to retain control. Hurt by questions raised by the troika—members of the Congress Working Committee—on her foreign origins, Sonia resigned as Congress president. Her "sacrifice" stirred emotions and the party, barring the rebels, begged her to take back her resignation. In contrast, Indira would have blamed the "foreign hand" for her troubles.
Even before taking control of the party in 1998, Sonia was seen as a power centre during the presidentship of P.V. Narasimha Rao. Yet, when she felt she was being sidelined by Rao in 1994, she did not force a split in the party even though a delegation of cabinet ministers and chief ministers had waited on the lawns of 10 Janpath, pleading with her to intervene. But when she felt the time was ripe to take over, her aides simply ejected the stopgap president, Sitaram Kesri, from his chamber and put her nameplate.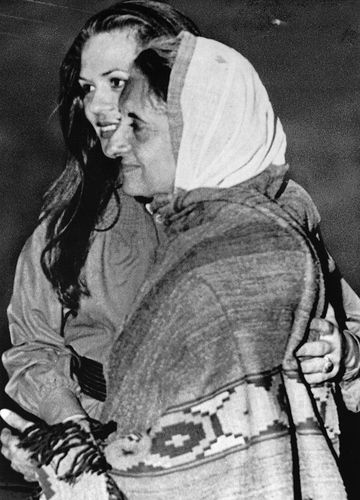 Again the party and the nation were stunned by her bigger "sacrifice" when she refused the prime ministerial office in 2004, after cobbling together a post-poll anti-BJP coalition. This was again unlike Indira Gandhi who had rejected the calls to resign after the Allahabad High Court unseated her in 1975, and her decision to impose Emergency was criticised as an attempt to stick to the chair.
Congress leaders who have served closely with the two Mrs Gandhis say the biggest similarity is the sense of loyalty, and also the close involvement of the children in political affairs. If Indira relied first on Sanjay and then on an initially reluctant Rajiv, Sonia has always treated her children, Rahul and Priyanka, as the first circle of advisers. At the Akbar Road headquarters of the party, any speculative query on Sonia's position or even that of her children is answered by office-bearers, who say it is for the "family to decide".
For the first 15 years of her role as the prima donna of the Congress and the country, Indira Gandhi battled strong-willed Congress leaders, starting from the fight to the finish with the syndicate during 1967-69 and ending with the revolt of the regional satrap, D. Devaraj Urs, in 1979. Only during the last five years of her control, when she was also the unquestioned party president, she faced less internal trouble, which was compensated by more militant agitations against her government. On the other hand, Sonia's control was stamped on the party after the expulsion of Sharad Pawar and his companions, and she has faced no national-level revolt, though in some of the states like Andhra Pradesh, Uttar Pradesh, Uttarakhand, Odisha and Karnataka, prominent leaders have left the party saying Sonia did not care for them.
Indira was a decisive leader who implemented her decisions in quick time. She was also an impulsive leader, who made quick judgments (Rajiv was quicker and more impulsive than his mother). But Congress leaders, who were used to the frenetic life under Indira and Rajiv, where chief ministers, cabinet ministers and state unit presidents would be overthrown in 'midnight massacres', find Sonia to be a much milder and cautious person. While she is extolled for being more democratic than her relatives who ran the Congress, those who yearn for the strong hand of Indira also lament that she is very indecisive and has the habit of going for too much consultations.
Sonia changed far fewer chief ministers than Indira or Rajiv. When she trusted a leader she gave them a free run—Digvijaya Singh in Madhya Pradesh, Ashok Gehlot in Rajasthan, S.M. Krishna in Karnataka and Y.S. Rajasekhara Reddy in Andhra Pradesh are examples. Even in Maharashtra, where she changed chief ministers frequently because of scandals or political reasons, Sonia ensured that Vilasrao Deshmukh and Sushil Kumar Shinde were well-accommodated at the Centre.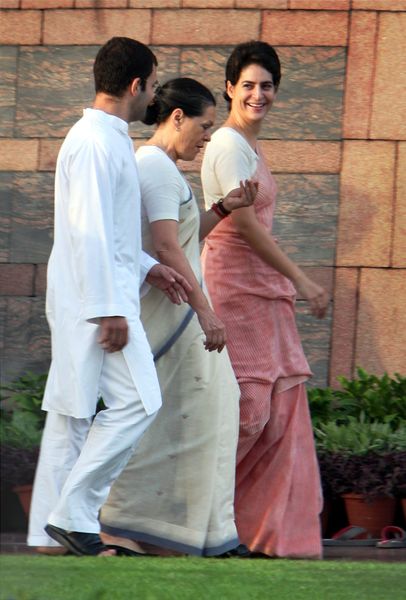 A big complaint heard after the Congress slumped to its worst-ever loss in the 2014 elections was that Sonia relied too much on a small group in the All India Congress Committee led by political secretary Ahmed Patel. The principal members of the group, who were given party assignments for a long period, included A.K. Antony, Ghulam Nabi Azad, Mukul Wasnik, Digvijaya Singh, Motilal Vora, B.K. Hariprasad, V. Narayanaswamy and Mohan Prakash.
The loyalty test of Sonia is also tonally different from that of Indira. Sonia has a soft corner for those who had been close to Rajiv. In the initial years, Sonia would verify from close personal staff like V. George and others the connections of leaders and workers with Rajiv and even with Indira. Interestingly, in the party circles, she is addressed as CP (Congress president) or Soniaji or Madam. Indira, too, was called Madam or Indiraji. While Indira was nicknamed Mrs G in political and media circles, Sonia is rarely referred to as Mrs G.
If Indira believed more in the oral communication style of oriental tradition, Sonia gives equal attention to the written word, which is more an occidental tradition. Sonia always has a notepad with her, where she notes quick points. When she wants opinion, she prefers her general secretaries to give their opinion in writing, apart from oral briefing. In the initial months of Sonia's presidentship, Jitendra Prasada, the first political secretary, had briefed her on a major political development which was unfolding. After listening to Prasada, Sonia asked him whether the senior leader could give a note on the options. Prasada airily promised the note would be with Sonia by evening. But he got busy with a family event in the evening. In those days of non-mobile connectivity, Prasada was surprised by the efficiency of Sonia's staff, who had traced him to the family celebration, and when he took the phone it was beyond dinner time. Sonia's office informed Prasada that Madam was still waiting for the report and asked him if he could come to the AICC headquarters and dictate the report to a waiting stenographer. Only after reading Prasada's report and choosing the option did Sonia retire for the night. The stamina for working long hours is a trait shared by all the Nehru-Gandhi family members who headed the Congress.
Indira had a grounding in politics from her younger days, interacting with the giants of the freedom movement, and then being the official hostess and later political adviser of her father, Jawaharlal Nehru, who was prime minister. She had a stint as Congress president during that time. Yet, she had to struggle for four years to establish control over the Congress.
Sonia did not play any official role in the party during the lifetime of her mother-in-law or husband, and even after Rajiv Gandhi's death, she played the "Politics of Silence" as a memorable cover story of THE WEEK had described her approach. But in two decades, Sonia not only revived the Congress, but also gave a socialistic turn to the party's politics, like her mother-in-law had done in 1970s. She helped the party to retain power with a broader mandate, and then presided over the biggest defeat because of the 'business as usual' attitude. The imaginative powers of the Congress declined because of the hubris that had set in during the second term of the United Progressive Alliance and Sonia's cautious approach was responsible. Since Sonia has got it right not once but twice, she could reinspire the party if she comes out of the routine styles of functioning, which have enveloped her presidentship since 2010. That may mean taking one more leaf out of Indira's book.