"We know she [Honeypreet] is clean and we will stand by her till the end. It is a conspiracy hatched by certain people who were worried that she would become the Dera head." - Sahil, Honeypreet's brother
Before August 28, 2017, Gurmeet Ram Rahim Singh seemed unassailable. The chief of the Dera Sacha Sauda, had crores of followers, fabulous riches and Z Plus security that befit his life as a 'movie star' and 'Messenger of God'. But after a CBI special court sentenced him to 20 years imprisonment in two rape cases on that Monday, several people have come forward with more stories of illegal activities in the Dera. Many of these stories relate to sexual exploitation. "Women were forced to have sexual relations with the baba," said A.S. Chawla, police commissioner of Panchkula, Haryana. "Medical records have proved that the sadhus who were close to the baba and [were] guarding his family were castrated."
The CBI is investigating the mass castration case. Sources in the agency told THE WEEK that three sadhus came forward in the past one month saying they had undergone forced castration at the behest of Gurmeet. Medical examination showed they had been castrated and the CBI is preparing to submit a status report in the court in the first week of February. Dera officials, who requested anonymity, said the castration was voluntary and "a way to reach God".
The trial in two murder cases against Gurmeet is also in the final stages, in the CBI special court in Panchkula. One, the murder in 2002 of a journalist, Ram Chander Chhatrapati, who had written about sexual exploitation in the Dera, and the other, the murder of a Dera follower, Ranjit Singh, the brother of one of the rape victims.
Meanwhile, a special investigation team of the Haryana Police has filed a charge-sheet on the riots that followed the verdict against Gurmeet on August 25. Thirty-six people were killed in the riots and police firing. The charge-sheet says a conspiracy was hatched by key Dera persons to destabilise the BJP governments at the Centre and in the state. Gurmeet's adopted daughter, Honeypreet Insan alias Priyanka Taneja, allegedly chaired a meeting of the 45-member Dera core committee on August 17 to plan the violence.
A witness in the conspiracy case is a journalist, Sanjeev Mahajan, who told the police that he had heard Dera members Aditya Insan (spokesperson) and Surender Dhiman Insan plan the riot.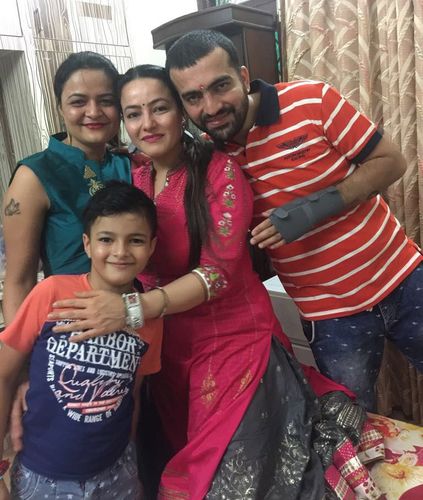 On the day of the verdict, Honeypreet, 26, and Gurmeet had set out for the court in a 173-vehicle procession that had a fire engine and an ambulance. "The carcade had everything in it. A portable computer, generator, printers," said Chawla. "The fire engine was carrying six litres of petrol, though it was a diesel vehicle [the Dera explained that it was for other vehicles]. Armed commandos from Punjab, Haryana and Rajasthan police were guarding the Z Plus protectee. More than 100 live cartridges and seven weapons were recovered from these vehicles." Lakhs of Dera supporters from Punjab, Haryana, Uttar Pradesh and Rajasthan had arrived with stones, canes, weapons and black umbrellas. The umbrellas had a dual purpose: to identify Dera followers and for use as a weapon against the police.
The police said electronic evidence confirmed that some key Dera officials had asked the premis (followers) to sacrifice their lives for pitaji (Gurmeet). A sum of Rs 1.25 crore was given to Dera officials to execute the plan. The police recovered Rs 24,80,500 from the accused.
The mobile records of the key conspirators showed that they were constantly in touch with one another. After Gurmeet went to jail, Honeypreet went into hiding and was arrested 38 days later, along with an associate, from a highway near Bhatinda in Punjab. The police said she carried a suitcase that had hundreds of credit and debit cards, chequebooks, mobile phones and title deeds. Honeypreet and her associates have been charged with sedition, criminal conspiracy and waging war against the state.
Honeypreet had travelled with Gurmeet in a helicopter while he was being taken from Panchkula to a jail in Rohtak. Her ex-husband, Vishwas Gupta, has said that she is not Gurmeet's adopted daughter, but his lover. He alleged that he was threatened with death after he discovered their "illicit relationship".
Honeypreet's family has dismissed these allegations as baseless. Her younger brother, Sahil, who runs a factory in the Dera township in Sirsa, Haryana, told THE WEEK that their family became Dera followers two decades before and that Honeypreet had sacrificed all joys of life to serve the Dera. She has two sisters who are married and settled in Faridabad and Gurugram. Her parents and brother continue to reside at the Dera headquarters.
"Honey does not enjoy any powers," said Sahil. "These are baseless rumours. Didi [elder sister] was helpful and friendly. She had no ego and anger. We know she is clean and we will stand by her till the end. It is a conspiracy hatched by certain people who were worried that she would become the Dera head since pitaji had declared her his adopted daughter." He said that the media had done a character assassination of Honeypreet without proof.
Sadhu Gurdas Singh Toor was once close to Gurmeet. He told THE WEEK that he was part of Gurmeet's close coterie who were allowed to enter the gufa (a cave-like tunnel) where the self-styled godman lived."My family were Dera followers and when I was 18, my parents thought I could join as a sadhu," said Toor. "Little did I know what I would witness." Toor said he had seen exploitation of women and forced castration. He said he was fed up with the goings-on and he ran away to escape castration.
Toor said he has given the CBI a list of 300 sadhus who had undergone castration. "I want justice for all sadhus who have suffered," he said. "We want to expose Ram Rahim."
Slain journalist Ram Chander Chhatrapati's son Anshul told THE WEEK that the entire state administrative machinery had surrendered to Gurmeet. "Chief ministers and important ministers of several states used to visit him," he said. "People had started believing that Ram Rahim can do anything and no one can touch him." But Ram Chander did not bend like them. "After his murder, it was an uphill task to get the FIR registered," said Anshul. "Just to include the Dera Sacha Sauda in the FIR was an impossible task. Finally, the court ordered a CBI investigation in the case."
But Anshul said he always had faith in the judiciary. "When no one believed that Ram Rahim will go to jail, I was sure he will be behind bars one day," he said. "I have full faith that he will be convicted of my father's murder."