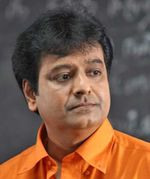 He was such an inspiration that my acting career took a back seat and I started planting trees to create awareness about global warming.
I am just a small time actor, just a comedy actor. But every time he met me, he would address me as "Vivek sir". Once, I said, "I am just an actor. Why should you call me Vivek sir?" He said: "You propagate social messages that reach the people."
What I admired in him was his simplicity. I learnt righteousness from him. Whenever I met him, he used the phrase, "righteousness in the heart". That has definitely taken me to different heights and has taught me discipline. After he became president, I sought to meet him. He asked me to come to the Rashtrapati Bhavan. I was given only five minutes, but he spent 45 minutes with me, sharing his experiences. Again, in 2009, when I got the Padma Shri, I met him to take his blessings. He wasn't the president then. He said his good wishes were always there for me and asked me to work for the people, not as an actor or as a celebrity, but as a citizen of the country.
In 2010, he called me again. I went to meet him. He told me about global warming and its dangers. He asked me to take it up vigorously and to create awareness. He advised me to spread the message of the need to preserve trees through cinema. I launched an organisation called Green Kalam in 2010 and started planting trees across the state. Dr Kalam personally planted sapling number 10 lakh at Cuddalore. He himself chose Cuddalore, and specifically a place close to the sea which had been washed away by the tsunami. He planted a sapling there and spoke to a huge crowd of students. He told them what global warming was and what we should do to create a green nation. His message to me, however, was, "Vivek, you should not stop with 10 lakh saplings. Make it one crore."
I then decided to take up the Green Kalam project with more dedication. My acting career took a back seat, and I decided to travel across the state to find places to plant trees. Some months later, however, he suggested that the movement should not have his name. So, as per his wish, our tree plantation movement is now called Green Globe. I am proud to say that I have planted 27 lakh saplings. Unfortunately, my plan to have him plant sapling number 30 lakh will remain a wish. I had even chosen a place in Coimbatore for the event and he had promised to deliver a lecture on global warming for students.
Vivek is a Tamil actor.
As told to Lakshmi Subramanian