Five days into this year, a business magazine dropped a bombshell of a tweet: Google would invest in Air India (AI). Twitterati went bananas speculating on why the tech giant would do it. Nationalists said it was all because of the Chennai boy in Mountain View. The biz wise said that was nonsense; Google would not invest in something that does not have value. So, what were we missing? Then, someone set the record straight. The tweet was a misquote from Google CEO Sundar Pichai's speech at IIT-Kharagpur, his alma mater. Google was betting on AI and machine learning. Artificial intelligence, not Air India. For a brief while, however, Air India trended in cyberspace.
Now, AI is back to being in the news over the proposed sale of shares. Speaking to THE WEEK, K. Roy Paul, former chairman of AI and former secretary, civil aviation, said the proposal should be seen in two parts—the decision to sell shares, and how it would be done. "I fully agree with the first part," he said. "The government cannot run AI like this for much longer. For how much longer should the taxpayer fund AI? That said, the sale should not be done in a hurry. Distress sales never benefit the seller. A proper valuation of AI assets, both tangible and intangible, must be made before arriving at a price."
Experts say no investor will bite until the government sweetens the deal. A group of ministers, headed by Finance Minster Arun Jaitley, will work towards making the deal attractive. AI's current debts are pegged at around Rs 52,000 crore, of which Rs 22,000 crore is aircraft loan. The ministerial group is expected to form a special purpose vehicle which will hold AI's assets and a major chunk of the non-aircraft debt of Rs 30,000 crore. Reports suggest that the civil aviation ministry will break AI's land bank to cover this debt. The AI land bank includes jewels like the iconic building in Nariman Point, properties on Chennai's arterial Anna Salai and in Connaught Place, New Delhi.
The Air India Art Collection, informally called the 'Maharajah's Collection', too, might go under the hammer. Collected over 60 years, it includes works by M.F. Husain, Tyeb Mehta, S.H. Raza, V.S. Gaitonde, Ghulam Mohammed Sheikh, Arpana Caur and others. Though dominated by paintings, the collection also has sculptures by the likes of Piloo Pochkhanawala and Raghav Kaneria. The antique part of the collection comprises miniatures, clocks, jewellery, lithographs, carved wooden panels, textiles and rugs.
In 2012, Ajit Singh, former minister for civil aviation, said the ballpark value of the collection was Rs 350 crore. It could have changed significantly, considering that Christie's sold an untitled Gaitonde oil for $44,15,008 (approx. Rs 28.6 crore) in Mumbai in December 2015. This May, the London-based auctioneers sold an untitled Mehta oil for $35,57,818 (approx. Rs 23.04 crore).
Artist-curator Bose Krishna-machari said, "The Air India collection represents a different time and thinking. As founder chairman, J.R.D. Tata passed on his taste to the airline. This is evident in old AI posters, too. Tata was a patron of the arts, and the airline, too, became one. The same happened with the Tata Institute of Fundamental Research [under Homi Bhabha]. The airline collected artworks in exchange for tickets. It was mutually beneficial. Artists got the exposure they could not afford at that time, and the airline got an enviable collection. If it goes under the hammer, I hope it goes to the right people at the right price."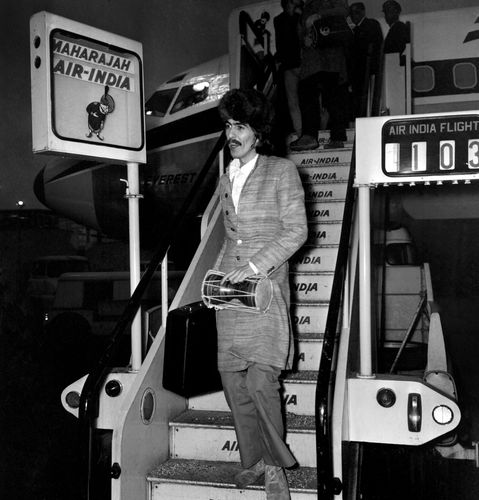 Arvind Vijaymohan, CEO of Artery India Art Intelligence, a prominent art advisory firm, said he would recommend a sale in the private market over an auction. "Disintegrating a stellar collection with as rich a history as the Maharajah's isn't a pleasurable thought," he said. "But, with an appropriate communication strategy, this sale could certainly feature a number of record setting artworks. We have already advised a set of our clients regarding the collection's most prized assets.
"For the AI management to maximise the collection's earning potential, they must consider some key factors: briefly, that the artworks be appraised with requisite diligence to ensure none are undersold. Importantly, that a sale of this standard could easily record a stronger performance in the private market rather than auction. According to the Artery Knowledge Cell, the world's six most expensive artworks ever sold, for a collective price of $1.3 billion were all sold privately, and not via auction."
Paul said the art collection is a drop in the bucket considering the size of AI's debt. "There are other assets," he said. "For example, a slot at Heathrow costs a fortune." Slots prices vary hugely, based on timings and days. For example, early morning landing slots are pricier, because they are preferred by long-haul flights. Monday and Friday are the priciest days.
Colm McCarthy, professor of economics at University College Dublin, said Heathrow was pricey because it has only two runways, capping daily slots at 688 landing and take-off slots each. In April 2016, Oman Air launched its second daily service between Muscat and Heathrow by buying a pair of slots for a record $75 million from Kenya Airways.
On June 1948, AI flew a Lockheed Constellation named Malabar Princess from Bombay to Heathrow, making London its first international destination. So, AI has 'grandfather rights' in Heathrow, as in many other airports. Peter Stanton, former worldwide head of airport slots for IATA, said slots were important because airlines invest billions of dollars in aircraft, and they need assurance about access to airports. "This is why historic (grandfather) rights are appropriate," he said. It is an advantage that newer airlines would not have, and that should be taken into consideration when AI's price is set. From London, AI flies Delhi, Mumbai, Ahmedabad and Newark.
More than assets, it is AI's liabilities that have made the headlines. That would affect investor sentiments, an industry expert said. Mohan Ranganathan, aviation safety expert said, "If you tell a buyer that he must retain AI's staff, he would flee. Political interference has destroyed the hiring at AI, and that has a lot to do with the airline's downfall. Managements played the unions against one another, which meant that the staff were divided. Reservation, which should have been used to empower the competent, was used by politicians to employ people close to them. Potential investors are aware of all this, and they would be very cautious."
Ranganathan highlighted the recent row over appointing Captain Arvind Kathpalia, reportedly the oldest pilot in AI, as executive director of operations. On January 19, Kathpalia flew the Delhi-Bangalore sector after refusing to take a breathalyser test. In February, the director general of civil aviation suspended his license for three months for breach of safety regulations. Earlier, the captain was reportedly accused of risking prime minister Manmohan Singh's life while flying him to an overseas destination. Despite all this, in March, the appointments committee of the cabinet cleared his name. And, on June 27, he was appointed director for five years.
Despite the odds, Paul says this might be the last chance to turn AI around. "The government could manage the debt and hand it over to a consortium of Indian financial institutions to run," he said. "Or, AI could partner with another international airline and develop a hub in India. Remember, Dubai in the west and Singapore in the east took off because India was not a hub."
The sale of Air India shares has hidden costs, too, said a source who preferred to remain anonymous. "Sometimes, a country would have a criminal India wants," the source said. "In return, they would ask for an increase in their seat share to India. Our ambassador there would then contact the external affairs ministry, which would push the ministry of civil aviation to oblige. And, we would get the guy." How do you put a price on that?