Government signposts the challenge—and the response
Of the next billion users of the Internet, more than 500 million will be from India. A recent study by NASSCOM says that, by 2020 India will have a 730 million Internet users in a population of 1.5 billion. Yet the India Internet scene reveals many challenges—and in many global rankings, the country comes off poorly.
A day-long event in Delhi—Internet Inclusion: Advancing Solutions ( India)—hosted recently by IEEE, saw a rare coming together of government officials and leaders from development banks, industry, the technical community, NGOs and others, to explore collaborative development, discuss synergies and overlaps.
There was need for some egoless introspection—and that is what, J.S. Deepak, Secretary, Union Department of Telecommunications, provided in his speech. India was one of the fastest growing economies in the world and it had young population, he said but it still faced challenges in the digital arena.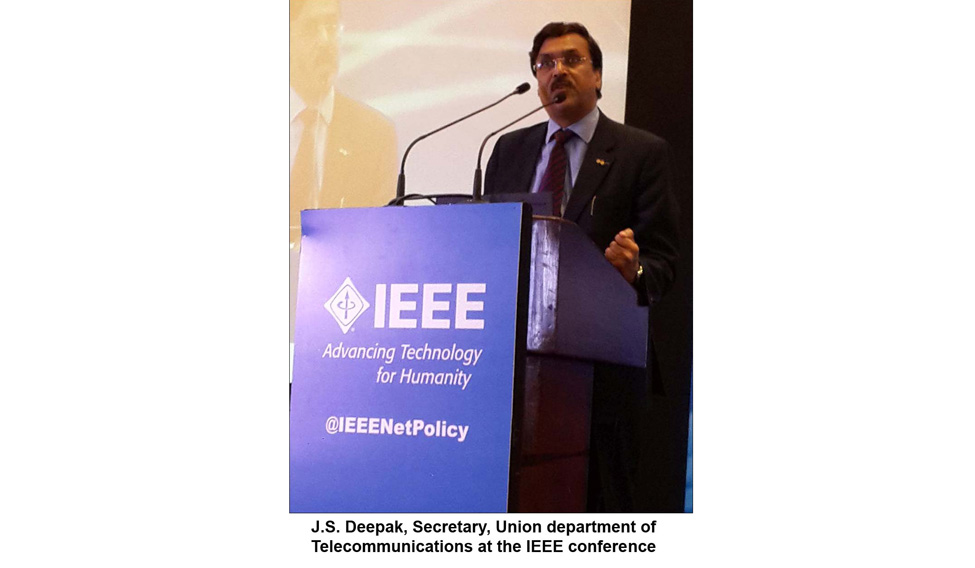 He summarised the challenges faced, as India tried to attain Internet inclusion:
1. Broadband Connectivity: India ranks around 100 in the world in terms of the number of households that have access to the Internet. In mobile broadband, the rank is 155; for landline broadband it is 111. Just 300 to 400 million out of the total population of 1.25 billion have access to the internet. Low broadband penetration is stifling GDP growth. . According to the World Bank indices for a developing economy like India, every 10 percent increase in broadband penetration can result in an increase of per capita contribution to the economy by 1.3 percent.
2. Digital Literacy: A recent survey showed that only 16 percent of all rural households in India are digitally literate. Digital literacy is defined as: at least one member of the household is able to access the computer or mobile apps. The digital divide, due to lack of connectivity and digital illiteracy, leads to a dissymmetry of information, which in turn leads to a dissymmetry of opportunity.
3. Digital content in Indian languages: Twenty two in India that are recognized by the constitution, and spoken by over 100 million people. There are more than 200 dialects. Yet most digital content is in English, a language understood by just 300 – 400 million people. This is a major entry barrier to Internet usage in India.
4. Availability of e-services: Citizens have to go to a government office to avail most government to citizen (G2C) services. Filling paper forms, standing in long queues, and dealing with corrupt officials is something that can be done away with by going online. But municipalities and other government bodies have been slow to digitize processes. However, the government has initiated programs to step up the pace for eServices.
5. Quality of Service on mobile networks: Service providers are unable to keep up with the huge demand for voice and data services in India, leading to choking of networks, and hence the quality of services is often what it should not be.. The reason for this is spectrum, which is both expensive and scarce. Service providers participate in spectrum auctions that happen every few years—and also buy spectrum from each other. On October 1 India begins her fifth spectrum auction in which government proposes to put 2,350 Mhz of spectrum on the table. This gives an opportunity to every mobile service provider in India to fill gaps and get large blocks, to be able to provide services efficiently—for both data and voice."
6. Cyber security: Cyber security is not just related to espionage and disruption of services. Equally important is security of data and the security of banking transactions. Customers will not do their banking online if they fear that accounts could be hacked and their money stolen by hackers. Hacking and Denial of Service (DoS) attacks have led to disruption of services, both in government and the private sector. Banks in particular face increasing security breaches. To counter this, the government has set up the national coordination cyber centre to ensure that major networks are not only monitored but capacity is built within organizations from the private sector and government.
Mr Deepak pointed at some initiatives to address these challenges including the National Digital Literacy Mission, the upcoming auction of spectrum, initiatives to make government-to-citizen services paperless, presence-less and cashless, Bharat Net and the National Optical Fiber Network projects, which aim to connect 250,000 gram panchayats—and the programme to make 95% of all its online services available in all of India's 22 languages, within the next two years.
'We are like that only!': Indian Internet habits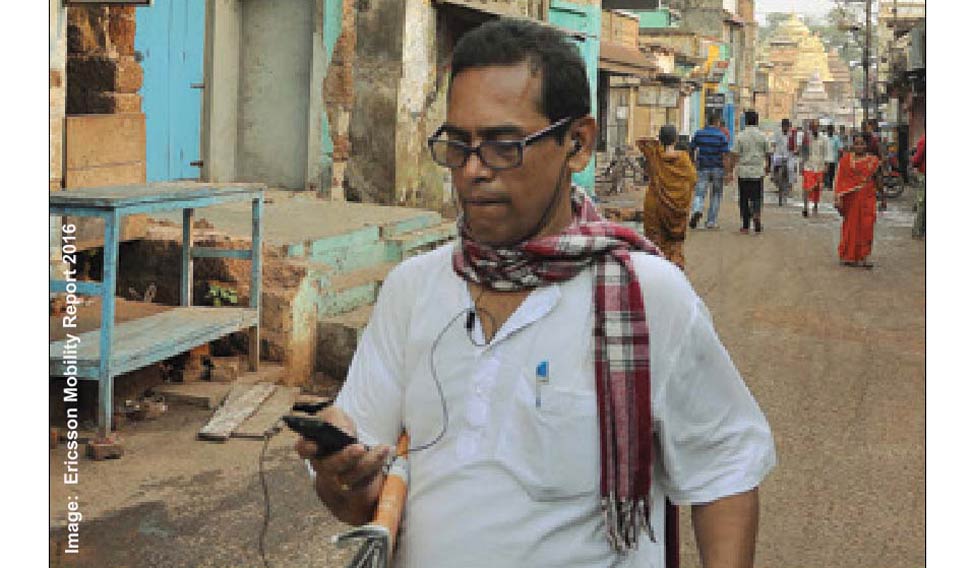 The latest edition of the Ericsson Mobility Report, finds that South Asia will be a bright spot amongst developing economies, with India being the dominant economy in the region, as well as the second largest telecommunications market in the world in terms of subscriptions. The Indian economy is projected to grow by 7.4 percent in 2016. Liberal telecom policies, deregulation of foreign direct investment (FDI) and strong consumer demand have led to the rapid growth of the telecom sector in India.

In India, web browsing, emailing and social networking are the top three internet activities on smartphones, which is aligned to the global trend. Around 15 percent of smartphone users in India make online video calls daily, and this is similar to the global average.
Young Indian smartphone users aged 15–24 years old drive the need for better data speed and data coverage, and have a higher inclination to pay a premium for the same.


In India, streaming music and watching videos are the most popular forms of entertainment on smartphones. Around 50 percent of smartphone users stream music on mobile apps every week, and more than one in two internet users watch short online video clips on a weekly basis.


Smartphone users primarily access the internet on their mobile devices in India. With the projected growth of 3G and 4G subscriptions in India, mobile app usage is expected to rise.


Among Indian smartphone users, WhatsApp Messenger is the top mobile app, in terms of the number of Indian consumers, followed by Google Search and YouTube. E-commerce apps such as Flipkart, Paytm and Snapdeal are growing in popularity in India.