On Tuesday, two Indian Navy warships, INS Jalashwa and INS Magar, were dispatched to Male, capital of the Maldives, as part of Phase-I of the evacuation of stranded Indians under Operation Samudra Setu.
INS Jalashwa will take two days to reach Male, while INS Magar will reach the Maldives on May 10. The two ships are to help in evacuating around 1,000 Indians from the country starting May 8 (Friday), with the passengers to disembark in Kochi.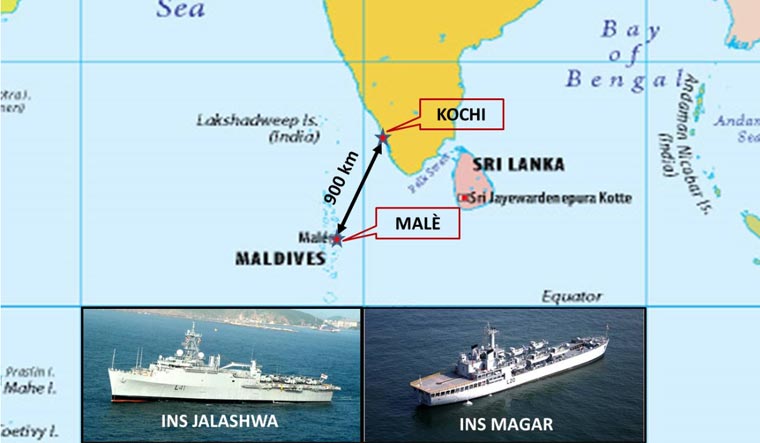 The Indian Navy has carried out similar non-combatant operations overseas on earlier occasions; Operation Sukoon in 2006 and Operation Rahat in 2015. The choice of these two ships was done as they are both amphibious warfare vessels, designed to land and support ground forces.  
The December 2004 tsunami exposed a critical capability gap in the Indian Navy's inventory to provide humanitarian assistance or disaster relief from undeveloped or semi-developed coastlines. A defence official explained that the launching of ground forces to sustain operations ashore in a hostile environment is an important task for the Indian Navy. While traditionally such capability has existed in the Navy through conventional amphibious vessels, in contemporary times such operations are best conducted by vessels capable of stand-off beaching—the capability to offload men and equipment without coming close to shore.
Such ships are called expeditionary operations platforms. Most ships carrying relief material have a small helicopter like the Chetak, as well as small boats with limited load-carrying capability. Ships such as destroyers and frigates, though loaded with relief supplies and disaster relief bricks, required berths and jetty cranes which can be located at a considerable distance from the disembarking site, according to a naval officer.
"It was also observed that Landing Platform Dock(LPD) from the Singapore and US navies were very effective. The Indian Navy, therefore, scouted and shortlisted USS Trenton, LPD as the most suitable platform to fulfil intermediate capability till the Indian Navy builds its own LPD class of ships," an official said.
The officer added that the six second-hand UH-3H Sea King helicopters offered to the Indian Navy had been turning out to be force multipliers for ships engaged in Humanitarian Assistance and Disaster Relief (HADR), out-of-area contingencies (OOAC) and evacuation operations.
Eventually, on 22 June 2007, USS Trenton was re-commissioned as INS Jalashwa at Norfolk, USA. After a 45-day voyage across the Atlantic, Mediterranean and Indian oceans, the ship arrived in India on September 13, 2007. A naval officer further said that since her commissioning in 2007, INS Jalashwa has proved to be an extremely valuable acquisition to the Navy's force levels.
"Her integration with the fleet has expanded the force architecture of the Navy and has been imparting valuable experience in running, deploying and maintaining an LPD. Her participation in exercises requiring amphibious capability, strategic sealift and HADR missions have expanded the window of exposure to the fleet and planners ashore," the official added.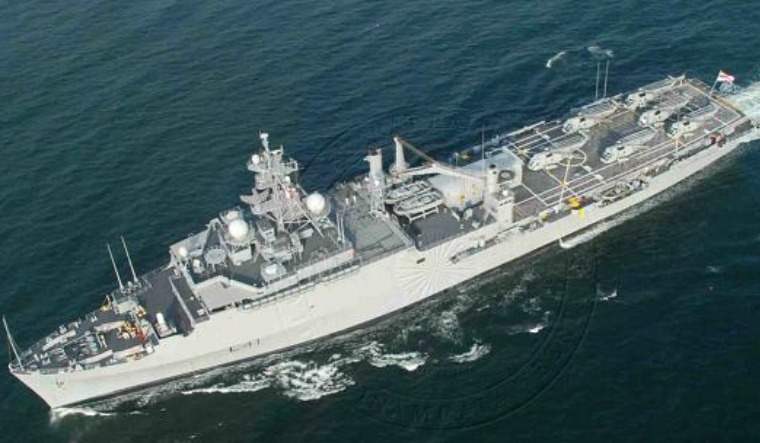 INS Jalashwa has a full load displacement of 17,521 tonnes. The ship is 179m in length, has a width of 30.5m and can achieve a max speed of 21 knots. It has a complement of 330 personnel. She also has four Landing Craft Mechanised (LCM) for transporting troops ashore. The main weapon systems of the ship comprise of two CIWS AK-630 gun mounts and a 25 mm gun mount.
Similarly, INS Magar, which was commissioned by Admiral R.H. Tahiliani, Chief of the Naval Staff on 15 July 1987 at GRSE Yard, Calcutta, has been the lead ship of the Magar-class of amphibious warfare vessels of the Indian Navy. The ship has taken part in Operation Pawan, during which she was involved in the transfer of Army troops and vehicles from Chennai to Sri Lanka. 
INS Magar has a displacement of 5,750 tonnes and the ship has a length of 120 metres and a beam of 17.5 metres. "Being an amphibious ship, the warship can carry tanks and Armoured Personnel Carriers (APCs) for transportation to target beaches. The ship can also carry a strength of 500 fully laden troops nearly 10 days, in addition to her own crew," a naval official said. He also said that the main weapon systems of the ship comprise of CRN 91 Guns, chaff launcher (KAVACH) and the WM-18A Rocket launcher. The ship also carries four landing craft vehicle personnel (LCVP) onboard which can be used for the landing of troops. 
Explaining more about the warship, a naval official said that INS Magar has the capability to beach and discharge tanks, APCs and troops directly onto the target territory. The bow door of the ship opens after beaching to discharge the load embarked in the tank spaces. Other ships of the class include Gharial, Shardul, Kesari and Airavat. 
The Indian Navy had carried out evacuation operations earlier also, notably during the 2006 Lebanon war. When military conflict broke out between Israel and Hezbollah broke out in July-August 2006, numerous foreign nationals visiting Lebanon were caught in the battle. The Government of India asked the Indian Armed Forces to help evacuate its citizens at risk from the conflict zone. 
Operation Sukoon was launched by the Indian Navy to evacuate Indian, Sri Lankan and Nepalese nationals, as well as Lebanese nationals with Indian spouses, from the conflict zone during the war.
 "Of the over 10,000 Indian nationals in Lebanon, almost 2,000 were at risk. Neighbouring Sri Lanka and Nepal, which lacked military resources, also requested the Indian government to help evacuate their citizens. Altogether, over 2,200 nationals of these countries were caught in the conflict zone," a senior official recalled.

Official added that Indian Navy Task Force, consisting of three warships and a fleet tanker, was returning to India from the Mediterranean following a goodwill visit and was just about to cross the Suez Canal. Following the hostilities, it was ordered to turn back to help evacuate Indian nationals from Lebanon.
The task force comprised the destroyer INS Mumbai, the frigates INS Brahmaputra, INS Betwa and the fleet tanker INS Shakti. The plan for the evacuation was for the warships were to take the evacuees to Cyprus, from where chartered Air India flights would fly them back to India. 
"In the rescue mission, INS Mumbai evacuated 1,495 people to Cyprus, in three sorties on 20, 23 and 26 July. INS Brahmaputra and INS Betwa evacuated 188 and 254 people, respectively, during a sortie on 23 July. Altogether a total of 2,280 people including 1,764 Indians were evacuated. 112 Sri Lankans, 64 Nepalese and seven Lebanese nationals with Indian spouses were also among the evacuees," the officer said while adding that citizens of other friendly nations at risk were also evacuated as a courtesy.
Then came Operation Rahat in 2013. The Indian government had issued an advisory to Indian nationals to leave Yemen after the volatile security situation caused by the civil war. The Indian Navy undertook evacuation operations, taking Indian nationals from Yemen to Djibouti from where they were repatriated to India by air. Indian Naval ships Sumitra, Mumbai, Tarkash and passenger vessels Kavaratti and Corals participated in the operation. 

"The operation lasted two weeks from 30 March to 17 April 2015 during which nine evacuation missions from Hodeidah, Aden and Ash Shi'hr ports in Yemen were undertaken. The operation resulted in the evacuation of 3074 personnel from Yemen, including 1.291 foreign nationals. including citizens of Bangladesh, Yemen, USA, UK, Egypt, Indonesia, Djibouti, Philippines, UAE," said an official.