From house inmates accused of kidnapping to a war of words between Rajnikanth and Kamal Haasan fans, season 3 of Bigg Boss Tamil has thrived on controversy. The latest to hit the show is not about a person, however, but about a room.
The smoking room in the Bigg Boss house has become a hub for the show's characters to talk candidly to one another. Resembling a small boiler room in season 3, it is a small space where inmates can smoke. The room is one of the few locations on the set that does not have a camera and has been around since the show's inception
However, the room is the latest element from the show to attract controversy. S. Cyril Alexander, the state convener of the Tamil Nadu People's Forum for Tobacco Control, has filed a complaint with state and central level authorities over the presence of the room in the house. According to Cyril, smoking sections are only permitted in airports, restaurants and hotels, with the Bigg Boss house coming under none of these categories.
You can read a part of the complaint below:
"According to the Section 4 of the COPTPA (Cigarettes and Other Tobacco Products Act) 2003, no person shall smoke in any public place: Provided that in a hotel having thirty rooms or a restaurant having seating capacity of thirty persons or more and in the airports, a separate provision for smoking area or space may be made."
The COPTPA Act made the sale or advertisement of cigarettes near educational institutes illegal. In addition, the Prohibition of Smoking in Public Places Rules, 2008, lays down guidelines for how a smoking section should be designed. These are the requirements:
"A smoking area shall mean … a separately ventilated smoking room that:
(i) is physically separated and surrounded by full height walls on all four sides;
(ii) has an entrance with an automatically closing door normally kept in close position;
(iii) has an air flow system, as specified in Schedule I,
(iv) has negative air pressure in comparison with the remainder of the building."
The Act considers a 'public place' any place "to which the public have access". However, it does not specify what constitutes a private place under this definition.
The question here depends on what kind of property the Bigg Boss set is considered as — a public or a private space. A lavish building located within the EVP Theme park set, it is neither a hotel nor a restaurant nor an airport so under the categories that constitute public spaces where smoking sections are permissible, it misses out. However, if it is considered as a private property, having a smoking section may be legal.
Second battle between Cyril and Kamal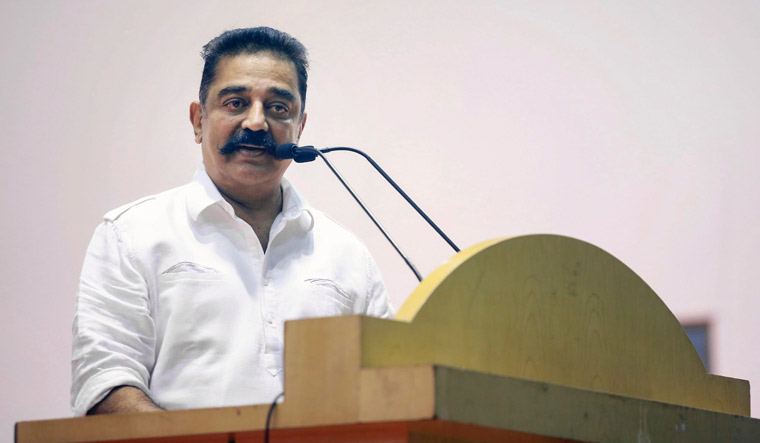 This is the second time that Cyril has filed a complaint against Kamal Haasan. The first was during his election campaign for the Makkal Needhi Maim (People's Justice Centre) in April. During a campaign rally at Puducherry, one of his party workers went to the back of the stage to smoke a cigarette. Seeing this, Cyril filed a complaint, stating that the event took place in a public venue and therefore was not appropriate grounds for smoking in.
Tobacco use kills over one million people a year in India.