On the second day of his visit to Kolkata, Nobel Laureate Abhijit Vinayak Banerjee (known as Jhima to his friends) spent some family time at his home in the Saptaparni Apartments in Ballygunge, Kolkata.
In the morning, he looked quite the Bengali Babu in a crisp sea green cotton kurta, as he ate breakfast with friends and family, and met some visitors. For his visit to Kolkata, the government provided him with a red-beacon Toyoa Innova and a police escort, with which he travelled around the city after a change of attire.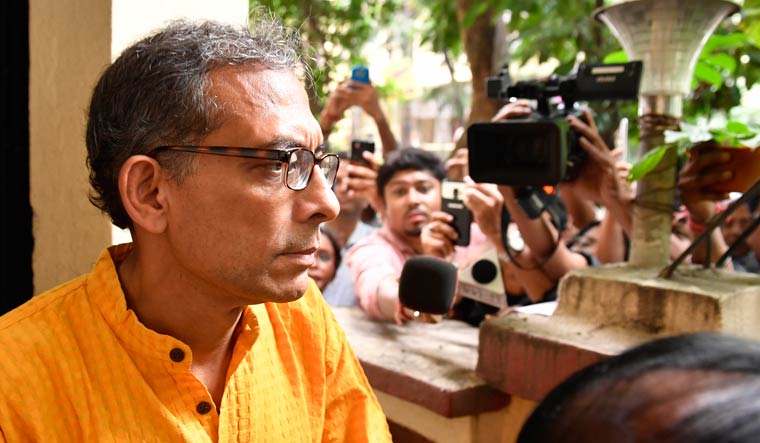 A group of alumni of the erstwhile Presidency College (now university) gifted him a copy of the Presidency's Alumni Association's magazine, Autumn Annual, along with a bouquet of flowers and sondesh (sweetmeats from an iconic north Kolkata sweet shop, Nokur). He agreed to receive the prestigious Distinguished Alumni Award from the association in January 2020, for which he will likely return to the city.
Later on, he visited author-poet Nabaneeta Dev Sen, former wife of another Nobel Laureate in Economics, Amartya Sen, at her South Kolkata residence named Bhalo Basa. Banerjee spent more than half an hour with the writer and her daughters Antara and Nandana. He gifted her his new book Good Economics for Hard Times to Dev Sen and she, in turn, gave him a copy of her latest Bengali novel, Bhalobasar Baranda (A Balcony of Love).
As Banerjee emerged from her home holding his copy of Bhalobasar Baranda, press photographers who had gathered there clicked pictures trying to capture every moment. In fact, throughout his two-day visit to the city as a state guest, the media kept constant vigil over him, never losing an opportunity to take a picture or get a byte. Nursing a sore throat, however, Banerjee hardly spoke to the media.
On his way home, he stopped at a Fabindia store nearby, picking up Kurtis, a sherwani set and a chudidhar as gifts.
He is scheduled to fly back to the US early on Thursday morning.
Banerjee was born in Dhule in Maharashtra. Both his parents were professors in Kolkata, with his father Deepak teaching at Presidency College and his mother Nirmala teaching at the Centre for Studies in Social Sciences Calcutta.
He was enrolled in Kolkata's South Point School at an early age, and later studied Economics (Honours) at Presidency College. Now an American professor at Massachusetts Institute of Technology, Banerjee won the Nobel Prize in Economics for 2019 jointly with Esther Duflo and Michael Kremer for their "experimental approach to alleviating global poverty."