In May 2014, at the break of the saffron dawn—amidst euphoric celebrations by "patriots"—a building collapses in Mumbai. Trapped deep under the rubble is a seriously injured man, deliriously rambling about the real-time movements of a Muslim couple, eliciting deep concern from the law enforcement agencies at hand. Welcome to the world that writer and journalist Manu Joseph has conjured up in his new novel Miss Laila: Armed and Dangerous, equal parts witty and searing.
Assisting the cops in ensuring aid to the man, and relaying information to the former, is Akhila Iyer—a medical student and a "stand-up anthropologist". The Iyer that Manu created (irony unintended) is a prankster who is equally at ease taking on the Sangh and their chosen one, Damodarbhai—he of the silver beard and a 56-inch chest—and virtue-signalling left activists, garden variety woke feminists and brocialists. Her performances are viewed and calmly evaluated by Vaid, or the "Patriarch", a Sangh veteran who is shrewd as he is politically intuitive. AK, the man tipped to be the next National Security Advisor, relays the developments at the accident site to Vaid.
In a parallel narrative—a barely disguised re-telling of the Ishrat Jahan encounter—Mukundan, an IB officer and a "poet", shadows a suspected terror operative Jamal. The latter, along with his partner 17-year-old Laila, head out to Ahmedabad in a blue Indica. Unbeknownst to the duo, the IB has laid a trap for them. Laila, a sprightly teenager, is the bread-winner and the glue that holds together a family, which includes a mother and six sisters.
Under the capable hands of Joseph, a tale that could have easily descended into kitsch sprints to a nail-biting climax.
Make no mistake. Through Iyer, Joseph lampoons the likes of Arundhati Roy, Irom Sharmila, "political economists who know the meaning of the term", and journalists who secretly pine for a Nobel Prize. But he is at his caustic best while observing the exploits of the Sangh, the right wing, and DaMo ("the secret thought that people have already thought"), illuminating the dark recesses of their psyche with a detached, cynical precision.
"Just the sight of the Hindu patriots in the uniform of the Sangh reminds the Muslims of death. That is the idea."
The author holds up a discomfiting mirror to modern India. Some barbs are too close to home. Damodarbhai sneers about the higher growth of Muslim population when compared to Hindus ("We two, ours twenty five"—a slightly distorted statement to the same effect was made by post-2002 Modi), and emboldened gau rakshaks thrash youngsters for transporting cattle. Other scenes like a lawyer in saffron burning Qurans at his home, chanting 'DaMo, DaMo', seem dystopian, but as every reader would think: for how long?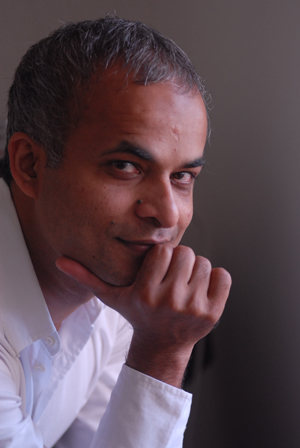 The story unfolds in layers—a taut thriller that makes for easy consumption. The style of narration is signature Joseph—darkly humorous ("faces only an Indian can make, like the baffled expression while crossing a track and seeing a train hurtling towards him"), irreverent ("Hinduism without fear and wound is probably called Buddhism"), and iconoclastic ("One reason why Muslim population is growing faster than the Hindu is that Muslims don't kill their girls in the womb"). Like his previous works, The Illicit Happiness of Other People and Serious Men, the characters are in a cocoon unto themselves—asymptotes that approach each other, but never really intersect.
In the book, the author writes that the republic is a giant prank. "Given the chance to refine the term, I will make it an 'accidental prank'," says Joseph. 
"It is easy to romanticise the chaos in the country and that is extremely dangerous."
Excerpts from an interview with THE WEEK:
Miss Laila is political like no other work of yours. It is a biopsy of modern India in a way that few novels before it were. What is your prognosis?
I am optimistic about many aspects. For my generation, the priority was to fly away from India, to leave the country. Unlike them, there are now several sections of the middle class with a stake in the progress of the nation. There are real, genuine debates that are happening, say, on the quality of the air.
What if we get a Muslim atheist for a TV show and ask him to defend Islam? It is meaningless. It has to be an argument between believers. Similar reasoning is applied here, and genuine debates are happening. 
Now, the problem is that there are people who occupy very important public spaces—like journalism—who are not there because of talent. Basically, they are compassionate people. But I feel like that is not good enough. Journalism has to be strong, engaging, and entertaining—the latter being the most underestimated aspect. We need real talents to be given the opportunity to rise up, and it is currently occupied by people who are more interested in activism.
Activism and communication are two entirely different aspects. Journalists need to engage, not just with your own constituents, but different sections of the population that you might not agree with.
In the book, you have caricatured everyone—from Modi to Doval, Arundhati Roy and P. Sainath. But do you know who, as a reader, I really missed? Arnab Goswami.
He does a caricature of himself. I don't need to do it for him. A caricature works best on people who take themselves seriously.
How do you trace the genesis of the Akhila character?
Some parts were derived from my earlier relationships. I suppose she was always this woman in my head that I was very fond of.
In an alternate dimension, where India has learnt not to take offence, do you see yourself as a 'stand-up anthropologist'?
Even in this dimension I can see myself doing that. And second, this whole business of not taking offence is something that the liberal fan fest spread. I have argued on several occasions that it is basic human nature. The liberals themselves take a lot of offence. What is important is how we react to it. 
Yes, it would be great if the threshold was reasonable and the system guaranteed that there was no opportunity for the offender to be harmed.
There is another issue. If you have to negotiate with the government for the right to offend, or if the offence becomes state-sanctioned, it is the end of humour.
What are you afraid of more? Right wingers chasing you with rods and stones, or "salad-eating" book reviewers unioning up against you?
In the short term, the prospect of physical violence is indeed frightening. But never underestimate the venom of intellectual violence. Both are dangerous.
And where do you think we have failed? Where does this disconnect come from?
The opposition to conservatism, or any dangerous force for that matter, has to come through electoral politics. Without being in electoral politics, I feel that occupying other areas like journalism and art is just an easy way out. Real activism lies in politics.
Would you be offended if I call you a political economist who does not know the meaning of the term?
(laughs) It would take much more than that to offend me.
(Miss Laila, Armed and Dangerous is published by HarperCollins India)