On March 19 this year, Shaanti Bhavan Mandir in New York became the first Hindu temple to join the National Sanctuary Movement—a coalition of places of worship for sheltering undocumented immigrants. The temple was founded in 2013, by Indo-Caribbeans hailing from Guyana and Trinidad. "A mandir is not just a place we come to pray," said temple leader Pandit Manoj Jadubans to the devotees. "We can give them shelter, a place where they feel secure."
"Although we cannot house anyone, our mandir is able to help them find legal resources," said Ravina Vibart, wife of Pandit Manoj, whose courtly voice was punctuated by the crackle of distant phone call.
Other spiritual institutions, though partial to the movement, tread the middle ground. Punya Upadhyaya, board member of Neem Karoli Baba Ashram in New Mexico, said the issue should not be blown out of proportion. The ashram, in the hills of Taos, was erected by devotees of the Baba from Uttar Pradesh who reportedly appeared in different places at the same time and transported people to a state of god consciousness with a touch of his finger. "Those who require help are always welcome to connect to us. But, we are not a political organisation. We are not against anyone. New Mexico, being very close to the border, already has a strong network of refugees," Upadhyaya said.
"There is some fear among the Indian community, especially the Hindu community, in New York," said Pragnesh Surti, an Indian-American who is active there in the International Society for Krishna Consciousness (ISKCON). "While most of us are here legally, there are some who are undocumented. There is also the threat of physical violence, as we have recently seen in Kansas, Iowa and Chicago. Sometimes, we are mistaken for Muslims. If your skin colour is not right, you could end up being persecuted."
The Hindu-Americans are one of the most affluent and well-assimilated communities in the US. Most of them have now discarded their old apolitical armour. Flaunting their religious identities, they are seeking space in a political spectrum as diverse as Indian spirituality.
On the extreme right, there is the Republican Hindu Coalition, led by industrialist Shalabh Kumar. The RHC came out in support of Donald Trump's presidential campaign, which was globally criticised as racist and Islamophobic. At the other end, progressive organisations like New York-based Sadhana have taken up the fight against Islamophobia.
In the centre, there is the Hindu American Foundation, which keeps track of bias and hate crimes. It ignited a debate with its campaign—Take Back Yoga—saying the purpose of Yoga was lost amid mass commercialisation. Nobody could deny that Hinduism is the underlying faith, it argued.
The question arises: To what degree are these movements aligned with the ideals of the pioneers of Indian spirituality in the west? Is the new-found spiritual activism a total deviation from the non-interventionist (escapist?) principle that the philosophy is often credited/faulted with? Could yoga be a 'Hindu' practice—when its earliest and most venerated practitioners, like Paramahansa Yogananda, would disagree?
From the early 19th century translations of Indian sacred texts, spirituality has become the least tangible, yet most consequential export from India. Yoga, in particular, has blossomed into a multibillion-dollar industry worldwide. Words like guru, mantra and moksha sit lightly in the pop lexicon. The philosophy has become ubiquitous, even if its source is not immediately recognisable—the 'Love All, Serve All' logo emblazoned in every Hard Rock Cafe comes from Sathya Sai Baba of Puttaparthi, where the cafe's founder Isaac Tigrett was an ashramite. ISKCON has even had the honour of being lampooned in The Simpsons.
In America, Ralph Waldo Emerson was one of the first writers to be influenced by Indian spirituality. He wrote in the poem Brahma:
"If the red slayer think he slays,
Or if the slain think he is slain,
They know not well the subtle ways
I keep, and pass, and turn again."
Emerson was an enigma—he had viewed Hinduism as rooted in 'indolence and ignorance'; yet he became its proponent and lovingly called his wife 'Mine Asia'.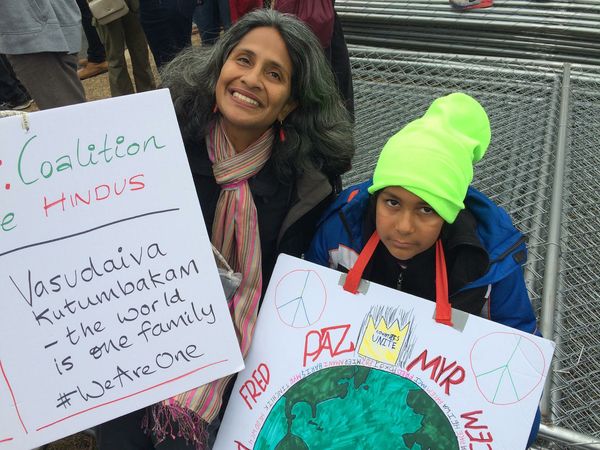 Indian spirituality's first major tryst with the west was in 1893. Facing 7,000 people and no small amount of hostility (a mob even threw things at him), Swami Vivekananda delivered a speech that was eloquent like no other. Later, he set up the Vedanta Society, which influenced authors like Aldous Huxley. Huxley's work The Doors of Perception—detailing his experiences with the drug mescaline—inspired musician Jim Morrison to name his band (The Doors) after it. The book became a fountainhead of counterculture in the 1960s. The hippies would pass it around more often than a roll of Mary Jane from Afghanistan.
The religious haze of yoga practice was de-emphasised by Yogananada Paramahansa, the author of Autobiography of a Yogi, who was born in the year of Vivekananda's Chicago address. Yogananda was the most consequential arrival after Vivekananda. He placed Jesus Christ on the same pedestal as Hindu gods.
"In 1925, Yogananda became the first guru to make Los Angeles his home. The property he bought in the hills of LA remains the mother centre—the heart of all activities across the world," Philip Goldberg, the author of American Veda: How Indian spirituality changed the West, told me. After Yogananda's death in LA in 1952, an amazing medical report emerged.
The report by the mortuary director Harry Rowe said: "No indication of mould was visible on Paramahansa Yogananda's skin, and no visible desiccation (drying) took place in the bodily tissues. This state of perfect preservation of a body is, so far as we know from mortuary annals, an unparalleled one. The physical appearance of Paramahansa Yogananda, on March 27, just before the bronze cover of the casket was put into position, was the same as it had been on March 7. He looked on March 27 as fresh and as unravaged by decay as he looked on the night of his death." The report was later disputed.
But how does the business of Indian spirituality fare in the current age? The Vedanta Societies that Swami Vivekananda set up—they had gone on to influence writers like Joseph Campbell (The Hero with a Thousand Faces) and J.D. Salinger (The Catcher in the Rye)—now have several centres in America. ISKCON has temples in every American state. Maharishi Mahesh Yogi has left something of a mini-empire—a Vedic City in Iowa, USA. Maharishi European Research University, in Switzerland, teaches people to levitate.
Such has been the impact of Indian spirituality that Newsweek published an article in 2009, provocatively titled, 'We are all Hindus now'. Writer Lisa Miller postulated that Americans were starting to think more like the Hindus.
According to Diana L. Eck, professor of comparative religion and Indian studies at Harvard Divinity School, the physical landscape of the US changed with immigration. "If you head out into the suburbs of Houston, you would see mosques and Hindu temples. If you turn off the little road on which the Boston Marathon starts outside Boston, there's a sign that points to the Hindu Temple of New England," she told an interviewer. Eck is the author of Banaras: City of Lights, the best book on the ghats of Varanasi. She crafted history when she and her partner Dorothy Austin, whom she later married, became the first LGBT couple to become head of Lowell House at Harvard.
Yoga has attained the status of an independent religion in the US. A 2016 report in Yoga Journal says the number of yoga practitioners has increased 50 per cent to 36 million. The yearly expenditure of yoga practitioners—classes, equipment, accessories—increased from $10 billion to $16 billion. The popularity of yoga is in no small measure due to hatha yoga masters like K. Pattabhi Jois and B.K.S. Iyengar.
And there have been countless spin-offs—like Hot Yoga, trademarked by Bikram Choudhary (student of Yogananda's brother Bishnu Ghosh) and Holy Yoga, a Christian interpretation of yoga that, it claims, can deepen the bond with Jesus.
Keep the adulations aside, and there is a war over the soul of spirituality. Suhag Shukla, executive director of Hindu American Foundation, has been leading the 'Take Back Yoga' campaign. "Yoga, Vedanta and Ayurveda have been, to an extent, delinked from Hinduism," she told me. "It is the caste-cow-karma problem all over again. We need to shed light on the beauty of our culture and show that there is a huge gap between philosophy and what people might see outwardly."
It is a problem, said Dr Jeffery D. Long, professor of religion and Asian studies at Elizabethtown College in Pennsylvania. "One does find a good deal of cultural appropriation—in the negative sense—in the world of yoga in the west, abstracting and 'de-Hinduising' those elements that many westerners find palatable, and keeping actual Indian traditions at arms' length," he said in an email.
Things are changing, said Suhas Shukla. "If a temple was vandalised, earlier nobody would speak up. Now, they are. We are also educating the youth to pursue fields that are non-traditional. They have to run for public offices, as proud members of Hindu-American community, and enter the field of academics—like the study of religion."
"There is an east wind coming," Sherlock Holmes tells Dr Watson in the short story 'His Last Bow'. It is easy to imagine former American president Lyndon B. Johnson echoing Holmes after signing the 1965 Immigration Bill—it allowed Asians to settle in America—at the feet of the Statue of Liberty.