When you usually think of women from mythological epics like Mahabharata and Ramayana, we tend to think of women who are bound by rules, traditions and having to silently follow while the patriarchy leads on. Seldom do we come across opinionated women who are sure of what they want and assert it—we all know what happened to Shoorpanakha who expressed that she was attracted to Lord Ram or Ahalya, wife of Gautama Maharishi who accused her of being infidel when she was in fact being seduced by Indra.

Annushka Hardikar, a student of visual communication and graphic design, however, is putting the theory to rest in her e-magazine, Oh Nari, So Sanskari. Annushka who started the project as part of her college assignment, looked into women in our mythology and thought how women in the society are expected to follow similar stereotypes and still behave in a certain way—wear modest clothing, learn to cook, procreate and not be too vocal of your opinions. "I couldn't help thinking how some women in our mythological stories like Gandhari and Kunti had strong voices, but were under represented. And hence I decided to fashion a magazine where these characters would speak of social messages."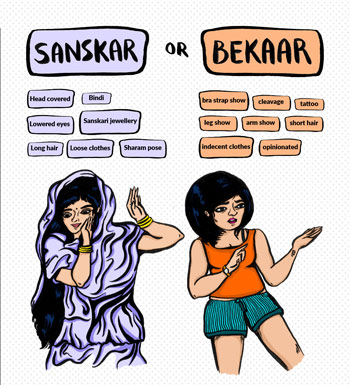 Her sarcastic comics have Draupadi, Kunti and Gandhari talk about issues like virginity, body shaming and marriage. For example, in a particular strip when someone asks Draupadi the secret to her happy marriage, she is shown to be replying "Good looks" dramatically thrice. Another illustration shows Gandhari consoling herself that she will be well-settled in her marriage after a pregnancy.

The 22-year old says she wanted to depict how nari in our society is viewed as weak and dependent. "I wanted to put across thoughts of the current, radical generation through an updated version of the Mahabharata characters." Growing up with a mother who painted and a sister who went on to be a textile designer, Annushka was always inclined towards the arts. Though she personally never faced any sort of bias or stereotyping, she has known of friends and relatives who have faced it. Also, while doing a survey before the project, she was surprised to find that women in urban households with educated members were expected to behave a certain way, be "the millennial good wife and remember a hymen restoration mantra to fix what is 'broken down there.'" she quips.

Annushka however feels that the patriarchy has started becoming restless in recent times as the number of women speaking up have increased. "This wasn't so, earlier," she observes. "women are now more aware. But this offends those who have been comfortable in their positions of patriarchy and hence are turning the word feminist into something it isn't," she adds. "They are offended by how they talk, behave and so on. And hence the terms feminist and feminism are misconstrued to be something negative," she says. And it was because of this, she felt the need to create a stir with satirical messages through her art.

Right now, Annushka plans to self-publish the magazine. Depending on the response she gets for the printed version, she will decide to continue with it or update content on a blog. Annushka admires work of Maria Qamar, Canadian artist of Pakistani origin known for her book Trust no Aunty, Kaveri Gopalakrishnan known for her funny comic strips on everyday situations faced by Indian women and Alicia Souza, co-founder of Chumbak.