As veteran Congress leaders from Kerala camped in Delhi and fought acrimoniously over the candidates' list for the upcoming assembly elections, in faraway Ernakulam, a 26-year-old politician visited Baselios Thomas I, catholicos and metropolitan trustee of the Jacobite Syrian Christian Church. On March 29, the day the meeting took place at the church's administrative headquarters in Puthencruz, Bava Thirumeni, as the catholicos is affectionately called, had this to say on his official Facebook page: "Happily welcomed our dear son, Mr Jaick C. Thomas—candidate at Puthupally in the upcoming Kerala state legislature elections. God bless you, Jaick."
If you go by Puthupally's track record in the last 10 elections, only divine intervention, in generous amount, can help Jaick win. For, his opponent is Chief Minister Oommen Chandy, who has been representing the constituency in Kottayam district for the last 46 years. Of late, he has been bettering his winning margin with every passing election—33,255 in 2011 being the latest.
In 1970, when the 27-year-old state Youth Congress president took on the two-time MLA from Puthupally, E.M. George of the CPI(M), not many expected him to win. In a David vs Goliath situation, as it is now, Chandy romped home by over 7,000 votes. Since then, only once has his margin gone below the 10,000 mark—when V.N. Vasavan, currently CPI(M) Kottayam district secretary, took him on in 1987.
Veterans, student leaders, independents backed by the left—Chandy has faced them all. What difference can Jaick, recently elected state president of the Students' Federation of India, bring to the table that others couldn't? "For the last five years, Kerala has had the most corrupt dispensation," Jaick told THE WEEK. "For the first time a chief minister was forced to depose for 14 hours before a judicial commission in a corruption case involving his office."
It is not corruption charges alone that will hurt Chandy, said Jaick. "Take the development in Puthupally, for example," he said. "There might be tall claims, but tell me one unique idea of development that has been implemented in the constituency. Like the waste disposal drive T.M. Thomas Isaac, MLA, undertook in Alappuzha and Thiruvananthapuram, or the movement launched by C. Raveendranath in his Puthukkad constituency which provided jobs to 8,000 people. Puthupally has had no such unique schemes in health care, education or job sectors in the last 46 years. Given a chance, I would like to bring schemes in the education sector, besides improving the basic amenities."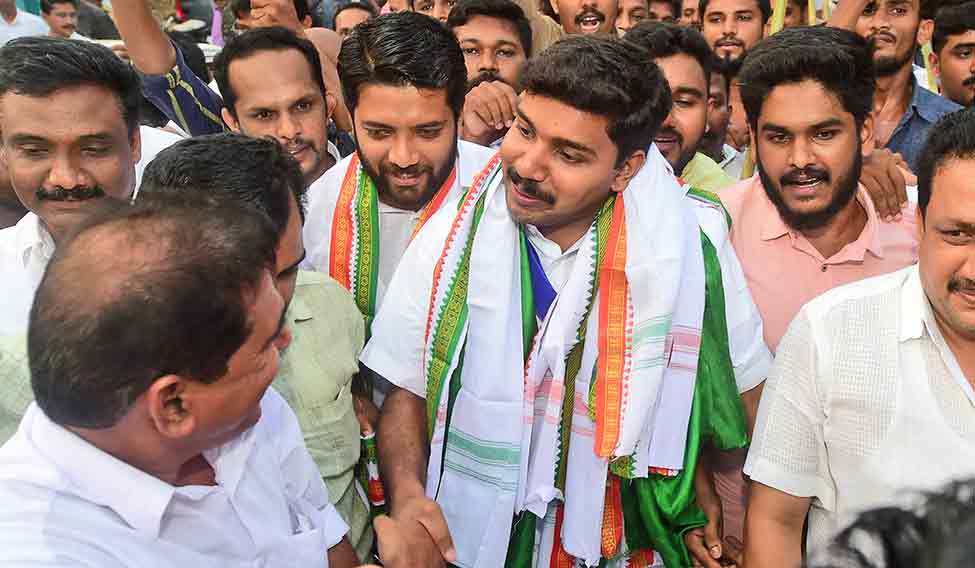 Like Chandy, Jaick is from the constituency, which is not much of an advantage when you consider Chandy's well-documented connect with his voters. Jaick, who lost his father five years ago, hails from a traditional Congress family. The first in the family to embrace left politics, he rose to prominence while doing his degree course in Communicative English at C.M.S. College, Kottayam. Following a student agitation in 2010, the management dismissed him, and it led to a violent demonstration inside and outside the campus, with the college being closed down for about two months. Jaick was allowed to write the final-year exams after retired Supreme Court judge K.T. Thomas brokered peace between the college management on the one side and Jaick and Mahatma Gandhi University on the other. Jaick, who went on to complete a postgraduate programme in international relations from the Indira Gandhi National Open University, was elected SFI's district secretary subsequently, and became state president this March.
This could be the first assembly election Jaick's family would be voting for someone other than Chandy. For Jaick to win, he needs many more such converts.
V.S. Joy, president of the Kerala Students' Union, students' wing of the Congress, has no such cushion. In Malampuzha, where only CPI(M) candidates have won since its formation in 1965, he is up against the oldest candidate in this elections, opposition leader V.S. Achuthanandan, six months shy of 93. Joy, 29, from Nilambur in Malappuram, is a lawyer, and the first from The Pentecostal Mission to contest elections from a mainstream party. Achuthanandan has won three elections from Malampuzha, after his surprise defeat in his home constituency Mararikulam in 1996, when he was tipped to be chief minister. "We wish a long life for VS, but want the voters to give him VRS [voluntary retirement scheme]," Joy told THE WEEK. "What he needs is rest."
Development, he said, is the biggest issue in Malampuzha, which has in the past elected communist stalwarts like E.K. Nayanar and T. Sivadasa Menon, besides Achuthanandan. "This is the only constituency which does not have a government college," said Joy. "People have been electing communist leaders, but what they have been getting are invisible MLAs. As a result, development has stalled and basic infrastructure has withered. I have a feeling that people are expecting change."
Joy is not the first young leader to take on Achuthanandan. In 2001, Congress leader Satheesan Pacheni, 32, fought his second losing cause from a Marxist bastion (he had lost in Taliparamba in 1996). He contested against Achuthanandan in Malampuzha again in 2006, but the result was the same. In 2009, it was the turn of Congress leader Lathika Subhash, from Kottayam, to undertake the suicide mission.
Which brings us to the question: why is it that the young and the fair always end up being selected to surmount the insurmountable? "Political parties should give more opportunities to the youth and women," said Dr Sindhu Joy, who fought against Chandy and lost when she was the first woman state president of the SFI. "In the guise of opportunity, they are often given seats which they are unlikely to win. All parties are equally guilty, and this should change." She has fond memories about the fight in 2006, when she campaigned in crutches thanks to police brutality during a students' protest, and Chandy in a walker, because of a stray injury he suffered in Davos.
V.S. Joy felt he was not handicapped in fighting a veteran. "I am glad that I got a fighting seat," he said. "Congress has always believed in fielding youth leaders in tough seats. Oommen Chandy, in 1970, is a good example. So is Kadannappally Ramachandran, who, when he was KSU president, defeated E.K. Nayanar from the Kasaragod Lok Sabha seat in 1971."