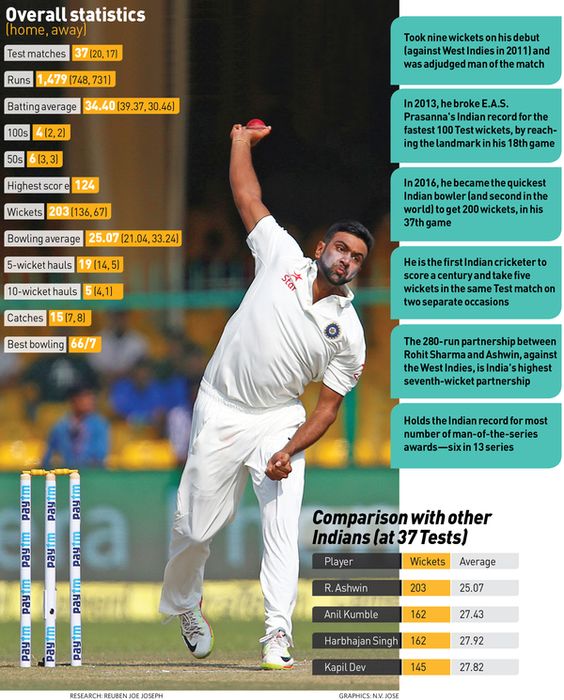 Kanpur struggles to assert itself as a premium cricket venue even after hosting Test matches for more than six decades. Hosting India's landmark 500th Test match a week ago, against New Zealand, the Green Park Stadium is like a blast from past. Though archaic, it is located in the leafy and upscale Civil Lines area, and is untouched by the dust, heat and pollution of the quintessentially Indian city. The landmark Test, too, turned out to be quintessentially Indian. 
Staring at an almost certain defeat at the end of the fourth day's play, Shane Jurgensen, New Zealand's bowling coach, said, "It is just the matter of not feeling the pressure and starting to accept it and play with a smile on your face." The Kiwis are a likeable bunch of players, but playing off-spinner Ravichandran Ashwin with a smile on the face on that day would be hard for anybody. Add to it the challenge of not letting him get into the batsmen's head.
Ashwin bowled magnificently in Kanpur, and his way into record books when he trapped New Zealand skipper Kane Williamson before the wicket in the second innings to become the second fastest Test bowler to get 200 wickets. He took 37 Tests, just one more than Australian spinner Clarrie Grimmett who reached the milestone in February 1936. Before Ashwin, Harbhajan Singh was the fastest Indian bowler to take 200 wickets—he took 46 Tests.
Ashwin took a 10-wicket haul for the fifth time in his career in Kanpur. Anil Kumble holds the record for most 10-wicket hauls for India—eight times. But that was from 132 Tests! Kumble, India's chief coach, is likely to watch his record being broken from close quarters—India's long season of 13 Tests at home has just started. 
Ashwin keeps India's glorious spin tradition going. But he is not ready to be bogged down by history. "I am just happy trying to compete with myself," he said. "You go out and try and beat records, or try to catch up with records. It is always going to teach you a lesson. That is something that Test cricket taught me pretty early in my career—that how quickly it can set you back a couple of years. I lost a good 12 to 18 months of Test cricket, and that is good enough to teach me all the lessons."
His skipper, Virat Kohli, is aware that his Test captaincy will mainly be defined by his spinners, especially at home. He is all praise for Ashwin. "He understands the game very well," said Kohli. "That shows in his batting as well. He knows when to get runs and when to play the situation out accordingly. So it's priceless to have a cricketer like Ashwin in your Test team." Ashwin has four Test hundreds—all against the West Indies. Two of these centuries came in the recent Caribbean tour. 
Ashwin's rise has been gradual. Arriving at a time Harbhajan Singh had started fading out, he broke E.A.S. Prasanna's Indian record of fastest 100 Test wickets. Then came a tough phase at the end of 2013, which lasted till the beginning of 2015. He returned to roaring form in India's 3-0 win against South Africa at home last year. "That phase taught me a lot and more so it emphasised that I should be working on my skill," he said.
He has been described in many ways—cocky, arrogant, misunderstood. The cockiness comes from self confidence. It sneaked through at a media interaction in Kanpur. "I am here to talk about my 200 wickets," he said when asked about a question related to rank turners. 
Former India player and Tamil Nadu coach W.V. Raman said Ashwin just had to keep bowling the way he is to hit the next level. "He is now in a different league. He understands his game, knows what it takes to stay ahead, and what is critical to winning games for India," he said. Raman describes Ashwin as an "extraordinary cricket buff". "He even plays fantasy leagues," he said.
Ashwin's achievements are not flattering enough if one remembers that, of his 203 Test wickets, 136 have come in 20 Tests he played at home—that means just 67 wickets in 17 away matches. Questions about his efficacy outside the subcontinent keep getting asked. The good thing is, Kumble had faced similar questions early in his career. And, the coach surely should know how to steer him through it.