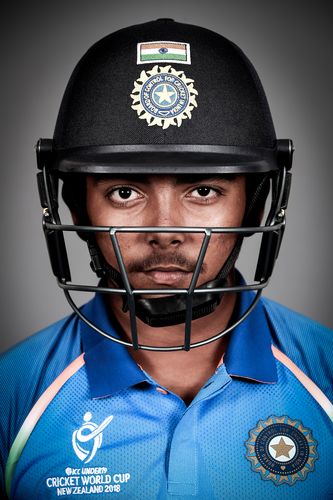 There he was, sitting in the empty coffee shop at the MIG Club in Bandra, Mumbai, sipping his milkshake and eating chow mein. Short, dark, and with chubby cheeks, he looked like the typical boy next door. Responding to my cheerful "Hi" with a shy nod, his eyes moved back to the milkshake. At that time, 14-year-old Prithvi Shaw, playing for his school Rizvi Springfield, had scored a record 546 in a Harris Shield match at Azad Maidan. Now, four years later, he plays first-class cricket for Mumbai, was picked for the Duleep Trophy by national selectors and has been chosen to lead India at the ICC Under 19 World Cup, which begins on January 13 in New Zealand.
He looks the same, except for the faint moustache, and is still quiet and observant. He is one of the youngest in the Mumbai Ranji squad and his teammates don't let him forget that, affectionately calling him "chotu". Though he appears to be an introvert, everyone who knows him closely says there is a talkative prankster beneath the surface.
But, there is also a maturity that belies his age. His words are measured, and he weighs each question before answering. Speaking to THE WEEK about his first-class season, he said, "It didn't go too well for the team this year. We had worked hard before the season; there was team unity. But, this is a game where there is a winner and a loser, and we will work harder. Individually, I think I could have done more, especially in the semifinal."
Prithvi is certainly destiny's child, but it was Mumbai cricket that nurtured him. Once his talent became apparent, at the age of 10, Mumbai's cricketing system took him into its embrace. And, till now, he hasn't disappointed. He made his Ranji Trophy debut in a crucial semifinal in the 2016-17 season, scoring a century against Tamil Nadu. That set the tone. In his next eight matches, he scored five centuries and three half centuries, which led to comparisons with Sachin Tendulkar, who also made a century on debut for Mumbai. But Tendulkar was 15 at the time, while Prithvi was 17. John Wright, former India coach and the current talent scout for Mumbai Indians (the Indian Premier League team), who came to Nagpur in December just to watch Prithvi play against Karnataka, put things in perspective. "Sachin was playing Test cricket at 16. That is phenomenal," he said. "But Prithvi appears to be a compact player and scores heavily. He clearly likes to make big runs when he gets in."
Prithvi has been so promising that India's head coach Ravi Shastri, captain Virat Kohli and the national selectors are following his progress keenly.
Prithvi's ascent began when Milind Rege, the then chairman of selectors for Mumbai, wanted a quality opener. He consulted India Under 19 coach Rahul Dravid. Prithvi, then 17, was preparing for the Asia Cup under Dravid, who told Rege that the lad was ready. "Prithvi's cricketing IQ is very high," said Rege. "He has a great technique, and he was always one of those who stood out with his stroke play. If he listens to Dravid, he will go a long way."
In September 2017, playing for India Red in his Duleep Trophy debut, he scored 154 against India Blue. "The 154 holds a special place for me," said his father, Pankaj. "The likes of Ishant Sharma were bowling to him, and to score against such players means a lot."
Prithvi's journey began in Virar, Mumbai. Pankaj, who migrated with his family to Mumbai to set up his textile trading business, is a Bengali with roots in Gaya, Bihar. Prithvi was born in Virar and, when he was four, his father enrolled him in the local cricket academy. "He would play around, first with a plastic ball and then a tennis ball, and people told me he hit it very well. So, I took him to coach Santosh Pingulkar," said Pankaj, a single parent. Soon, the keen father realised that Prithvi needed better exposure, which he would get only in Mumbai. So, they would travel from Virar to Mumbai and back every day, which took about four hours. Pankaj also decided to fold his business, for which he had to often travel to Surat. "I shut down my business, but I wasn't scared," he said. "I thought we would take it as it came. He was barely six when we would travel to Mumbai, but he never threw a tantrum, and always woke up on time."
At that age, cricket was all he had. As Pankaj couldn't afford a television, Prithvi would pass time playing with neighbourhood children. Later, when he got a television, Prithvi enjoyed binge-watching Taarak Mehta ka Ooltah Chashmah.
Over the next few years, as Prithvi grew, so did his stature. But, as on the field, the making of Prithvi Shaw was a team effort. He owes his success to a lot of people, including MLA Sanjay Potnis who, when he first saw Prithvi play in the Supremo Trophy—an annual tournament organised by his party, the Shiv Sena—and heard of his daily travel travails, gave the Shaws a one-bedroom apartment in Santacruz.
Once in Mumbai, Prithvi soon became a member of the MIG Cricket Club. "I was playing in the Bombay Gymkhana Under 13 tournament; I had just moved to Mumbai. I scored 70-odd runs against the MIG team. Then, (coaches) Prashant Shetty sir and Chandu Bhatkar sir saw me and called me over to MIG. Till then, I wasn't representing any club."
Soon after, he moved to Rizvi Springfield, where coach Raju Pathak took him under his wing. "In the first year, I didn't play so much; I was warming the bench," said Prithvi. "Raju sir told me to play my natural game. He wouldn't focus too much on technique. Armaan (Jaffer), Sarfaraz (Khan) and I used to score a lot of runs for the school, so he never put us under any pressure."
While at Rizvi, he got a scholarship from Indian Oil, which gave him 010,000 every month. That made life a little easy for the Shaws.
Over the next few years, many other Mumbai men shaped Prithvi. While cricket writer Makarand Waigankar mentored him as a child, Tendulkar has reportedly told selectors and coaches not to tinker with Prithvi's basic technique. Chandrakant Pandit, former Indian wicketkeeper and Mumbai coach, played a crucial role once Prithvi entered the big leagues. Former Mumbai captain Amol Muzumdar, too, helped him out. "There is a special quality in Prithvi that I feel not many have," he said. "He converts a good ball into a boundary ball. His bat flow is also smooth. He has already made the adjustment required at the first-class level. The more he plays, the better he will get."
His father, however, said that he was "not fully satisfied" with what Prithvi had achieved, and that though "he is on the right track, he still has to play for India".
And, it is probably his father, of all his mentors, that Prithvi wants to please the most. He still considers his father the greatest guide and said he would always remember the struggles they faced in his starting days.
The key for Prithvi, said Rege and Muzumdar, would be to sustain himself. "As teams suss him out, he has to add to his cricket," said Rege. "He needs to tighten his defence. The higher he goes, the tougher it will be to get runs. He also needs to improve his fielding. As he is a bit heavy, lower down, he will have to concentrate on being a sharp close-in fielder."
However, more than technique, it is the sudden fame that Prithvi has to handle carefully. His feats on the field have already got him a whopping 05 crore bat contract with MRF. With the IPL auction coming up, there could be bigger opportunities in store. "The main advice I give him is that he should stay grounded," said Muzumdar. "He has to create a bubble, stay in it, and not let what others say get to him."
Said Rege: "How people advise him from here on will be crucial. He has a steady head on his shoulders."