Until the 1983 World Cup, India had been perpetual also-rans in the one-day game. Sunil Gavaskar's notorious 36 in 60 overs in the 1975 World Cup was what people remembered of India's limited-overs effort, rather than the—rather occasional—victories against other teams in one-day internationals. But the 1983 World Cup changed all that. As the editor of Wisden wrote in his notes, "They brought warmth and excitement in the place of dampness and depression." India had not even reached the semi-finals before 1983, and now they won the title. This sparked a massive interest in the limited-overs format in India, and began what seems today like a terminal decline in interests in Test cricket on the subcontinent.
Wisden on India: An anthology
The fears of Test cricket's decline, with India being at the centre of an impending doom, started way back in 1983, when Kapil's devils won the World Cup. Twenty-five years later, when the Indian Premier League came about in 2008, similar fears were echoed.
"I am fearful for Test cricket.... It is difficult to see where it is going, although I don't think Twenty20 would exist without Test cricket. It could all change in the next 30-40 years, long after I have gone," late Tony Cozier, the respected West Indian broadcaster and journalist, was quoted in Wisden on India.
As doomsayers sound the death knell of Test cricket time and again, the Green Park Stadium in Kanpur hosts its 22nd Test match, and India's 500th. The Journey from June 25, 1932, when India played its first official Test match at Lord's and lost by 158 runs to the hosts, to September 22, 2016 has been filled with much excitement, drama and design. Defying the doom and gloom, the 500th Test looks to reassure Test cricket and its shrinking followers that it has survived lots.
Between 1932 and 1983, India played 210 Test matches—roughly four matches a year. From 1983 to 2008, when 50-over matches and coloured clothing turned India into a cricket-mad nation, it played 208 Tests—about 8 matches a year. From 2008 to 2016, after Twenty20 came and changed the economics of the sport, it played 81 Test matches—roughly 10 a year. (Stats courtesy: Rajneesh Gupta)
Cottari Kanakaiya Nayudu, at 36, was India's first Test captain. Wisden described him as the "doyen of India's developing years". "Tall and well proportioned, Nayudu is eminently fitted by nature to be a good cricketer.... Above all, he was a very strong player on front of the wicket, his driving on both on and off being an outstanding feature of his batting," it said while selecting Nayudu as the Wisden Cricketer of the Year in 1933.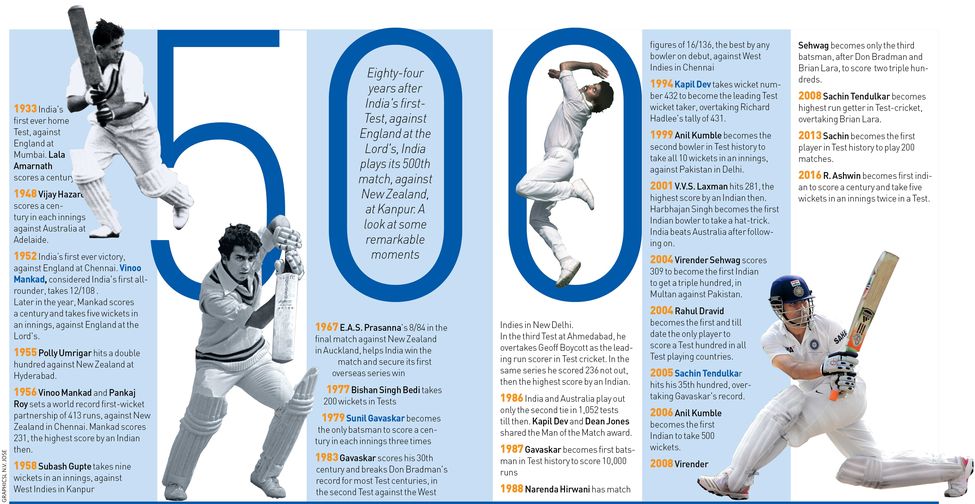 Virat Kohli, 27, is India's 32nd Test captain. His all-round stroke play, timing and ability to thrive under pressure are reflective of how far Indian cricket has come. He shows a bit of brashness, cheekiness and bravado carried over from the shorter versions, but it is Test cricket that he thrives in. 
Vinoo Mankad, Lala Amarnath, Vijay Hazare and Polly Umrigar established India's credentials in Test cricket at home and beyond.   Mansoor Ali Khan Pataudi and Ajit Wadekar steered it through its  first golden period. The era of batting legend Sunil Gavaskar inspired an entire generation of Test cricket fans. And, 1983 gave birth to India's journey from a feared Test opponent to a dangerous one-day side. Kapil Dev and his teammates showcased a new daredevilry to the world in both Test and ODI cricket. 
Sourav Ganguly's captaincy delivered a new, reinvigorated Team India. Under his leadership, Sachin Tendulkar and the Fab Four—Anil Kumble, Rahul Dravid, Virender Sehwag and V.V.S. Laxman—took Indian cricket to mighty heights in both formats and made the world watch in awe. Then came India's most successful skipper, M.S. Dhoni who took India to the no. 1 spot. He, however, quit Test cricket in favour of the shorter formats. And now, Kohli has taken up the challenge.
Test cricket is once again facing questions of existential variety, the kind it faced after the 1983 World Cup victory and the subsequent rise of ODI cricket—empty stands, rising telecast costs, and experiments with technology, format and structure. And the Board of Control for Cricket in India has its hands full with challenges like the pink ball, day-and-night matches, clubbing of Test rights with Twenty20 and IPL, and sponsorship deals for shorter cycles.
Bishan Singh Bedi, who was part of an Indian spin quartet which thrived first under the gentle guidance of skipper Pataudi and then the shrewd management of Wadekar, hopes fervently that Test cricket survives the current T20 onslaught. "I hope I die before Test cricket does," he said. "It has been quite eventful, this journey from Nayudu to Kohli. There have been plenty of lows and quite a few mighty highs," he said. 

One cannot blame Bedi for his pessimism, but can argue that Test cricket in India has survived the bad and the ugly. "Test cricket will have to survive for rest of the cricket to survive," said former skipper Dilip Vengsarkar. "In England and Australia it is very much alive, when you look at the crowds at the recent series there. But it was absolutely shocking to see that India versus West Indies Test series had nobody at the stands. Individual boards have to ensure that crowd finds Test cricket attractive."
Bedi attributed the big turnout at Test matches in Australia and England to the attractive play. "The Pakistan-England series was so closely fought. You don't need pink balls to bring crowds to the stadium," he said.
Therein lies the challenge. The International Cricket Council and other cricket administrators are pushing for day-and-night Test matches to get crowds. Anurag Thakur, BCCI president, said the recent experiment of using pink ball and floodlights for the Duleep Trophy matches in Greater Noida brought in the crowd to watch the match in the evening. But he is not yet convinced about the pink ball experiment. "We are playing 13 Test matches this season. That shows we are committed to Test cricket. We want more people to watch Test cricket and that is why we stress on the need to balance between all three formats of the game," he said.
To increase Test cricket's fan base, the BCCI believes, it has to focus on converting new fans of IPL into Test match watchers. The board is taking Test matches to smaller centres with this goal. "Those who follow T20 should also learn to connect with Test cricket. We will use this season to try out different things. We are using promotional activities like free entry for school kids in the current series against New Zealand and reasonable pricing of tickets," said Thakur.
Vengsarkar criticised the Indian cricket management for getting pitches "tailor-made" for hosts. "To play attractive Test cricket, you must have good wickets. Rank turners or grassy wickets will not help. You should have something for both batsmen and bowlers. People should get to see good spells of fast bowlers and spinners  and brilliant batting displays," he said.
Pitches are a touchy subject in India. As India steamrolled the visiting South Africa last season on rank turners, it was asked how far one would go with home advantage looking for a favourable result. "If you make rank turners you will get grassy, green tops on tour. How is it helping either way? We are going to another extreme. From a bowler's point of view, it is always better to have a batting track Wboth batsmen and bowlers need to do adjustments, and eventually it turns on the last day of the match," said former Test spinner Maninder Singh.

Reportedly, Indian fans are not likely to see jaw-dropping moments like off-spinner Ravichandran Ashwin opening bowling in the forthcoming matches. With former skipper Anil Kumble at the helm as national coach, it is said that the team management has conveyed to the BCCI's pitches and grounds committee that it wants to play positive cricket.
Former Test player Chetan Chauhan, who is now a cricket administrator in Delhi, is gung-ho about the future of Test cricket. He bats for day-and-night Tests, use of technology and small-town venues. "I don't worry about crowds. If state associations market it well, make efforts to bring in school and college kids, crowds will come. Taking Test cricket to smaller places will get you crowd. Every village has two teams. People watch matches in smaller towns and villages when local teams play," he said.
The current Test season will see Team India play Test cricket in venues like Indore, Rajkot and Visakhapatnam.
There is a notion that many state cricket associations shirk hosting Test matches owing to poor response from audience. Chauhan said better schedules would change that. "Test matches should be on weekends, let us say Thursday or Friday starts," he said.
A majority of Indian Test cricketers are not in favour of the pink ball or day-and-night Tests or the use of technology. Even the BCCI is reluctant. "One should not change rules," said Vengsarkar. "It [Test] is the ultimate form of cricket where both temperament and skill are tested."
Thakur said the BCCI was open about the experiment with pink ball. "But we want to first try it out at domestic level and be fully satisfied. Look at soccer; it hasn't changed rules much in the last 100 years. Too many changes can become difficult for fans to follow the game. With three formats, frequent change in rules can be difficult," he said.
Test cricket has thrived or shrivelled according to the interest of administrators. Tests have become increasingly expensive. For instance, the BCCI uses revenues from the shorter formats to keep the domestic and Test structure running. Broadcast rights are the board's biggest source of revenue. Though England, Australia and South Africa say TV market valuations are shrinking for cricket, the BCCI is unfazed and it has floated bids for IPL's telecast and digital rights for the next ten years. "Cricket and IPL are well established here, so we went for the 10-year cycle," said Rahul Johri, CEO of the BCCI. "I do not think the market is shrinking. Wherever there is a good property, value is there."
After nine IPL seasons, cricketing fraternity seems to have gotten over its initial fears of T20 and IPL depriving Test cricket of quality players. "If you are good for Test level, then only you can be good in all formats," said Maninder. "Kids are realising that IPL contracts won't come or last long until their skill level is the best." For Test cricket to survive, ultimately it all boils down to strong domestic cricket, IPL included.