Joash, all of two, runs towards the sandy tracks and lifts his tiny bicycle, holding the handle firmly, and starts cycling on the mounds. And, as other cyclists pass by, his excitement knows no bounds and out comes a shout of glee. 
Joash, along with his parents, is at Pedalers Village near Gurugram, off the Faridabad highway, nestled amid the Aravallis, a cyclist's paradise. The first time Joash visited the place, he cycled for more than three hours, says his father, Abel. It was a friend—Ashwini Rana, a professional motorcyclist—who suggested that Abel buy a small bicycle for his son instead of a tricycle. And, the suggestion seems to have made sense as Joash can balance the cycle better with his legs than he would have with support wheels. 
Pedalers Village was started by Tarun Dagar, a 34-year-old cycling enthusiast who was a designer with Ibis Cycles, in 2013. A year later, however, he died of cardiac arrest. His elder brother, Prashant Dagar, then took forward Tarun's idea, leaving his IT job in Bengaluru and shifting to Gurgaon. Pedalers Village is today spread over two acres, with a flow track, where cyclists start from a launch point, negotiating jumps and curves. To give riders the real outdoor experience, they have put in obstacles like wood and stones on the tracks and a river section for water crossing experience. The track has different levels of difficulties for beginners, intermediate and advanced riders. 
Prashant says this track has given experience and confidence to serious cyclists, such as Akshay Chaudhary, who stood first in the amateur category of the Himalayan Downhill Bike Challenge last year. Chaudhary is among those who can make a tabletop jump with ease. For Gurpreet Singh, 22, a professional cyclist sponsored by Merida cycles, the track has been a confidence booster. "I can now easily handle races up to Ladakh," he says.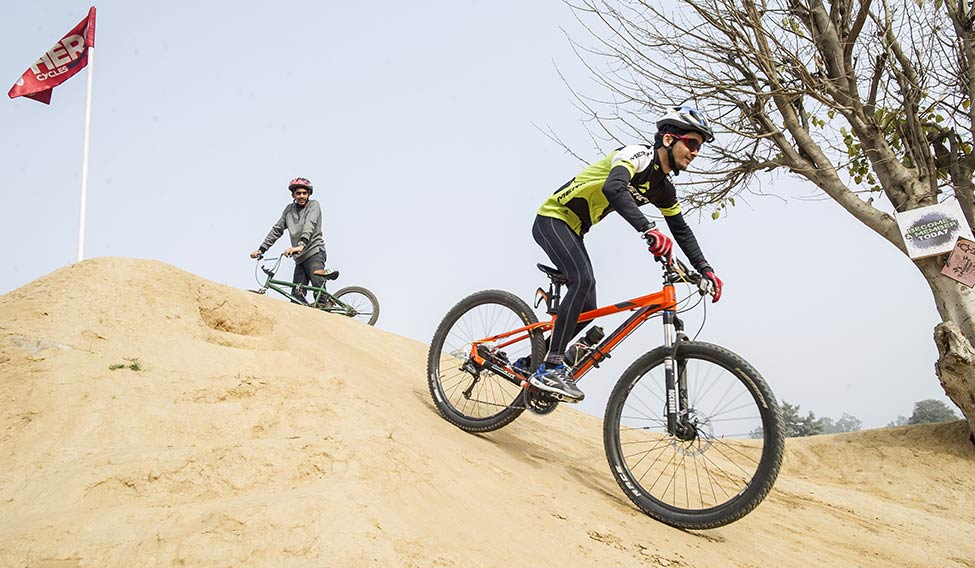 Rohit Sharma, chief communications officer, Hero Cycles, is a regular visitor with his sons—Kriday, 14, and Ruchir, 10—in tow. Sharma says his children, especially Kriday, love the track so much that it is difficult to stop them once they are on it. Hero Cycles now runs the facility along with Prashant and has pledged to popularise the cycling culture in the country by planning more such tracks in different cities. And it seems they are on the right track, gauging from the response at the Pedalers Village. 
Neeru Madan, a housewife, is busy soaking in the winter sun even as her ten-year-old son, Ronan, pedals his way through the bumpy track. He completes one round, then the second, and as he negotiates the third curve, he falls. Neeru, however, doesn't budge. "Mom, I am fine. Don't worry!" yells Ronan, getting back on his bicycle in no time. "This is the reason why I bring Ronan here," says Neeru. "I know he will fall, but I do not want him to fall on a road and get hit by a vehicle. I want him to fall on the sand and feel the earth." Ronan spends three hours on the track and is soon joined by his father, Girish. After cycling, they pack their cycles on the rack at the back of their car and drive back home.
Nine-year-old Aditya is another young cycling enthusiast. His father, Murali Dhar, 43, considers him a daredevil. "It is here that Aditya feels free," he says. "He learns, falls and gets back up." Occasionally, one can spot their pet dog giving Aditya company on the track.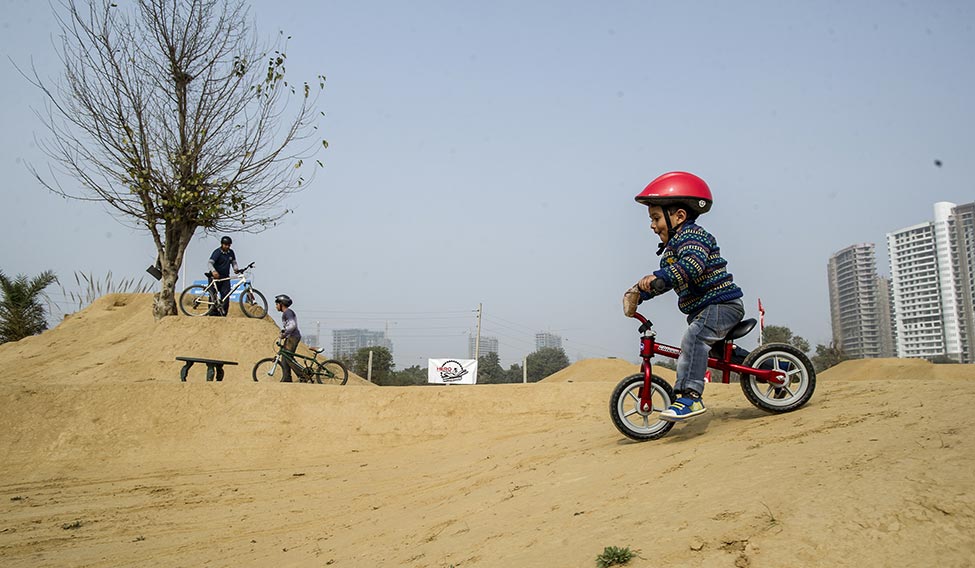 Sandeep Dixit, administrator at the Pedalers Village, says that for common cycling enthusiasts, they have 15 cycles at the village, a technician to service the cycles, three international level coaches for serious riders and a tie-up with Paras Hospitals in case of injuries. He says the facility wants to promote adventure cycling. "All cyclists are welcome here," he says. "They can bring their own cycle and use the track for Rs 150 or hire the cycle, gear and track for Rs 400." The monthly membership fee is Rs 750. 
If you are a cyclist and plan to visit the place, carry snacks and beverages for there is no canteen here. But food probably would be the last thing on a cyclist's mind.