At a convocation address delivered at the School of Planning and Architecture in Delhi sometime in the 1990s, Charles Correa held the largely student audience captivated, making a fascinating connection between the story of Ekalavya and how one learns, or is taught. He said architecture was learnt by observation and emulation and that you needed good teachers and good role models. He was both.
By the age of 28 or thereabouts, Correa had already started work on the Gandhi Smarak Sangrahalaya at the Sabarmati Ashram in Ahmedabad, which entered the chronicles of contemporary architecture worldwide. And, students in the few Indian schools of architecture at the time were encouraged to study and visit it. In the 50 odd years since, it is likely that he received every major international architectural award, and there were very few countries where he was not conferred membership as an honorary fellow of their professional institutes or societies of architecture.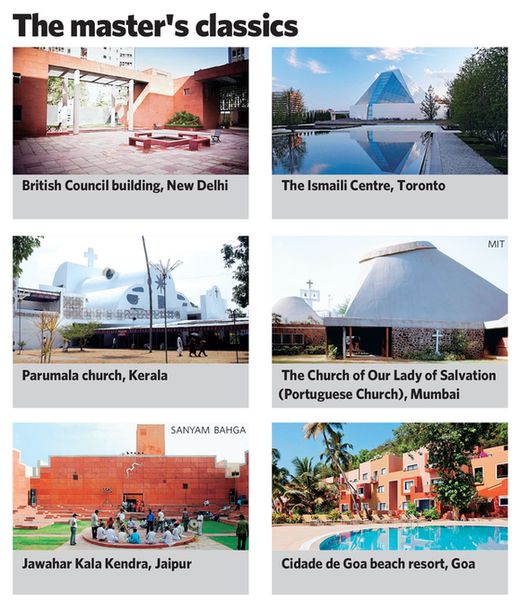 Yet, he carried it all without fuss. He was scornful of cant and mystification and was not a man to suffer fools gladly or encourage meaningless verbiage about half-baked ideas. Sometimes he was perceived as 'arrogant', because he did not mind being rude when time was being wasted. But to those who had any sustained contact with him, he was always willing to listen carefully and to correct his views when convinced. Yes, you could argue with him, provided you could match his intellectual stamina.
His legacy? It is immense. It is a measure of the trust people reposed in him and his stature among fellow professionals and the concerned public that his appointment as chairman of the Delhi Urban Art Commission in 2005 was universally welcomed as a refreshing change, at a time when that organisation was perceived as just another moribund municipal impediment to development and creativity, rather than a catalyst and facilitator for urban design.
Correa initiated a period of much activity and interaction with professionals and the public through participation in the preparation of a major exhibition about a vision for Delhi. He established a virtual hotline to the highest levels of the Central and state governments to explain the commission's initiatives, one of which was the presentation of a draft zonal plan for New Delhi, at the request of the New Delhi Municipal Corporation. Another project was the concept for integrating infrastructure, transport and open space into a connected landscape structure for the city, an idea which subsequent commissions carried forward.
Earlier, the Report on Urbanisation (1988), produced under his chairmanship of the National Urbanisation Commission, is widely believed to have "changed the syntax of urban debate in India", with far-reaching results.
Then, of course, there is the whole body of work, throughout the country, and locations globally, at MIT, in New York, Lisbon, Toronto and elsewhere. Correa's work said it all and it would not be inappropriate to paraphrase Gandhiji's famous sentence: "My work is my message." Finally, it is true to say that this is what he achieved, that in doing so well the work for which he had this extraordinary gift, he brought honour to his profession, and honour to India, from whose timeless traditions and wisdom he charted, with undeviating accuracy and luminous originality, his own course towards the realisation of an Indian contemporary architecture and urbanism.
The author is a leading landscape architect. He worked with Correa in the Delhi Urban Arts Commission.