"I see signs of kalaripayat regaining its past glory. I will inspire my students to take it forward to the next generation.And I will teach until death" - Meenakshiamma
They stood staring into each other's eyes. Barrel-chested and hefty, he pointed a knife at her. She was unarmed, yet unfazed. Before he could swing his knife at her, she in a swift move locked his arms behind his shoulders, slipped her right leg between his legs and pushed him back. He lost grip on his knife, while trying to save his head from hitting the floor. As he lost balance, she held him by his waistcloth, so that he did not hit the ground. That is Meenakshi Raghavan, fondly called Meenakshiamma gurukkal. At 75, she is, perhaps, the oldest, still practising woman exponent of kalaripayat. She has been practising the martial art for 68 years now, and received the Padma Shri this year.
"Mind your head," she warned me as she welcomed me inside the kalari (arena) at Kadathanadan Kalari Sangam, at Vatakara, in north Kerala. The aroma of camphor and herbal oil filled the dimly lit room. The kalari is a rectangular hall, with exposed brick walls. Levelled with mud, the floor is filled with footprints. Trophies and medals are neatly arranged on a raised platform. Sticks, weapons and shields adorn the walls. Around 20 children were undergoing meypayat (physical training) at one corner, under the supervision of her eldest son, Sajeevan gurukkal.
More than 150 students learn kalaripayat here from June to September every year. "We have three batches daily—one in the morning and two in the evening. Almost one-third of them are females," she said. As Meenakshiamma believes, kalaripayat is an effective self-defence technique, more than just a martial art form. "It equips a person to foresee the opponent's move and react at once. It moulds one's mind and body, and our woman students say they feel safe to travel alone." The training is free, but students give guru dakshina as a token of gratitude. "We make revenue from selling herbal balms and oils, and also from chavitti uzhichil (massage by foot). A lot of people, especially foreigners, come here for uzhichil,"
she said.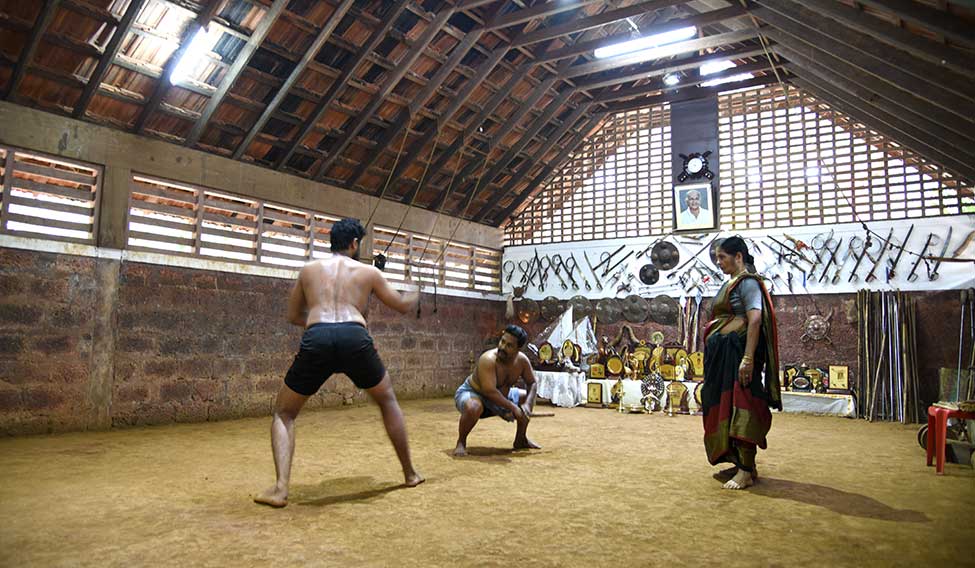 There are four stages in kalaripayat. Meypayat is the first stage, which starts with mukkuttu (oil massage). "A child can start meypayat at the age of seven," she said. In about three years, one enters kolthari (stick fight), followed by angathari (weapon fight), and verumkai (bare hand fight).
Vatakara, known for kalaripayat, is the birthplace of Unniyarcha, Aromal Chekavar and Thacholi Othenan, the legendary heroes of vadakkanpattu (ballads of North Malabar). Thacholi Manikkothukavu, where Othenan had fought a duel to save his village, and Lokanarkavu Temple, where he sought blessings of the goddess Durga before each of his 64 duels, are situated here.
Kadathanadan Kalari Sangam was established by Meenakshiamma's husband, Raghavan Master, on January 2, 1950. At the age of 14, when Raghavan wanted to join a kalari in the locality, he was rejected, since he belonged to a backward community. Furious over the rejection, he and his brothers built Kadathanadan Kalari Sangam to give free training to everyone who had the passion to learn the art. Meenakshiamma, who was then seven years old, was one of Raghavan's first students. "At 16, I fell in love with Master and married him."
I saw the warrior blushing. She has been teaching at the kalari ever since. "After marriage, we often used to go to the talkies, usually for second shows, after putting our children to sleep. After his death, I have gone to the talkies, perhaps, twice or thrice," she said. She has 4 children—two sons and two daughters. All of them have undergone training in kalaripayat.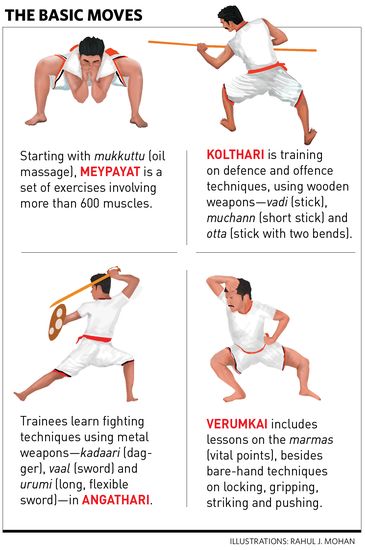 Her parents had allowed her to practise even after puberty, even though in those days, girls stopped going to kalari after puberty. "Now, we have female students from age six to 40 practising at our kalari," she said. "This is a positive transformation."
She felt honoured to be a recipient of the Padma Shri. "It was unexpected. I believe it is the result of Master's dedication and hard work. He never liked publicity. He discouraged the press from entering the kalari, and would stop performing if someone tried to take photographs." She added, "You would not be sitting here if he was still alive."
Though she is excited about the Padma Shri, something worries her. "I am shy to speak before a large gathering," she said. People are calling me for felicitations. Master was a school teacher, and was actively involved in social and welfare activities. He was a good speaker and had used to do the talking always. I always stood by his side."
Meenakshi has been receiving invitations to perform even from outside India. "We are unable to accept invitations to perform abroad, since getting permission to carry weapons is a problem," she said. "I hope this [Padma Shri] will sort it out."
An early bird, she reaches the kalari at 5.30am. The morning session is until 8am. "Apart from giving lessons, nowadays I practise only when there is a performance." Training for the evening batches starts at 6pm and goes on until 11pm.
She is a mistress in the kitchen, too. "I enjoy cooking as much as I enjoy eating. I follow a normal diet, which includes non-vegetarian dishes."
Though kalaripayat is popular in north Kerala, it is yet to gain nationwide popularity. "I am optimistic," she says. "I see signs of kalaripayat regaining its past glory. I will inspire my students to take it forward to the next generation. And I will teach until death." The gleam of her resolve reflected in her eyes. She looked determined, yet calm.