As the Air India flight makes a full circle over Leh, the stretch of land on both banks of the river Indus looks lush. How green is my valley! It was not so ten years ago. The Airbus wobbles before it lands with a thud. A few passengers scream as the pilot applies sudden brake, given the short runway.
As you step down the plane, the chill, rarified air hits you. Jackets are out, even as the sun plays peekaboo from behind grey clouds. It does not generally rain heavily in Ladakh, the floods in 2010 being an exception.
Ladakh, the land of high passes, is also a mountain desert. Though lacking in flora and fauna, Ladakh has interesting bird life. In summer, its high altitude wetlands and marshes become a breeding ground for the black-necked crane. There are 15 known species of cranes in the world, and the black-necked crane is the last of them to be discovered. It was first sighted by Russian naturalist Nikolai Przewalski near Lake Kokonor in northeastern Tibet in 1876. In Ladakh, it was spotted by naturalist F. Ludlow at Tsokar Lake, in 1919.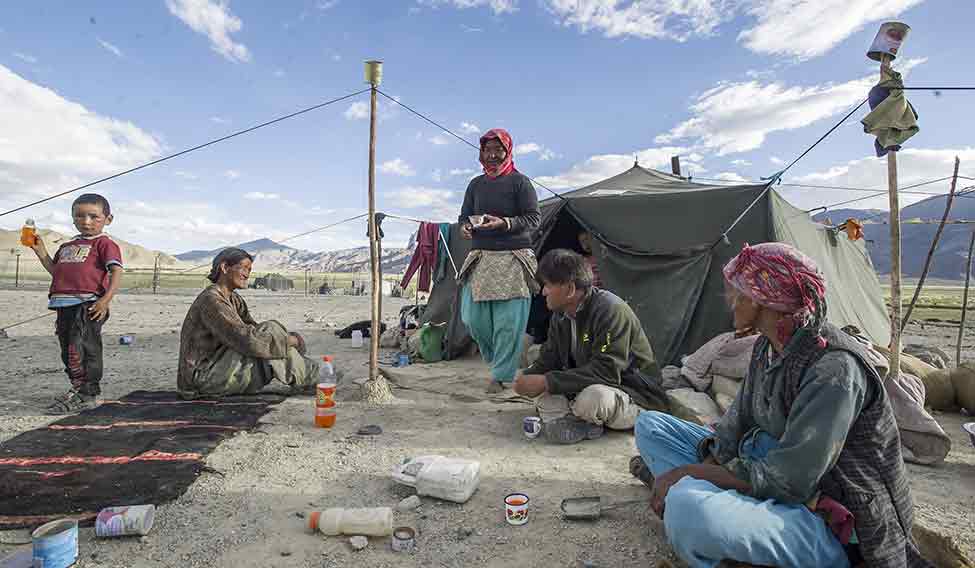 The state bird of Jammu and Kashmir, the black-necked crane is revered by Ladakhis as a symbol of peace. It is locally known as Cha Tung Tungh Karma, which means a whitish bird, explains Mohammed Abas, a soil and water conservation officer based in Kargil. Abas, 54, joined the forest department in 1980, but it was only in 1995, when he was posted in Nyoma, Ladakh, that he saw the black-necked cranes at close quarters. As forest range officer then, he travelled to all the 26 high altitude wetlands in Ladakh to study their behaviour patterns, nesting, feeding and interaction with the local population. Abas says cranes are spectacular birds, blind to borders, travelling long distances in groups of 50 or 60. They arrive in Ladakh in early March, and slowly spread out in pairs, making the marshes and wetlands their summerhouse.
More than a decade on, Abas is retracing his steps, armed with GPS, binoculars and a camera. His first base is Chushul, 290km from Leh. It is here that the cranes find their favourite food—small lizards, which they catch moving from the marshes to the rocky terrain. We spot three pairs of cranes and a lone crane here. Apart from his eyes and equipment, Abas relies on the Chushul villagers for information on the whereabouts of the cranes. The villagers are semi-nomadic and have permanent houses, each of which is visited by Abas. In Hanle village, famous for the Indian Astronomical Observatory, he is taken to a field where a villager has spotted seven cranes.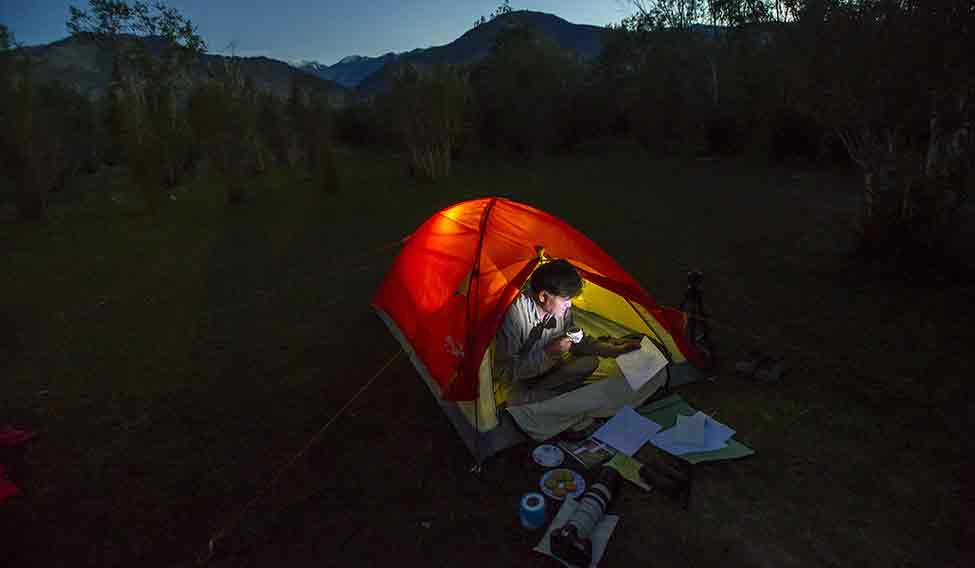 Tangy, 48, sarpanch of Koyul, says he has not seen a black-necked crane family with a chick this year. Stray dogs, which are more in numbers than the jawans here, eat the eggs and chicks, he says. Also, the survey by Abas, who travelled more than 2,000km for ten days, shows that the number of cranes has slid. When a small country like Bhutan, the roosting area for the cranes in winter, does so much for their protection, then why cannot we, in Ladakh, do better than putting boards and towers in the wetlands, asks Abas.
Majesty in motion
The black-necked crane is 135cm tall and has a wingspan of about 235cm. Both the male and the female have pale grey or white body plumage, with the neck, head, tail and legs in black. A red crown adorns its head. The male is slightly taller than the female. The crane survives in as low as –30°C. The black-necked crane comes to Ladakh in early March and flies out by October