There are several haunted hostels for backpackers in Europe. New media sites make listicles out of it on Halloween. Some are converted army prison buildings which still retain original solitary confinement cells in the basement while others might be located in cities rife with vampire tales by virtue of birthing real-life inspiration for movies like Dracula. 
It was in 2011 that Pallavi Agarwal visited one of these "haunted hostels" in Slovenia as part of a Eurotrip which had her hopping from one youth hostel to the next over 20 days. "I really don't have any horror stories to report about the condition of these hostels. I absolutely loved them. And wondered why there weren't such places for young, solo, group travellers in India back then," says Agarwal. The thought stayed with her and soon after, she quit her job in consumer behaviour research to set up goSTOPS in 2014. The first hostel was set up in Varanasi. The hospitality start-up for the GenZ-millennial mix of backpackers, digital nomads and travel junkies on a budget is now on an expansion spree. "Before the pandemic, we were at 13 hostels and today we are at 33. That has been the growth over the last two years," says Agarwal, CEO and Co-founder of goSTOPS.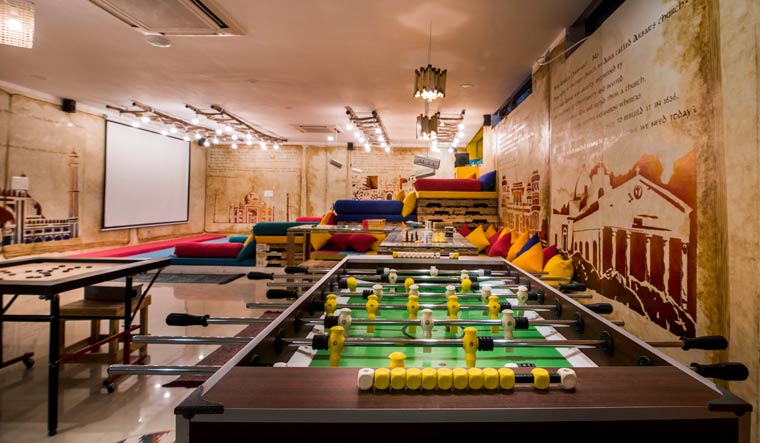 While the advent of budget travel and hostels really started with the non-profit Youth Hostel Association of India all the way back in 1946 (with the idea being introduced in the 1940s by the Boy Scouts and Girls Guides of India, Punjab Circle), it was in the second decade of the 21st century that playful colour bombs with funky decor heralded the birth of a new generation of youth hostels. Chains like Zostel, Moustache, The Madpackers, Bunkyard had free-wi-fi, en-suite bathrooms indoor movie nights with board games, foosball and snooker tables. They often have the look and feel of three-star hotels, except you share the room with four to twelve other travellers with dynamic prices starting 500 a night. Pallavi, however, is not satisfied with the spread of these essential options for young, itinerant travellers. Especially the way staycations have caused the demand to surge for these hostels. "In terms of the players that are there in the market, I don't think it helps to differentiate ourselves from each other. Right now it is more important to build that ecosystem. I think the total count of hostels in India is about 1,000 right now. This was about a year back. And I don't know how many of them have closed down due to pandemic-induced losses. And people were still shutting down such properties because it's been difficult to sustain. This market is so terribly underserved," says Agarwal who is ready to lead and fill the gap as she plans to build a network of 1,500 goSTOPS in the next five years, hoping to become the largest hostel chain in India which is a distinction currently held by Zostel.
Agarwal's vision is hardly far-fetched. Already goSTOPS has the largest bed count in the youth hostel segment. Their huge, rambling property in Mussoorie's mall road has wide circular corridors and reupholstered furniture in delightful blue and pink; it has 150 beds by itself, a number largely unheard of in new-age hostel properties. Before the pandemic, goSTOPS was bootstrapped. But from 2019 onwards, they have managed to rope in angel investors to pump $3 million in funding which includes a $1 million in pre-series-- a round led by Indian Angel Network (IAN) and Yuj Ventures. goStop hostels stand out because they are "full stack hotel operators" which entails a standardization across properties in terms of design, hiring of staff and operations.
Currently on the look-out for Series A funding, the need to grow has also been spurred by the way workplace dynamics are changing with the onset of remote log-ins. The pandemic has altered the way employers and companies are looking at workspaces. While earlier there were digital nomads and the gig economy was on the rise, they were mostly for people who were not in the office physically. Now the regular employees too have the option to work from outside. "I think the future is a hybrid model of work, with both office and remote workspaces. As a result what has happened is people have increased the length of stay at various goStop locations. So pre-pandemic you'd catch a Volvo on Friday and return by Monday to get to the office. Now you might end up staying a week more."