Thadiyantavide Naseer (right), a suspected Lashkar-e-Toiba operative, is said to have personally groomed hundreds of Muslim youth to take up arms against the state
In August 2006, the British writer Frederick Forsyth published The Afghan, about a retired Special Air Service officer returning to Afghanistan in the guise of a mujahideen fighter. Malayalis who read the novel were not amused. Among the army of villains in The Afghan were two terrorists from the state. And, adding insult to injury, Forsyth wrote: "Once a hotbed of communism, [Kerala] has been a particularly receptive territory for Islamic terrorism."
Wrong, argued many distinguished Malayalis. N.S. Madhavan, one of Kerala's literary greats, said Forsyth had no idea about the Malayali psyche. "Kerala figures in this novel because of his assumption that terrorism exists wherever Muslims do," he wrote in September that year. M.N. Krishnamurthy, then inspector-general of police (north zone), said: "The situation is not bad as he makes it out to be…. Maybe, it is his futuristic view."
They had good reason to take up the cudgels on Kerala's behalf. Muslims in the state, who account for more than 25 per cent of the population, had for long been part of the political mainstream. There were evidences galore for the pluralistic and inclusive nature of the polity: Kerala was the first non-Muslim majority state to swear in a Muslim chief minister (C.H. Mohammad Koya of the Muslim League, in 1979); the Muslim League had been part of both the major coalitions that have ruled the state—the CPI(M)-led Left Democratic Front and the Congress-led United Democratic Front; in fact, even the right-wing Jamaat-e-Islami, which had for decades professed its abhorrence to electoral politics, had transformed itself to 'reluctant democrats' by the late 1970s. In such a situation, argued the intellectuals, Kerala was not a fertile ground for terrorism.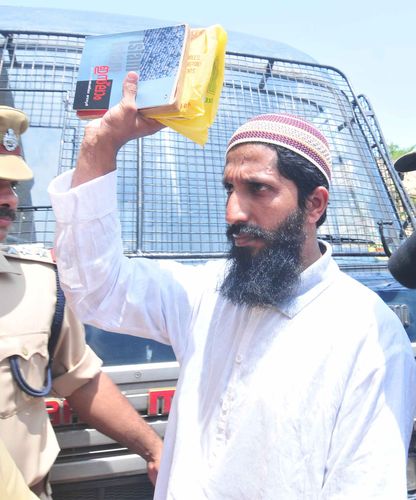 "The past decade has shown that it was a wrong belief," said an intelligence officer based in Kozhikode. "There have been nearly a hundred arrests in Kerala in terrorism-related cases, and more than a dozen convictions. Four Malayalis were killed by the Army in an encounter [at Kupwara in Jammu and Kashmir in 2008]. The terror camps [at Kupwara] in Kashmir and Panayikkulam and Vagamon in Kerala had more than 150 members from here."
In 2009, Thadiyantavide Naseer, a suspected Lashkar-e-Toiba operative, was arrested near the India-Bangladesh border. He was found guilty in the "Kashmir recruitment case", the twin blasts at two bus stations in Kozhikode and several other cases. Naseer is said to have personally groomed hundreds of Muslim youth to take up arms against the state.
The emergence of the Islamic State, said the intelligence officer, has made the situation in the state more volatile. In August this year, a 24-year-old journalist from Palakkad, who was posted in Qatar, reportedly joined the IS. A month later, the UAE deported six Muslim youth from Kerala, alleging that they were IS sympathisers. "They [extremists] are using slush funds and social media campaigns to snare the youth," said the officer. "In Kerala, cooperative banks alone are holding black money to the tune of Rs.30,000 crore. A lion's share of it is in the Malabar region [which is base to many extremist groups]." What are the chances of the IS ideology taking root in Kerala? "It is difficult to gauge," he said. "As of now, the IS has little footprint in Kerala. Organisations like LeT and their micro-modules here qualify as bigger worries."
In recent times, several Muslim organisations have launched campaigns to prevent the IS ideology from taking root in the state. The Kerala Nadvathul Mujahideen, an organisation of Salafi scholars, has begun a social media campaign "to foil the IS's bid to mislead the youth by misinterpreting Islam". "The youth in the past were influenced by spiritual and political leaders, who served society selflessly," said writer and human rights activist M.N. Karassery. "Today's youth, however, have no role models."