Apparently, the RSS, whose agenda has not found priority in the Modi government, is stoking the blame game
First, External Affairs Minister Sushma Swaraj. Then, Rajasthan Chief Minister Vasundhara Raje. Who will be exposed next as the scandal of lawmakers helping a fugitive Lalit Modi unfolds? And, will the disgraced former IPL commissioner, who is desperate to return to India, invoke Prime Minister Narendra Modi's name at some stage?
The scandal broke on June 7 when The Sunday Times, London, reported that Labour MP Keith Vaz had written a letter last year requesting the UK's director general of visas and immigration to expedite Lalit Modi's travel papers. A week later, someone leaked Modi's email messages thanking Vaz and many others, including Swaraj's husband, Swaraj Kaushal. Next came the revelation that Sushma Swaraj herself had helped Modi in the matter. She admitted that she had "conveyed to the British High Commissioner that the British government should examine the request of Lalit Modi as per British rules and regulations. If the British government chooses to give travel documents to wait Modi, that will not spoil our relations."
She said it was humanitarian help as Modi's wife, Minal, was undergoing cancer treatment in Portugal. Raje, meanwhile, was by Minal's bedside in Lisbon in 2012-13. Two months later, the Rajasthan government signed an MoU with the Portuguese hospital to set up a similar facility in Rajasthan.

Modi later announced that Congress leaders Salman Khurshid and Rajeev Shukla and Nationalist Congress Party leaders Sharad Pawar and Praful Patel had also helped him. He said he had been victimised by the UPA government in general and by former finance minister P. Chidambaram in particular.
From being an outcast in Indian cricket, Modi has now become a political pariah, willing to singe political personalities, especially those in power. "Lalit is just a pawn in this whole game. He doesn't mind being so, as long as it keeps him in the news," said a seasoned cricket administrator. "He is in the 'If I go down, I'll take everyone down with me' mode." On June 15, Modi tweeted: "In war there are no winners I know. But I can assure u I will still be standing. The games have just begun. Switch on TV. Game on." Quite suggestively, the tweet ended with a bomb emoji.
The impending explosion has been six years in the making. In May of 2009, Modi had a run in with the UPA government over the scheduling of the second season of the IPL. It was clashing with the general elections. Escorted by two senior BCCI officials, including an influential Congress leader, he met home secretary Madhukar Gupta to discuss a possible "rescheduling". But, what he said in the meeting shocked Gupta and embarrassed his BCCI colleagues. "Elections aren't that important, change the dates of the elections," he allegedly said. This, and his subsequent role in the ouster of Shashi Tharoor from the Union cabinet led the UPA government to unleash a slew of inquiries into the IPL and against its creator. In 2010, Modi flew out of India citing security fears and has been away since.
The return of Raje as Rajasthan chief minister in December 2013 gave Modi hope―he could finally return to Indian cricket. He fought the Rajasthan Cricket Association elections in absentia and was declared the winner. The BCCI, however, refused to recognise the elections and suspended the RCA. It was at this juncture that his relationship with Raje soured. Apparently, she did not do enough to help him. "They are no longer friends. He is just simply settling scores with Vasundhara," said a well-placed source in the cricketing fraternity.
Meanwhile, Sharad Pawar, who considers Modi his protege, said: "I bumped into Lalit Modi while having lunch at a London restaurant three to four weeks ago. I told him he should come back to India and face the law. He told me he feared that if he returned, his passport would be impounded again." Modi also feared for his life. "In the past, I had checked with the Mumbai Police and there seemed to be substance to the fears," he said.
Whether or not Narendra Modi is on Lalit Modi's list, the government has already been rattled. The Union government, which had a scam-free first year in power, now faces allegations of abuse of office by its ministers. A BJP leader called it the "2G moment of the Modi government".
While helping Lalit Modi, Swaraj did not use the official ministry channel and cloaked the "humanitarian" help in a veil of secrecy. Raje's plea for secrecy was explicit. In documents released by Modi's PR agency, Raje said she supported "any immigration application that Lalit Modi makes, but do so on the strict condition that my assistance will not become known to the Indian authorities".
Another leader on Modi's hit list is Arun Jaitley. The finance minister has been unhappy with Modi's conduct and the headaches he has caused the BCCI. Meanwhile, there is mystery surrounding the leaking of the emails and about Swaraj's future in the government. BJP MP Kirti Azad, a known Jaitley baiter, suggested it was an inside job. "Sushma followed procedures, she has nothing to do with the IPL and has been dragged into this mess" he said.
Apparently, the Rashtriya Swayamsevak Sangh, whose agenda has not found priority in the Modi government, is stoking the blame game. "The Sangh has been miffed since its chief Mohan Bhagwat was given Z plus security. This restricts his freedom of movement and helps the government which wants to keep both eyes and ears on the RSS," said a source. The Sangh stepped in and directed BJP leaders to support Swaraj. While BJP president Amit Shah had backed Swaraj and Home Minister Rajnath Singh followed suit, Jaitley, seen as Swaraj's rival, was made to do so. Raje, apparently, is fighting a lone battle.
BCCI officials cutting across factions, such as Pawar, Jaitley and N. Srinivasan, said Modi remained persona non grata. However, according to sources, "Some persons within the BCCI, who are now gaining more control, are regularly in touch with him."
Modi's exile in England wasn't a happy one, as THE WEEK had reported in its March 20, 2011 issue. He couldn't travel outside England and, unlike in India, he wasn't being followed by the media. An IPL insider had then told THE WEEK how Modi "missed the limelight that he basked in back home". That was until he got his travel documents in September 2014. Since then, he has filled social media website Instagram with pictures from weddings, football matches and family holidays at exotic locales in Europe.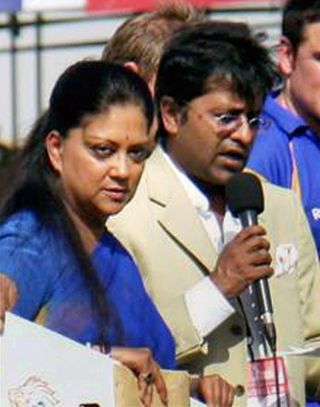 Meanwhile, the Congress demanded that Swaraj resign on grounds of abetting a fugitive. Party spokesperson Randeep Singh Surjewala accused Narendra Modi of maintaining a "conspiratorial silence". "The 'Modigate scandal' has exposed murky dealings, wilful lies, unearthing of secret documents, non-disclosure of personal and business interests and also conflict of interest involving the topmost BJP leadership," he said. "All this was done with a view to dupe and deceive Indian authorities to help a fugitive, black money operator and money-launderer."
Though Swaraj had several institutional methods to deal with the situation, she apparently did not use it in Modi's case. The normal channel would have been to go through the secretary in charge of passports and passport officers. But, given that the minister has the power to exercise her discretion, Swaraj might be immune from procedural problems.
Said former diplomat T.P. Sreenivasan: "Nothing in the rulebook or the set of precedents prevents the external affairs minister from acting unilaterally in a case involving passport rights, especially since the Delhi High Court had already taken a decision in favour of Lalit Modi."
In matters of granting and impounding passports, the deciding authorities are the home ministry and the courts. The external affairs ministry rarely challenges their decisions, said Sreenivasan.
Technicalities aside, the fallout has raised several ethical questions. Why didn't Swaraj tell anyone in her ministry about such a sticky issue? Would she do this for an ailing Dawood Ibrahim, the opposition asked. If she did have to call Keith Vaz and request help, why not ask for just a few days for Modi to go to Portugal?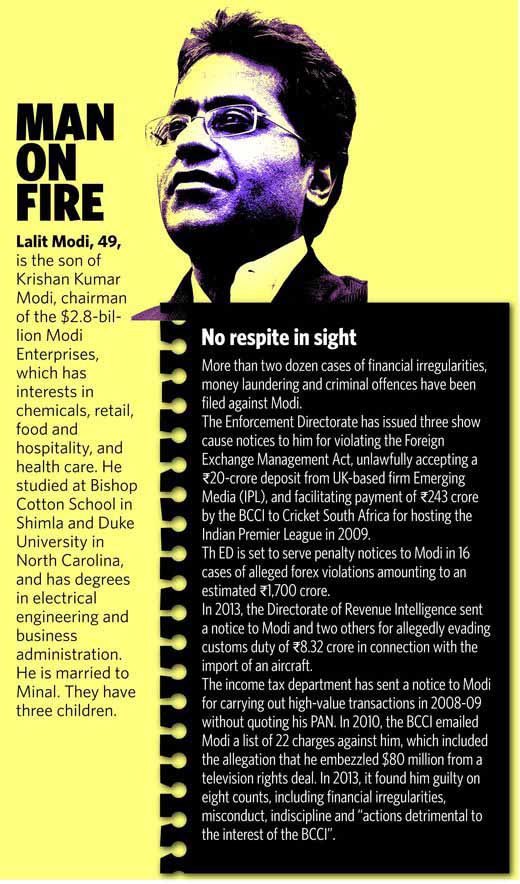 What is diluting Swaraj's case is the conflict of interest. Modi has been a friend of the Swaraj family for years. Her husband, Swaraj Kaushal, had been Modi's counsel for more than 20 years. Her daughter, Bansuri, has been his lawyer for the past seven years.
Interestingly, the Delhi High Court dismissed a petition by Modi on January 16, 2013 seeking restoration of his passport. The lawyers representing him were U. Lalit and Bansuri Swaraj. On August 27, 2014, when the Modi government was in power, the same court, a different bench and Bansuri Swaraj restored Modi's passport.
Reports suggest that Lalit Modi has been consulting "friends" in India on the government's position on the Italian marines case. That is another humanitarian issue for Swaraj. Modi's exact role in the case, however, is unclear.
Said Chidambaram: "The Enforcement Directorate reported that Lalit Modi had left India and was, at that time, in the United Kingdom without a valid passport. The ED had issued show cause notices and summons to Lalit Modi, but he had not appeared in person. The ED, therefore, requested that I take up the matter with my counterpart, chancellor of the exchequer George Osborne." Chidambaram also wanted to know what the government had done to enforce the summons issued by the ED and its response to Lalit Modi's wild charges that his life would be in danger in India.
The ED has been on Modi's trail for a while. It investigated the alleged illegal routing of Rs21 crore from a Mauritius-based company to Modi's firm (Anand Heritage Hotels Pvt Ltd) in Rajasthan. "In the past few years, the firm had been buying havelis around Jaipur and plans to convert them into heritage hotels," said an ED official. The ED is also investigating Raje's son, Dushyant Singh, MP. Apparently, his firm, Niyant Heritage Hotels, got Rs11.63 crore from Mauritius company Wilton Investment Ltd on Modi's directions.
The ED is also investigating three IPL-related charges against Lalit Modi. It issued a blue corner notice (that allows Interpol to keep track of and question suspects) against Modi in 2010. The agency has now strengthened investigation against his shell companies held under fake names in Mauritius and Cayman Islands.
"The cases amount to violations of an estimated Rs1,600 crore and the maximum penalty that can be slapped could be three times this amount," said an ED official. Modi allegedly invested in some IPL franchises through certain front companies abroad. The ED and the income tax department want to know whether Modi rigged the franchise bids.
The ED is also probing the $80 million paid by MSM Singapore to World Sports Group to withdraw from the telecast rights contract of the IPL. The ED suspects that $25 million of the $80 million was allegedly routed into the illegal accounts of Lalit Modi, his associates and some politicians. In 2010, the ED had issued show cause notices against the BCCI, Lalit Modi and others for contravention of provisions of Foreign Exchange Management Act.
The BJP, however, has played down the controversy. Environment Minister Prakash Javadekar said the Congress was "making a mountain out of a molehill". Party spokesperson Nalin Kohli said the opposition was "attempting to wipe the sheen of the Modi government as they have nothing to counter the one year of good governance".
Lalit Modi might have unleashed a political storm, but he still pines to return to his "baby", the IPL. As things stand though, the likelihood of him coming back seems more remote than ever before.
However, this is a crucial moment for Narendra Modi. He can either take action to ensure his government is clean or become Manmohan Singh 2.0.
WITH SOUMIK DEY AND KALLOL BHATTACHERJEE