Only 0.26% of applicants admitted to IIM A.

About 50% more graduates from top B-schools opted for entrepreneurship this year than the last

Indian b-schools have become a favourite hunting ground of global investment banks and consultancies.

IIMs continue to be the benchmark in management education in india. Five of the top ten in our survey are IIMS.

"Our academic institutions in the last five years or so have become very sensitive about high-quality research" - Ashish Nanda, director, IIM A
In the mid 1960s, Vikram Sarabhai was looking for a full-time director for the Indian Institute of Management Ahmedabad, which he helped build and served as honorary director. After a long search, he made a remarkable, if not audacious, decision and hired Ravi John Matthai, a marketing professor at IIM Calcutta, for the post. Many people thought Matthai, all of 38 then, was ridiculously young and not qualified enough—he had only a BA in economics, though from Oxford, and just two years of academic experience.
In a year, however, sceptics turned admirers, as Matthai put in place the culture and systems that would lead the institute in the decades to come. In 1972, in a surprising decision—one that is still hailed as the epitome of selflessness and essential for institution building—he stepped down as director and said would continue as a professor. He did not want the director's position to be hierarchical.
It is not surprising that an institution built on the lofty principles that Matthai set continues to be the best in India. IIM A, once again, is at the top of the heap in THE WEEK-Hansa Research Best B-Schools Survey—the fourth time in five years. The pecking order, in fact, is almost intact from last year, with the top eight maintaining their ranks. The only change is Management Development Institute, Gurugram, replacing Narsee Monjee Institute of Management Studies, Mumbai, on the ninth spot.
While these schools consistently produce world-class managers, they have not yet broken into the list of the world's best. IIM A, for instance, was ranked 24th in the Financial Times' Global MBA Ranking 2016. Indian School of Business, Hyderabad, and IIM Bangalore are the only other two b-schools from India in the top 100.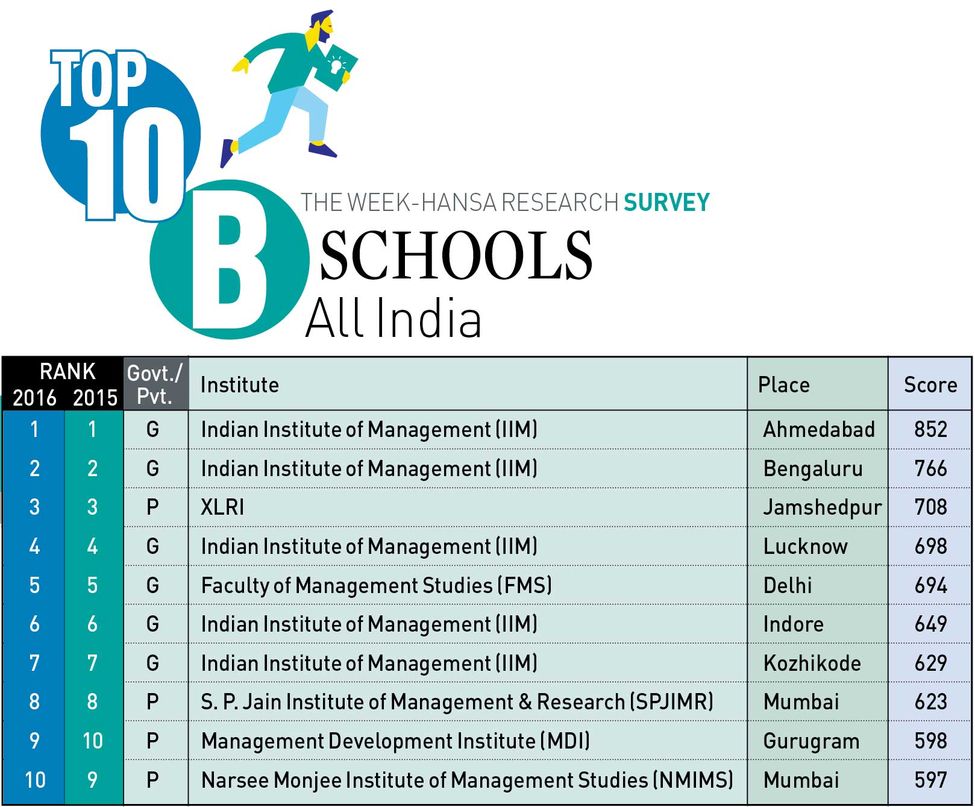 If one takes a closer look, however, it will become clear that the ranking methods are partly to be blamed for this. "One of the dimensions in which we always suffer is, they calculate how many international students we have," said Ashish Nanda, director of IIM A. "When you measure that way, an institution in a small country does better than an institution in a large country. When they ask about [the number of] international students, what they are looking at is diversity of backgrounds. I would argue that if you are in the French side of Switzerland and you get a French student, cultures are not much different. On the other hand, if you are in Ahmedabad, and you get one student from Arunachal Pradesh and another student from Kerala and a third one from Himachal, I would argue that the diversity is very high. But when they do the ranking, they would say these students are all from the same country."
That, however, is not the only reason. India's top management institutes lag behind global peers in cutting-edge research. IIM A, for instance, is only 94th in the FT research ranking. This is often attributed to the poor research infrastructure in the country and teaching, rather than research, continuing to be the core of the higher educational system. And, unlike the top b-schools in the west which are part of larger universities that put a lot of emphasis on research, most Indian management institutes are standalone entities.
Nanda said it was all about to change. "Our academic institutions in the last five years or so have become very sensitive about high-quality research. If you look at the number of research papers coming out of IIM A or any other top management institution, it is growing," he said.
Many of the b-schools are tackling the problem in their own way. S.P. Jain Institute of Management and Research, which has consistently been ranked as Mumbai's best b-school in our surveys, is focusing on ideas that work for India. "For many dimensions in this country, being world class means copying what the west has done," said Ranjan Banerjee, dean at SPJIMR. "There are things we need to innovate ourselves in terms of being relevant to our own context."
This India-specific approach is driving the curricula in most b-schools. That, however, does not hold them back from creating world-class managers. "Ideas that work for India are relevant and potentially of value for the rest of the world," said Banerjee. No wonder Indian b-schools have become a favourite hunting ground of global investment banks and consultancies. Multinationals outnumber Indian companies in hiring from top b-schools.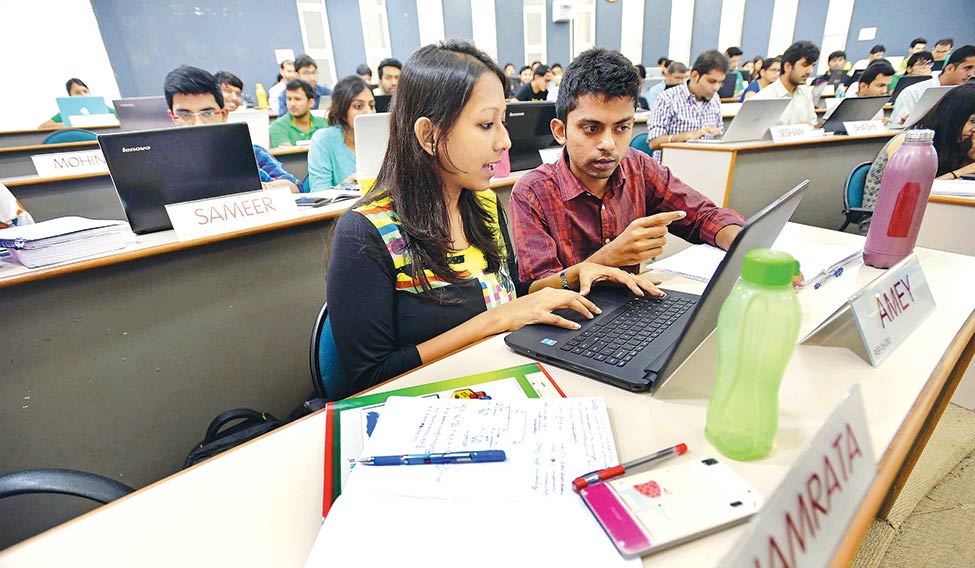 It is exactly this reputation which makes a degree from an IIM or the likes of the Xavier Institute of Labour Relations or SPJIMR as coveted. IIM A's Post-Graduate Programme is said to be the toughest MBA programme in the world to get admission to. Nanda recollected a conversation he had with the dean of the Harvard Business School. "I asked him what percentage of applicants did they admit at HBS. He said they were down to single digits—only 8 per cent got admitted. At IIM A, it is 0.26 per cent," he said.
It might get even tougher this year, as IIMs received 2,32,434 applications for admission to their main management courses; the figure is the highest in seven years. Many other top b-schools also choose candidates through the Common Admission Test. The rising interest in management education is attributed to the growth in the number of placements and salary packages offered to b-school graduates this year. IIM Kozhikode, for instance, completed the summer placement for its 364 students in just six days. Earlier in February, IIM Lucknow completed the final placement for 446 students in just three days.
According to V. Suresh, chief sales officer at Naukri.com, the job market is likely to sustain the momentum. The latest placement report of IIM Indore recorded an average salary of Rs 15.67 lakh a year, which is 10 per cent higher than the last year. The average salary offered to IIM B graduates was Rs 24.82 lakh a year.
The top recruiters from the b-schools this year were information technology company Cognizant, accounting and consultancy firm Deloitte and ICICI Bank. Deloitte recruited 282 management graduates, while Cognizant hired 245. ICICI Bank hired 223 and IT company Infosys took 215.
IIMs continue to be the benchmark in management education in India. Five of the top ten in our survey are IIMs. It is easily India's most recognisable brand in higher education. "What it stands for is what it has invested into itself as reputation. This reputation is about selection rigour, academic rigour and excellence at large," said brand expert Harish Bijoor.
Maintaining such quality and reputation is a tough task. Especially when it comes to faculty. "You need to have world-class faculty if you want to be a world-class institution," said Nanda. The problem is, the labour market for management faculty is a global one, and Indian b-schools are a bit handicapped when it comes to financial resources. "A finance professor in the US easily would be earning five times more than one in India," said Nanda. Indian b-schools are trying to tackle this problem by bridging the compensation gap and providing research opportunities.
Banerjee of SPJIMR, however, said insisting on a PhD does not necessarily give you the best faculty. "A fresh MBA from a top school today can earn much more in the corporate sector than what he can from the educational sector," he said. "It rarely makes sense for someone from the middle class to do a PhD and come into academia. That means, if you insist on that doctorate, then there is a chance that it will not give you the best. So we have a hybrid system. We recruit successful practising executives. If you can find a way to bring them to the second career mode and make them do a PhD and give high-quality research training, that is a sustainable model of building the faculty."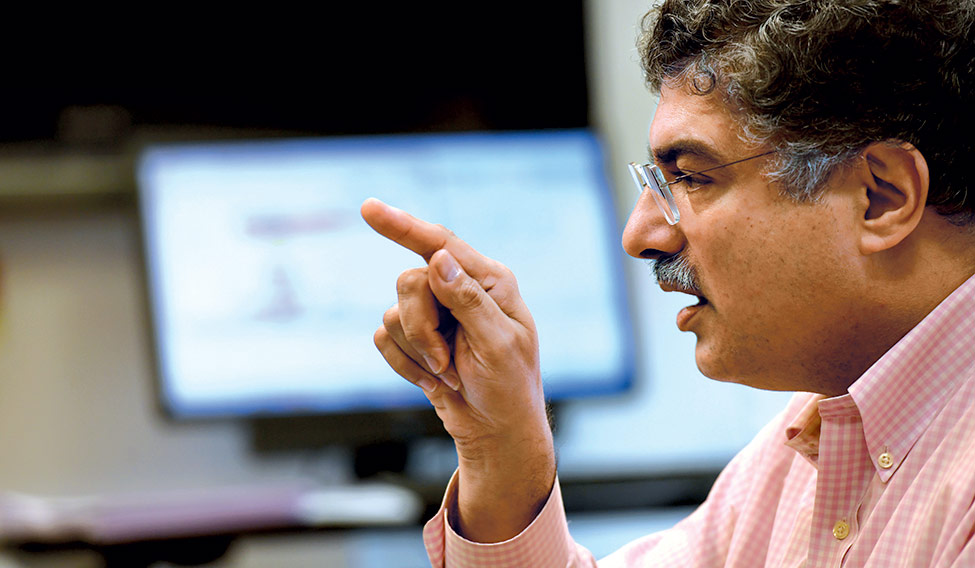 Many of the top b-schools have faculty exchange programmes with international institutes. Christ University in Bengaluru, for instance, has 52 faculty members who regularly go to Germany and the US to teach at schools there, and the faculty from those schools come to Bengaluru. Its curriculum is influenced by such exchanges. "Ours is an autonomous institution and we have the liberty in choosing the kind of syllabus and revising it as per the requirement every year," said Suniti Phadke, dean at Institute of Management, Christ University.
Autonomy seems to be an essential ingredient for excellence in b-schools. No wonder IIMs are relieved that HRD Minister Prakash Javadeker dropped many clauses in the IIM bill that would have seriously undermined their quest for autonomy. In its current form, the bill proposes to remove the HRD minister as the head of the IIM Coordination Forum, making it easier for the IIMs to coordinate themselves. It also proposes to give a free hand to the board of governors to appoint the director.
Javadekar recently had a meeting with 13 IIM directors at IIM Shillong. One of the matters they discussed was capital infusion. Many of the IIMs have expansion plans and they need money for that. Javadekar said the plan was to double the number of seats. Nanda said IIM A was planning to set up a school of public policy. "We feel the nation is mature today in terms of the need for an independent school of public policy whose graduates can join private sector as well as government organisations and play an active part in the implementation and design of public policy," he said.
The promise of an active role in the future is exactly what brings some of the brightest minds in the country to these institutions. And these schools train them exactly for that. Few degrees can boost a career the way an MBA does. Sharmil Nanjappa, an engineer who studied operations management at Xavier Institute of Management and Entrepreneurship, Bengaluru, said the MBA had given her a business perspective and had been crucial in personality development. "As part of my MBA course I went on a student exchange programme to Nantes in France and attended management classes there. The experience changed my perspective towards the way I think," she said.
Engineers account for a good chunk of students in the top management schools. "If you take the applications, they are not skewed towards engineers," said Vasant Sivaraman, professor at SPJIMR. "But after they go through the filters, there are normally more engineers. Non-engineers seem to lose out in some tests."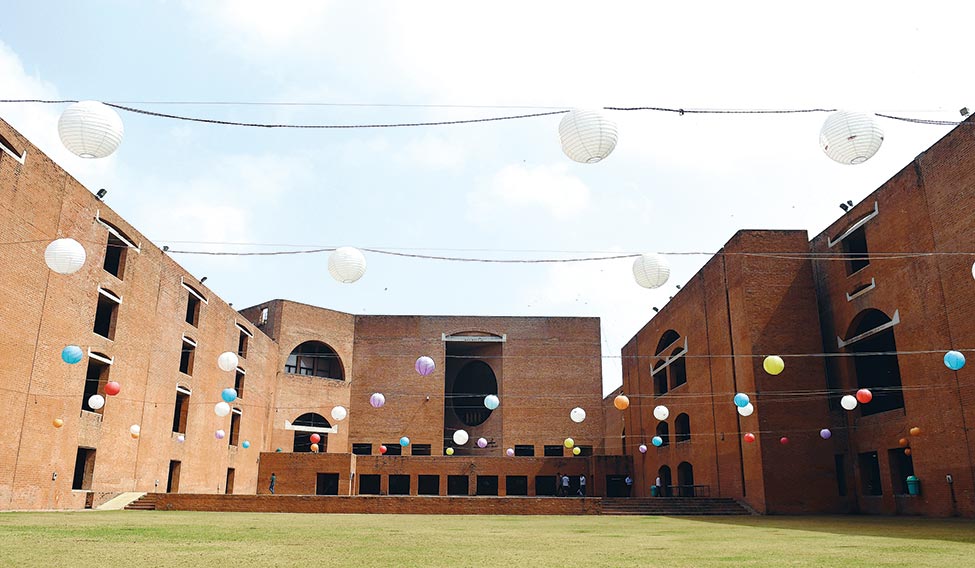 Irrespective of the background, however, life in a top-ranked b-school is a humbling experience for most students. From the brightest student in the class in the previous institution, they are just one of the shining stars in an IIM or any other top b-school. "You are surrounded by achievers and you learn a lot from them," said Aditi Kapoor, a student at IIM A.
It seems they learn well as well. Priorities change and short-term monetary benefits get replaced by long-term career goals during the course. Many of them are even willing to trade a hefty pay package for work satisfaction. "After three or four years of work, the packages will get levelled. But what you learn in the initial years will set the tone for your career. Money is definitely a concern because most of us have to pay back education loans. But a good package should not make you deviate from a long-term goal," said Shekhar Kapoor, a student at SPJIMR.
Thanks to their ability to transform careers, b-schools have become a favourite place for mid-career lessons. Rakshit Sawhney, for instance, had been thriving at the outsourcing company Genpact. But when he reached a stage when he was being offered leadership opportunities, he felt that he needed to learn more. "I had experiential idea about the management side of a business but theoretical knowledge was missing," he said. He chose a one-year executive programme offered by the University of California Berkeley's Haas School of Business.
While most top b-schools in India offer different types of executive programmes, the global b-school tag is the new fad. Almost all of the top notch western b-schools offer executive programmes in India, be it Wharton, Yale, Harvard or INSEAD. "One of the key factors in deciding on a global b-school's executive programme is its cost. The fee ranges from $30,000 to $50,000. There was a perception that Indian students might not be able to do a course with hefty fees. ISB's PGPMAX broke this myth," said Mohit Jain, one of the founders of North-West Executive Education, a company that brings such courses to India.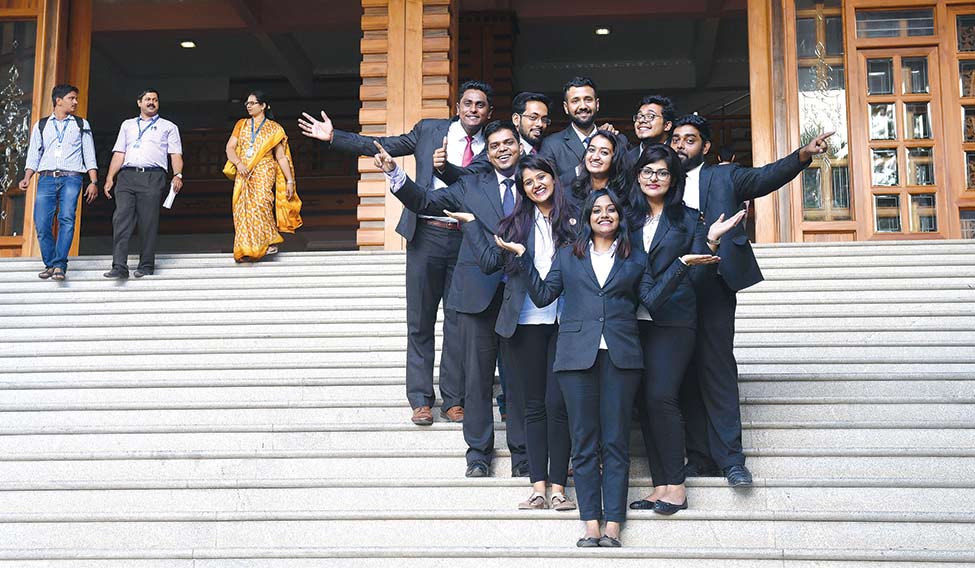 "Global b-schools understand that Indian students are willing to pay for a good course and an international b-school tag on their CV," said Jain. The University of Chicago's Booth School of Business has started offering a one-year Accelerated Development Program for executives in India, and Harvard Business School has announced a one-year Senior Executive Leadership Program-India (SELPI).
It is not just the global b-school tag that these executives look for while applying to these schools. It is about the experience of getting taught by some of the world's best faculty. The peer group, which is mostly top-level professionals or startup founders, and a global alumni network are some of the perks that come with it. "The alumni network and peer group help when you are changing jobs. There is a lot of emphasis on practical things and interactive learning," said Jain.
Alumni networks influence b-schools in more ways than one. Their support was an important reason behind the startup fever that gripped b-schools last year. It has not subdued yet. Top b-schools have seen about 50 per cent more graduates opting for entrepreneurship this year than the last. At XLRI, five students opted out of placement; it was only one student a year ago. At IIM C, six students opted out; it was only three last year. At Faculty of Management Studies, Delhi, 13 students opted out, compared with seven last year. At IIM K, four students have startup plans; it was only one last year.
Whatever be the career choices that students make, these b-schools prepare them to make the right ones. Their pursuit of excellence is their attempt to fulfil that promise. And that makes them stand out in the crowd.
WITH VANDANA AND ABHINAV SINGH