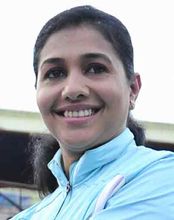 One of the reasons for India's performance at the Rio Olympics is that we, as a country, do not have a sporting culture. Till recently, athletes had to find their own path. Only if an athlete reached a certain level or got a medal, would he or she get support. Also, there was not much awareness about sports. In Europe, even for a small sporting event, the stadium is packed with spectators who know a lot about each athlete. This is not the case in India. Even now, other than cricket, we don't know a lot about sports. For instance, hockey brought us several Olympic medals, but they often play to an empty gallery.
There has been an improvement in the past few years. This Olympics, we started preparing two years in advance, instead of six months. Also, there has been a change after India hosted the Commonwealth Games in 2010. So, more international competitions need to come to India. Just imagine, if Usain Bolt runs in India, it would be a massive boost for running, in particular, and for sports, overall.
With lifestyle diseases, people are trying to become active. There are more marathons now and parents are encouraging children to take to sports.
However, one problem is that we expect performances from the same people. There are very few new faces. After one tier of athletes, there is no depth to our talent pool.
Nowadays, everybody talks about grassroots level support, but we shouldn't generalise it. We should specialise on particular sports. China does this. We don't have to go the extremes China does, but we need to identify talent at a young age. In fact, our whole system has to be changed, A to Z. Yes, we are spending on athletes, but we have to spend on surrounding factors, too. We should create separate systems for each sport we identify. From training to nutrition to facilities, everything has to be taken care of. Each focus sport should have one or two exclusive training centres with world-class facilities.
Besides athletes, we have to focus on the supporting staff. I feel we are not utilising our coaches. Till when can we import coaches? And, there is also a dearth of sports medicine doctors and masseurs. In India, for instance, an aspiring masseur trains for six months to a year. In Russia, it takes five or six years. It is like an MBBS course.
Moreover, the heads of federations should be knowledgable about sports. Or, at least have interest in it. The entire supporting system below the sports minister—including the Sports Authority of India and and other bodies—should be helmed by people who know sports.
We have the people; we have the brains and manpower. We have the best doctors and engineers. We can send rockets to the moon and Mars, but we can't get a medal. Isn't that funny?
Anju Bobby George is a former Olympian.
As told to Anirudh Madhavan