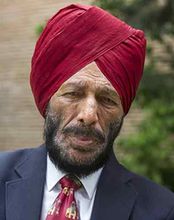 The dying sports culture in India is a matter of great concern. We don't know how to groom talent or respect them. Even representing the country at an international event does not guarantee one a decent life. There are a few sportsmen who live their life with dignity, but the majority is still struggling. So, why would parents encourage kids to pursue sports seriously?
If we are really serious about our performance, the government needs to call an immediate meeting with all sports associations and start preparing for the next Olympics. The associations should submit a plan as to how they will work towards a gold medal, keeping improving world standards in mind.
The sports associations should be held accountable for our performance. The structure of our sports associations itself makes them non-performing. Our sports strategies are formulated or carried out by people who are not totally clued in or accountable. One needs to be a politician to get elected to these associations. How can politicians geared for short-term results be expected to do long-term planning?
Make someone like [former Olympian] Rajyavardhan Singh Rathore sports minister. He understands sports and what goes into developing a champion. Give him a 12-year-term and Rs 1,500 crore to spend each year on the sportsmen. He will produce champions. It would be a worthwhile investment.
We need a complete overhaul to improve our performance. We should educate children about the importance of health, fitness and exercise. Sports should be a mandatory part of the curriculum. Assessment of a school should be based on its performance in academics as well as sports.
Regarding sportsmen, our focus needs to include the second-string players because, four years from now, the present crop would have aged. While a few of our sportsmen do work hard, the majority does not. The bottom line is results and we have seen where they stand in world rankings.
Our coaches need to be made accountable, but for that they need to be empowered and supported by resources. An Indian athlete should get whatever a world-class athlete gets. The world outside our shores is moving faster than us. Better scientific systems supported by well-paid and passionate coaches make it easier for them to spot and groom talent. Unless we match them and do so with a long-term vision and plan, we will never really have a chance.
Would letting private bodies take over sports benefit India? Well, I think we need good people, wherever they are from, supported by resources and the freedom to perform. Then, we can get results.
We need to learn from countries that have performed well in the Olympics. We should adopt the best practices and strategies and make a long-term, unbiased commitment to make India proud.
Milkha Singh is a former Olympian.
As told to Mini P. Thomas