EVER SINCE I left Bangladesh in 1993 after the fatwa was issued, I got protection everywhere I went, across the world. In 2000, when I came down to Mumbai for the inauguration of my book Shodh, some Muslim fundamentalists objected to my presence. They wanted to kill me and burn down the airport. However, I wasn't attacked as Z-category security was provided to me. We defied the fanatics by continuing with the programme which was a success with eminent personalities such as Shabana Azmi and Javed Akhtar attending.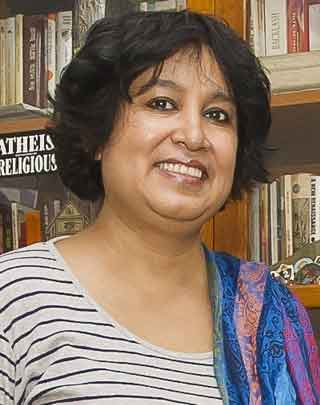 Later, in 2007, during the inauguration of my book at the Press Club in Hyderabad, the organisers did not inform the state about my arrival and, consequently, there was no security. That day, a few members of a political party came and vandalised the club, breaking windows and doors and throwing books and chairs at me. Yes, I was scared. They were shouting in Telugu that they would kill me. We were trapped there for almost half an hour.
It has been very difficult for me to rent a house here because most landlords do not like policemen sitting outside their homes. I cannot live anywhere else but in India because of the freedom of expression that exists here which permits me to say what I want.
If I compare the security arrangements in Europe and India, security agents in Europe seem to have more gadgets and equipment on them; there are several devices strapped to their wrists and other parts for communicating better with their counterparts. They are more alert and well-prepared while driving me around in their bullet proof cars. I am not complaining about the security situation in India but I feel the guards here do not have much training.
Initially, I would notice that these guards were pretty lax, sharing details about my whereabouts with strangers. I had to actually tell them not to do so. Now, most of them have become friends or brothers because they are good people and very sympathetic too. Also, over a period of time, you develop a relationship with them.
My dream is to walk around without any police protection; my security will be the people's love and respect... but I don't know if that will be possible in this life.
Taslima Nasreen is an award-winning Bangladeshi writer and feminist. Because of her thoughts and ideas, she has been banned and prevented from returning to her country since 1994.
AS TOLD TO RACHNA TYAGI