Roland Folger, MD and CEO, Mercedes-Benz, India
Not an old man's car
We, early on, analysed the things that we needed to change, and this naturally takes time. We focused on building our brand reputation again, and on training our people. We made sure that the dealer network would grow. We injected fresh blood into the network, and that proved to be the right storyline.
Then we had the unusual situation of being able to launch 15 vehicles in 2015. We, of course, made use of that. Going closer to customers is a very important thing. What we used was the contact points of the 15 launches because this gives the dealers a chance to bring customers back into the showrooms and have a discussion with them. Also, adding new products like the A-Class, B-Class, CLA and GLA helped us reach new areas, where, a few years ago, nobody ever thought that Mercedes-Benz would go. All of that combined to give us a lot of firsts—for instance, the J.D. Power after-sales service award that we received two years in a row.
Apart from that, what was encouraging for us was that among 15- to 25-year-olds we have gained a completely different foothold. We are suddenly a much, much more sexy and acceptable brand than we used to be ten years ago. India is the youngest country that we have around the globe as far as customer likes are concerned, and a key issue is that young people don't feel Mercedes is an old brand and a brand for old people. Even old people do not want to drive cars that look like they are made for old people. Of course, design has helped tremendously, but I think it is the overall appeal and achievements [like] winning Formula One with such a significant difference two years in a row that have been a strong contribution to the overall changing of the brand.
On the one hand, what we try is to keep the momentum going and that's why we introduced a sub-brand called the Maybach to define the uppermost end. On the other hand, we have brought in five AMG outlets to India in the last two or three years. The AMG numbers are actually higher than our anticipation so far. So, we will be opening more of these specialised outlets.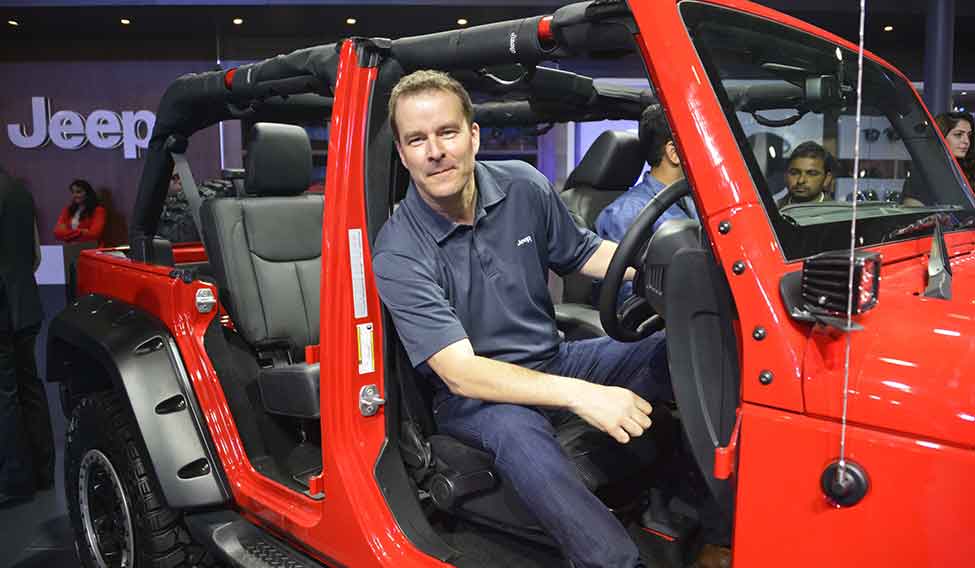 Jim Morrison, Director, Jeep brand product marketing
Jeep's for keeps
We have a lot of Indian buyers around the world, but it is exciting to finally connect with the Indian customer here in India. And, the Jeep experience is so different from any other. Jeep will do well in India because the passion that we have in the brand will connect well with the people.
A lot of people get into a Grand Cherokee or a Wrangler SUV and they just feel safe. What I know from my experience with ladies who like adventure is Jeep is a balance between safety and adventure, and the freedom it gives any individual is what separates us from any other brand because our vehicles are designed to back that up with a promise that they can go and do anything they want. It is the mindset that gives any spirit that ability to do what they want to and that is what is going to attract ladies to this brand.
The dealers have already experienced the brand on road, off road and seen the technical centre where we design, engineer, test, brake, fix all of that stuff. It is a massive facility and they have already been exposed to that. Also, the training happens in the country and the back and forth support with the home office and the people that have hands on the wrenches make sure our customers have a great experience. It is off to a good start.
Jeep is waiting for dealerships to be finished and ready. We are targeting the customers in two phases. We start with the bigger vehicles because they are the two strongest vehicles we have and they are going to help us define what the Jeep brand means in the Indian market. Next year when we bring on the locally produced Jeep, we will attract another set of customers.
What is consistent is the passion that people have and the free spirit that people have—it is more of a mindset. But what is amazing is that across cultures, across countries and across continents, Jeep is so powerful it attracts a state of mind and the spirit of a person. Once you are a Jeep customer, you are a Jeep customer for life.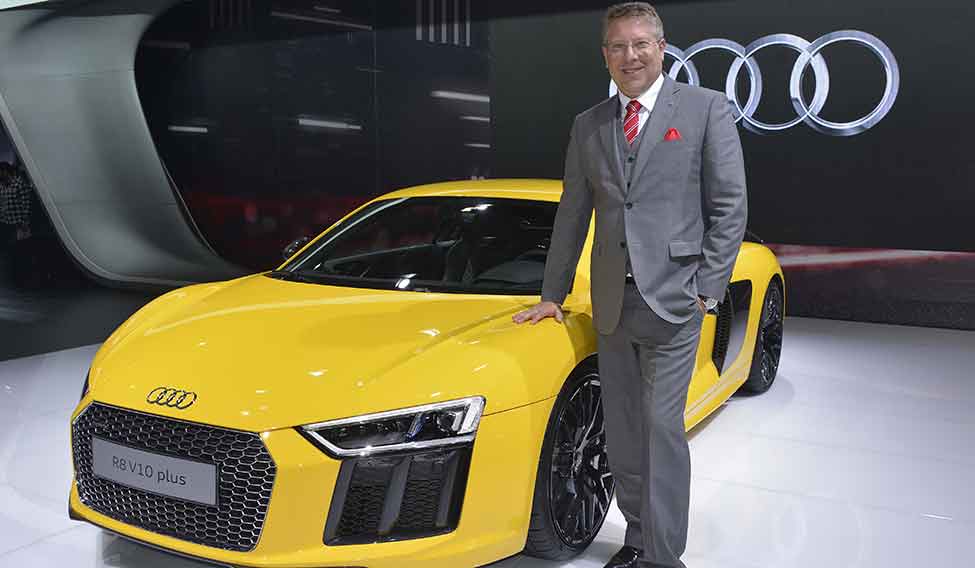 Joe King, Head, Audi India
Going big in smaller cities
We are entering our tenth year now. Every year, we have grown. We have got 90 touchpoints around the country; more than 52,000 happy customers on the road; a strong, profitable dealer network; and 30-odd model variants in our portfolio. So, I think the foundation is really, really strong. In 2016, we will launch more than ten new products, also the R8 and also the new A4. The new A4 will replace a super successful car, something that has done really well in that segment. With the technology and the new design, we will redefine the benchmark in that segment. We have just launched the new Q7 as well, in the top end; that was the car that put us on the map in India. So I think that product portfolio is being refreshed. We are going through that change now. We are seeing a lot of new generation products arrive. So, I think they are both very well for the future.
We have continued to focus on tier II and tier III cities. The understanding of luxury and the thirst for luxury is really growing in these cities. Late last year, we launched the Audi Mobile Terminal, a showroom on wheels that can go to a lot of these cities where we don't have a showroom and give people a great experience of the brand. We don't believe in just throwing showrooms up everywhere. One big fundamental change is we are moving now to our 'service first' approach, where we will launch a workshop in a city where there is already a strong customer base. So, we will open very shortly in Hubli, Jodhpur and Thiruvananthapuram.
We want to win. We have a very strong sporting heritage. Our focus is long term, and I am sure we will take the number one position back when the time is right. We are very happy with where we are, and when we set our plans for India, we are 40 per cent ahead of those plans. So we are really thrilled with where we are going. Being number one for a year is not the most critical success factor. I think having had the customers, having a strong profitable network, having investors that are clamouring to join the brand, even deserting other brands to do so, is a strong market position and I think that bodes well for us in the future.