It's a 20-year-old case. One that rocked the world of cricket so hard that it's aftershocks are felt till date. The match-fixing scandal in the India-South Africa ODI series in 2000 was unearthed by the Delhi Police and it saw former South African captain, the late Hansie Cronje, admitting to taking money from bookies to fix matches during a series in India. It has come back to haunt one of the alleged 'links' to the case—Sanjeev Chawla, who was named as one of the accused in the chargesheet filed 13 years later by the Delhi Police—with a vengeance. On Thursday morning, he was successfully extradited to India.
Chawla's extradition from the UK is seen not just as a culmination of efforts in an old case but as the first of many such extraditions, the Indian government is hopeful of securing. This, the cops believe, opens the door for other more high-profile extraditions in future from UK, of declared fugitives like industrialist Vijay Mallya, Mehul Choksi and Nirav Modi.
"The Delhi Police Crime Branch has achieved a huge success today and after lot of hard work in last few years with full support from the Union Home Ministry, Ministry of External Affairs and Indian High Commission, London, as well as UK High Court, we have achieved a milestone by bringing back a fugitive called Sanjeev Chawla," said DCP Ram Gopal Naik, who headed a 10-member team to secure Chawla's custody.
India initiated the extradition process in 2016, which included persistent appeals in various UK courts for Delhi Police to finally get the custody of the alleged bookie, Chawla. Of the six named in the case, three were arrested, while the others fled. While Cronje died in a plane crash after admitting to his "sin" during the King's Commission inquiry conducted in South Africa, Chawla fled to the UK, while another associate Manohar Khattar fled to the US.
Chawla owns an Indian restaurant in Shadwell, London. "He is a suave, sophisticated person. Back in 2000, he would be your regular upper middle class businessman," is how the police describe Chawla. He still has family in Delhi. His family had a garment export business in Noida and fabricated sheets business in Nizamuddin. Chawla reportedly had stakes in two restaurants in the upscale Vasant Vihar market in South Delhi.
He was in India during the controversial bilateral series and he used his business visa to fly back to the UK even before the series got over. After Chawla escaped, India revoked his passport. But he was granted British citizenship in 2003.
The Indian government had to give assurances about respecting Chawla's sovereign rights as a UK citizen during the several levels of court proceedings. The team landed in the capital last night and Chawla was produced in the Patiala House District Court, which sent him to a 12-day police custody.
Speaking to the media, DCP Naik said Chawla's interrogation was yet to begin. "He will be taken to a number of places to establish all the links. As you know, Chawla has not joined the investigations so far."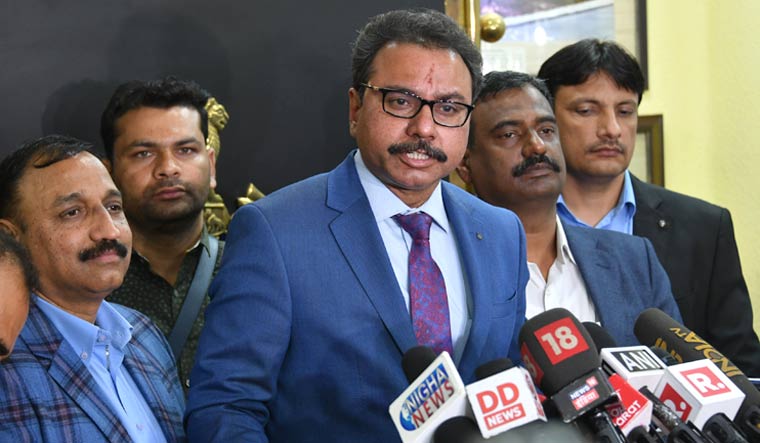 DCP Naik, along with Inspectors Gagan Bhaskar and Keshav Mathur, left for London on February 9, where Chawla was handed over to them by the London Metropolitan Police at the Heathrow Airport on February 12.
It will be interesting to see if Chawla divulges any names in the match-fixing case. Several top players from India and abroad were interrogated but none were charged due to lack of evidence in a separate investigation launched by the CBI in 2000. Former Indian skipper Mohammed Azharuddin's name had come up and was banned for life by the BCCI. But he was given a clean chit by the Hyderabad High Court. He is back in cricket as an administrator—the president of Hyderabad Cricket Association. Another former cricketer Ajay Jadeja's role was also investigated and he served a five-year ban by the BCCI.
Another link crucial to the investigations is the underworld and betting-fixing nexus. Chawla, police allege, was a conduit for the underworld to access information from players and to give them instructions.