By marrying the sister of his boss and captain, Hardus Viljoen got a humorous pass from playing in Saturday's Mzansi Super League 2019 game between Paarl Rocks and the Nelson Mandela Bay Giants.

When asked by the match presenter if there were any changes in the team line-up for the day, Paarl Rocks captain Faf du Plessis said: "Viljoen is not playing today because he's lying in bed with my sister as they got married yesterday."
Hearing this, the match presenter burst into laughter.
Viljoen married du Plessis's sister, Remi Rhynners, on December 8, Saturday, a day before the match. Viljoen is a right-handed batsman and fast bowler
The brutally-honest reply left many in splits on the internet. One vandal even edited Viljoen's Wikipedia entry to reflect du Plessis's reply.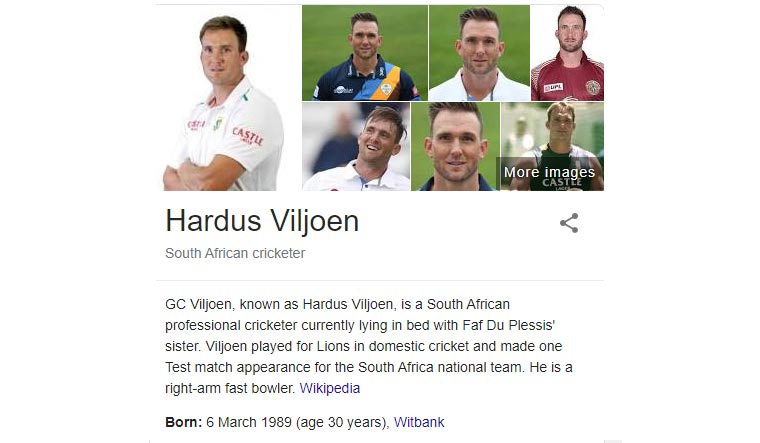 The Mzansi Super League is South Africa's domestic T20 league.  

Even with Viljoen, however, Paarl Rocks managed to win their match against the Bay Giants, beating them by 12 runs to retain their top spot in the points table. They will now be the home team in the Mzansi Super League 2019 final on December 16.
In the Indian Premier League, Viljoen plays for Kings XI Punjab, while du Plesis plays for Chennai Super Kings.