Union Home Minister Amit Shah landed in Manipur on Monday night as violence between two ethnic communities in the state continues to rage. So far, over 80 people have died in the riots, including the three on Monday and two shot dead by militants on Sunday.
The Home Minister held a spate of meetings on Monday evening at Imphal, including one with Manipur Chief Minister N Biren Singh and other ministers to assess the situation and plan further steps to restore normalcy in the region. He also met the Governor of Manipur, Anusuiya Uikey.

The Home Minister will stay in the state till June 1 and is expected to hold several rounds of security meetings in the coming days. He is also expected to meet representatives from civil society and various groups of the Meitei and the Kuki communities.

Shah's visit comes as fresh clashes erupted in the state on Sunday, which claimed the life of a Manipur Police Officer. Over 1,000 arms and ammunition were also looted from armouries of Manipur Rifles and IRB, reported ANI.  

Meanwhile, the Army and paramilitary personnel are conducting combing operations in the Imphal valley and surrounding districts aiming to confiscate illegal caches of arms. According to a security official, at least 25 miscreants with arms, ammunition and grenades have been rounded up by Indian Army and paramilitary forces. The security forces also gunned down more than 30 suspected Kuki militants over the last two days.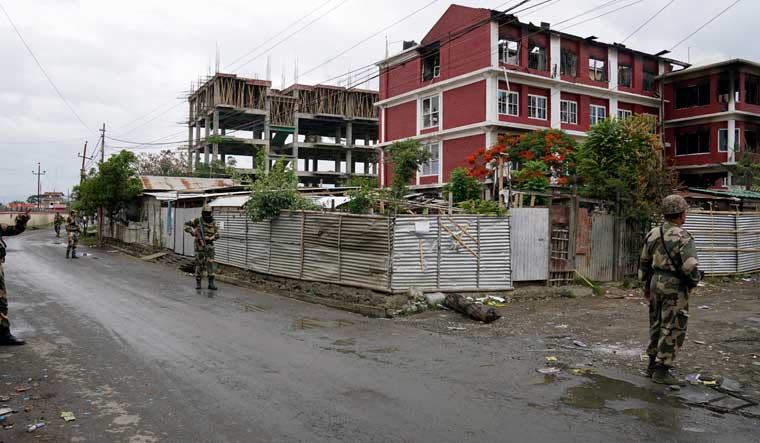 The Defence spokesperson also said that Sugnu and Serou villages of Kakching district witnessed violent clashes on Sunday which saw the army intervening to rescue people affected. "Villagers of both communities were stranded in pockets under the protection of security forces. In a major evacuation drive organised by Army and Assam Rifles in coordination with Police, State administration and Civil Society Organisations, nearly 2000 Meitei villagers were evacuated from Serou to Pangaltabi Relief Camp," he was quoted by the PTI.

The evacuations were conducted amid a tight security blanket which includes surveillance cover by UAVs, Mine Protected Vehicles and area domination patrols. "Similarly, nearly 328 Kuki villagers were safely evacuated to Sajik Tampak from Sugnu," he added.

Ethnic clashes, which have claimed over 75 lives, first broke out in Manipur after a 'Tribal Solidarity March' was organised in the hill districts on May 3 to protest the Meitei community's demand for Scheduled Tribe (ST) status. The violence was preceded by tension over the eviction of Kuki villagers from reserve forest land, which had led to a series of smaller agitations.