The literal meaning of a part of her name in Telugu is 'elder sister'. Seethakka or Danasari Anasuya enjoys that reputation in the inaccessible and deep forest lands near the borders of Telangana-Chhattisgarh. Seethakka is a Congress MLA from Mulugu constituency, the largest in the state spread over 200 sq. km.  Almost every mandal in her constituency has the presence of thick forests and hard-to-access tribal hamlets and villages. 

In the times of social distancing and lockdown, these areas may seem to be away from the threats of COVID-19 pandemic. But, starvation and neglect is a reality. Every day, Seethakka sets off on a tractor at 8 in the morning with rice, vegetables and other food essentials. Aided by her followers, she has taken it upon herself to reach out to the poor and the needy. On average, she covers about ten villages only to return late at night.

"There are many poor daily labourers in my constituency. They either go to farm work or take up some daily job. After the lockdown, forget about going to work and earning, they cannot even come out of their interior areas because of lack of transport. I make sure I give them rice, oil, vegetables, salt and other items," she said.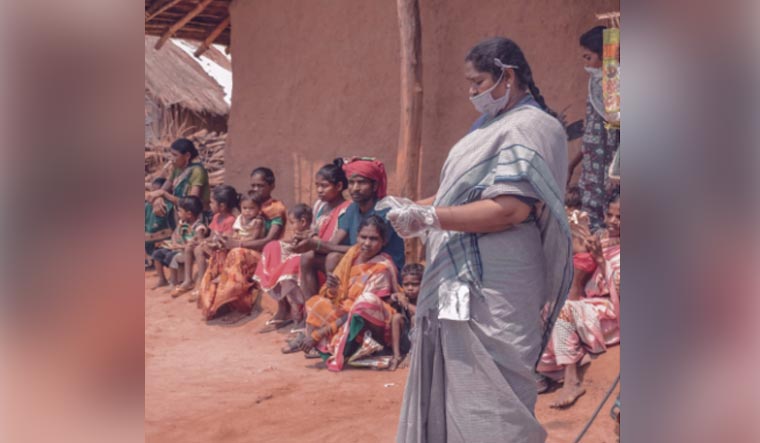 The tractor is the saviour for the MLA because the terrain is difficult to drive over and the interior roads are not fit for cars. In places where even tractor is not of much use, a bullock cart is preferred. If even the bullock cart does not work in areas with streams or water bodies, the journey is on foot. According to her followers, there were times when she had to cover 10-15 km on foot to take care of her people.   

Even before the onset of lockdown, Seethakka had been active on the issue of COVID-19 pandemic.

She was one of the first legislators to raise this important issue in the Assembly. "This government is not in a position to even supply free masks to corona patients. A mask priced at Rs 5 is being sold at Rs 30. Should a family of five wash them and use again? The government should think about the issue," she said almost a month before Telangana government made it mandatory for everyone to wear masks.  

Admired for her simplicity and dynamism, Seethakka had a different kind of exposure in life. She belongs to the Koya tribe which falls under Scheduled Tribe (ST) category. She had joined left-extremist movement at a young age when her qualification was tenth pass, and rose to become a Dalam Commander. According to people close to her, she had faced nearly six encounters with police while in underground and escaped death. After she surrendered, her life changed completely. Seethakka went on to complete law and practised in Warangal court as a lawyer. She also got involved in public service. She entered politics and won the elections twice as an MLA. In the last elections, despite a TRS wave in the state, she won comfortably. 

"People are scared and also not much aware of coronavirus. I tell them to wear masks and eat healthy and practise good hygiene standards. I have also told them about the symptoms to watch out for. My main aim is to build confidence in them," said Seethakka who is currently pursuing a Ph.D at Osmania University.