Kanshi Ram and his wife Sheila want to be with their three children in Jhansi. Early on Sunday morning, he packed his bag, walked over six kilometres to reach Anand Vihar bus stand when he heard buses were ferrying people to Uttar Pradesh. Along with thousands others, he waited in chaos to catch a bus.
As lockdown entered day 5 of the 21-day lockdown, thousands continued to reach Anand Vihar in a hope to reach home. While majority of Delhi residents stayed indoors, daily wagers carrying their bags, mother's holding their children, aged trailing behind, continued to walk along the highways to leave the capital. Most of them had a similar tale to narrate. "We have been without work, and now food. Our local grocery shop owner has refused to extend credit. It's better to go home. There, at least, we will find some food," Kanshi Ram told THE WEEK.
ALSO READ: Centre asks states to seal borders, clamp down on migrant exodus
As pictures of the exodus, and congregation of thousands of migrants stranded at Anand Vihar, were aired through television, and circulated on social media, it sparked an outrage. The government's call for a lockdown went unheeded as thousands jostled with each other to get on to the buses.
On Sunday, the situation was slightly better managed. Police were present in huge numbers, and NDRF personnel were distributing food and managing the crowds. Paramilitary, too, kept guard. As Anand Vihar attracted attention, senior police and state administration officers were making rounds of the area to keep people moving.
Delhi Transport Corporation officials were arranging private buses to ferry the migrant workers to various places in Uttar Pradesh.
ALSO READ: Apologise for lockdown inconvenience: PM Modi in Mann ki Baat


"Today, we started private buses for people. We are only putting as many people as the number of seats. This is free service," Delhi transport official told THE WEEK.
The private petrol pump staff had arranged food for the people. Several good Samaritans, too, had reached the spot to distribute food, and water.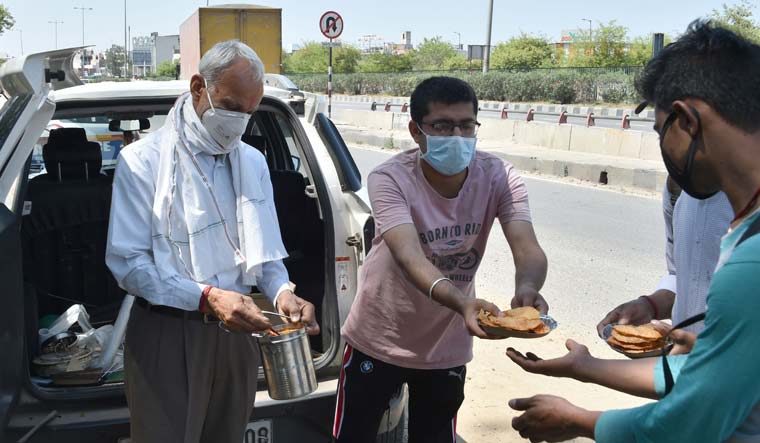 At several places before Anand Vihar, Delhi Police were stopping people and asking them to return.
Several people, unable to get to Anand Vihar, decided to walk along the railway track to enter Uttar Pradesh.
Vikas, 18, who worked as a painter in Delhi, said he has no choice but to go back home, in Kasganj. All other workers have gone back. "We were offered food only once. Rest of the days, there was no food."
Soon, the states were asked to stop all migrants wherever they were, and instead, arrange stay and food for them.
By Sunday afternoon, Anand Vihar was cleared.
There has been movement of migrant workers in some parts of the country. Directions were issued that district and state borders should be effectively sealed. States were directed to ensure there is no movement of people across cities or on highways, senior government officials said after a high-level meeting attended by cabinet secretary, state chief secretaries and DGPs.
The Delhi government also arranged shelters for the migrants at various places. Schools were being converted into shelters where food was also arranged to stop migrants from moving.
In a strict order, the Union government has asked all those who have moved, to be in quarantine for 14 days. There were reports that the UP government was checking all the buses which were reaching there from Delhi. Passengers were thermally checked and stamped. Now, efforts will be made to quarantine them.