This year's theme for the Met Gala 2019 was "Camp: Notes on Fashion".
Confused what 'Camp' means? You might want to check out our previous article, so that you are all caught up.
Nevertheless, here is a quick brief of what it means to be camp
It embraces over-the-top, extravagant styles, what Billy Porter calls "the art of being extra".
Camp is closely associated with Queer culture. Lena Waithe made it a point to state that drag queens invented Camp, in this year's Met Gala. Breaking gender stereotypes and transcending gender norms are important aspects of Camp fashion — Camp thrives on the subversion of norms.
However, even if it is neither of the above, styles that can be called ridiculous or outdated to the point of being entertaining are also considered Camp.

The invitees to the Met Gala 2019 clearly had no doubts about what it meant to be camp, and most decided to go all out anyway. Here is a list of those who did most justice to the theme.
1. Lady Gaga being full on Gaga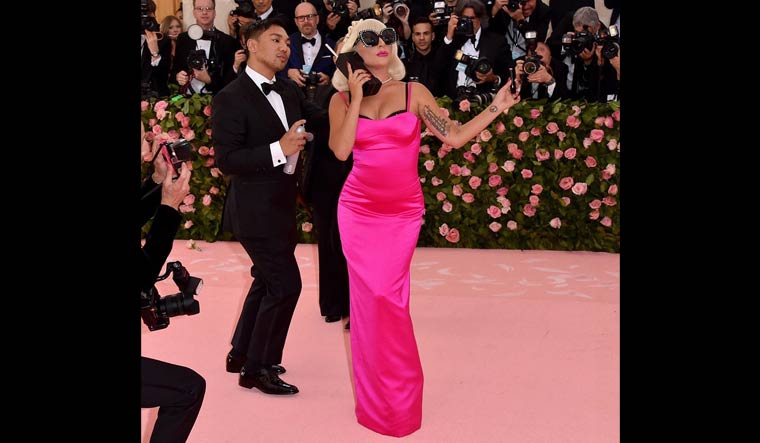 Nobody pulls off a show quite like Lady Gaga. Over-the-top is her go-to style. As anticipated, her pre-Met Gala dinner outfit was just a small hint of her upcoming fabulousness.
She did not just wear an outfit. She wore four outfits, one beneath the other like a Russian Matroska doll. She stole the show so well, it may as well be called Met Gaga.
She came in wearing a giant fuchsia ball gown by Brandon Maxwell which had a 25-foot train. Her gown alone was camp enough. But she went full Gaga.
Beneath her huge pink garment, she wore a classy black gown with an exaggerated side bustle. She accessorized it with an umbrella. She took her look from drag queen to funeral in a few minutes, dressing down on the pink carpet.
She then took her look from that of a funeral guest to something from a Barbie catalogue. She ditched the umbrella, and, along with a figure hugging fuchsia gown, she carried a 90s phone-shaped clutch. Remember "Telephone"? Each of her outfits denoted different parts of her career.
Her final look of the night was a black bralet, along with high waisted knickers embellished with Swarovski crystals. Her last look was shown off through a dance routine on the steps. She didn't just change into different outfits, she did it performing. A true performer, always.
2. Zendaya as Cinderella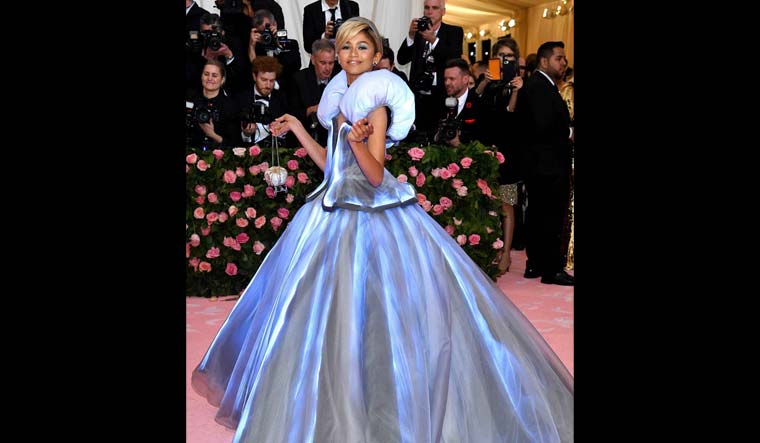 Zendaya made the night magical in the most literal way possible with a Cinderella-inspired outfit. She brought the beloved fairytale to life on the pink carpet, wearing a pale ashy grey gown with puffy sleeves. She delivered an impromptu performance for the cameras with Law Roach, who made her dress light up with a swish of his wand. If you still do not believe in magic, watch the video below.
3. Billy Porter as Sun God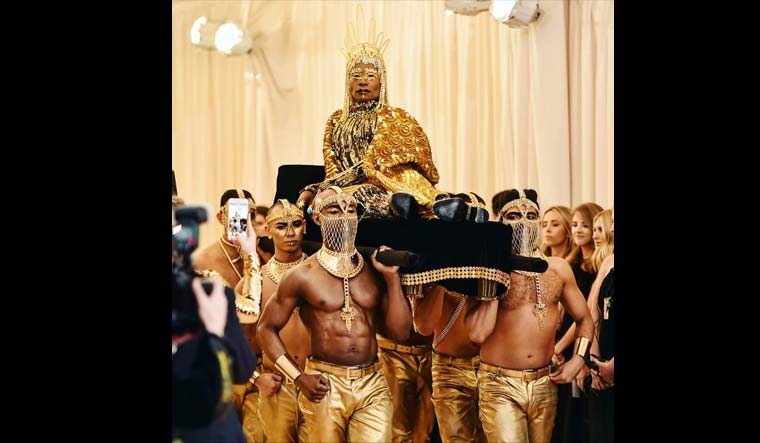 Behold, a God among men. Billy Porter has always been a fashion icon. For the 2019 Academy awards, he sported a stunning gown by Christian Siriano.
He entered the pink carpet in the grandest way possible — no competition, except for Gaga. He arrived on a litter carried by six gorgeously-attired men. His bejeweled catsuit came with 10-foot wings, a 24-karat gold headpiece, custom gold-leaf Giuseppe Zanotti shoes and fine jewels by Andreoli and Oscar Heyman. A vision in gold.
Well, why not? Nothing is too extra when it comes to camp fashion. Notice the eye-makeup of the carriers? Beauty with brawn.
4. Lupita Nyong'o as your unconventional Queen
Lupita Nyong'o has always rocked colourful outfits, Met Gala 2019 was no different. She came in a rainbow-themed Versace gown, with long upright rainbow ruffles along her shoulders and star prints on the dress. She accessorised it with a fan that matches her shoulder ruffles.
But none of that is the best part. Her towering afro demands your attention.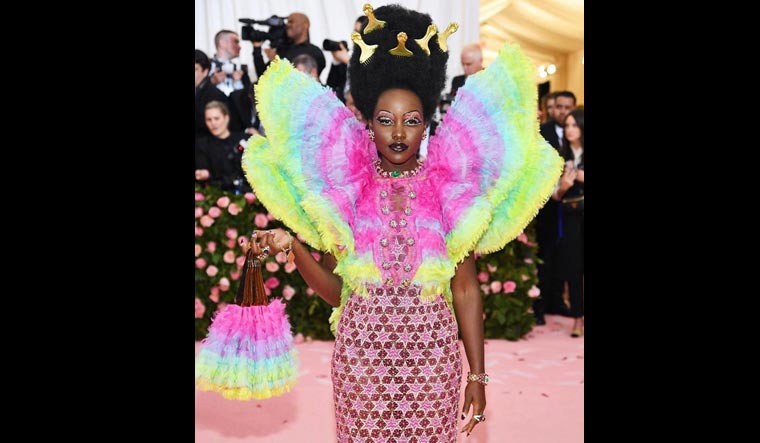 Lupita sported a stunning hairdo with gilded afro picks.
Afro hair has a long history of being considered ugly, improper, ridiculous and shameful. Even within the black community, women were made to straighten their afro hair to "look pretty".
Many work spaces do not allow afro hair.
If you take a close look at the gilded picks, you will notice they have raised fists as handles. The clenched fists stand for "Black Power". The hairdo was done by celebrity hairstylist Vernon Francois.
Lupita's hairdo was a conscious statement. Camp done right.
5. Michael Urie as a gender-bending sensation
The outfit is a Christian Siriano creation.
Before you read this, take a close look at him. Go on. This man just broke the gender binary.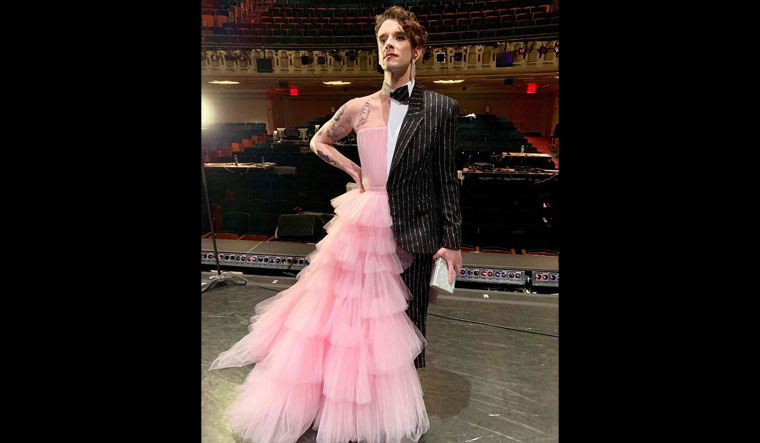 He wore a half pink tulle ball gown, a half pinstripe suit. As if that was not enough, the part of him in a dress showcased his tattooed arm and bearded face, and the part of him wearing the suit sported a clean shaved face with feminine makeup, long earrings. And he carried a baby pink clutch.
Just take a look at how he paired the footwear. His whole attire denotes the fluidity of gender, and how complex it really is.
The "Ugly Betty" actor is the fashion icon we deserve.
6. Zazie Beatz's unconventional wedding look
If Michael Urie's outfit was about blending the aspects of gender, Beatz was all about stressing its inherent duality.
Beatz was dressed in a traditional groom's attire at the front and a traditional bride's attire at the back.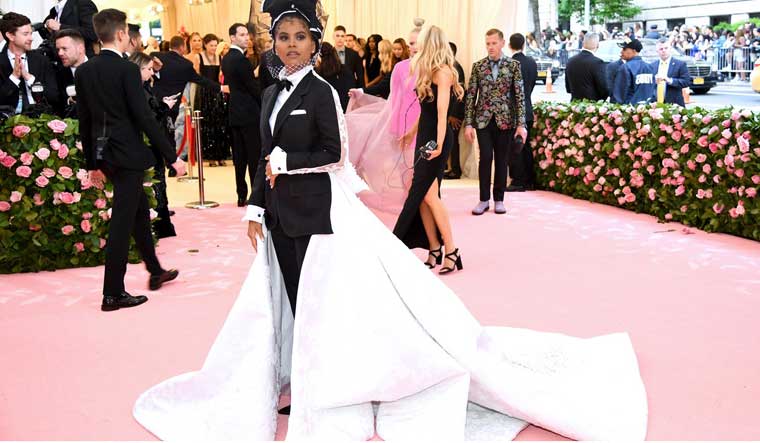 The outfit was designed by Thom Browne.
With this, Beatz puts masculinity and femininity in stark contrast to each other, in a wedding-inspired dress.
7. Janelle Monae as a Surrealist Painting
The singer-songwriter has been known to get campy on the red carpet. She certainly didn't disappoint on the pink carpet yesterday night.
She wore an outfit by New York designer and Project Runway judge, Christian Siriano, that made her into Surrealist painting.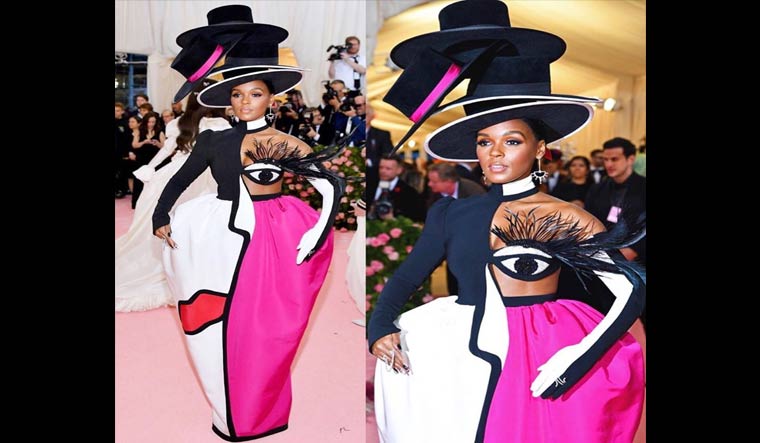 "I am camp. It's embedded in my DNA," she said hours before arriving on the pink carpet. She was right.
As a woman who came out as queer last year, her fashion has always expressed her gender fluidity. Remember her iconic "pussy pants" in her 'PYNK' music video? Exactly.
Monae has always been a fan of Picasso. She had stated that she wanted her outfit to highlight Picasso's African Period of the early 1900s, when he made fragmented paintings inspired by tribal masks.
Clearly, the woman has taste, and it can be seen in her fashion.
On one side there is a red lip paired with the classic combination of a black top with a white flourish, and on the other, there is a robotic eye with dramatic eyelashes paired with a hot pink flourish.
The strategic pileup of the hats completes the outfit, arguably even defining the whole look.
8. Ezra Miller, the multi-eyed dandy
All eyes were on Miller's face at the pink carpet.
Miller tapped Vancouver-based makeup artist Mimi Choi for creating this campy illusion with multiple sets of eyes on his face. He held a handle attached face mask adding more camp to the already complex look.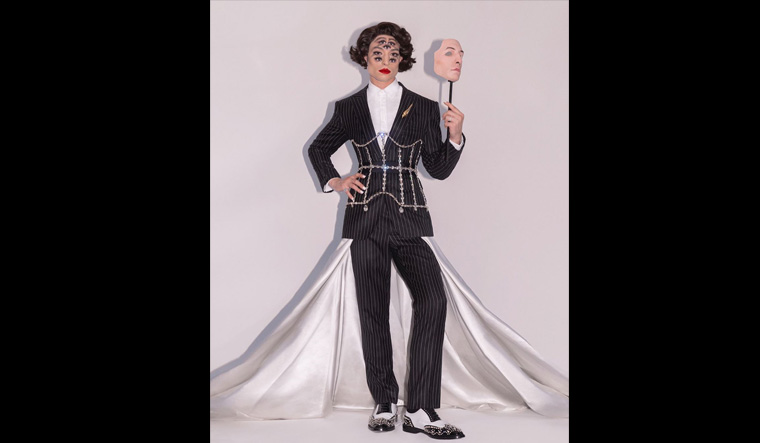 His red lipstick and bedazzled corset complemented his attire. His pinstriped suit with an exaggerated cape is a Burberry creation.
How can someone with half a dozen eyes on their face, still manage to look gorgeous? Apparently, if you are Ezra Miller, you can.
9. Jared Leto as…a lunatic?
The man arrived with his head held high... and another head held low.
We don't know what inspired his look. Maybe his Joker character actually got to him.
Last Met Gala, he came as Jesus Christ. This time he came adorned in a striking red Gucci gown embedded with jewels holding what looks like his own decapitated head.
Ever wanted to hold his beautiful face in your hands? Just ask him nicely. He will give it to you. Just be a decent person and return it back.
10. Cardi B as the "vajayjay"
Cardi B brought the red carpet to the pink carpet. She arrived wearing what looks like a fountain of blood. She defined her outfit as a "vajayjay". Thom Browne designed her fur-trimmed luxe gown, inspired by the female body (her outfit does resemble that time of the month).
The "little boobies" on the costume could pay your college tuition. It is tipped by rubies from Stefere jewellers, which as Cardi detailed, cost an eye-popping $250,000 (Rs 1,73,94,375) each.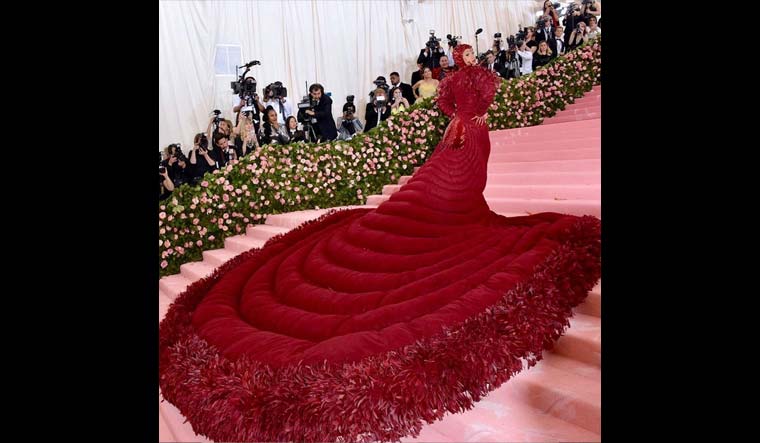 She highlighted how her front featured a "vajayjay" and her back looked "like, booty".
These celebrities very much paid justice to the theme of Camp. Honourable mentions include Lily Collins, Cara Delevingne, Ciara, Priyanka Chopra and Hamish Bowles. Met Gala is truly a night of wonders.