In today's blog, we have compiled a list of 50+ super cute, sassy, and girly Instagram captions. Whether you need a caption for your latest selfie or an inspirational quote to keep you motivated, this list will help you find the perfect words to share!
Cute Instagram Captions for Girls
- I'm the girl that can do both!
- Life is an adventure, make it a good one.
- You can't handle this level of cuteness.
- Friday night vibes ✨
- Sweet and sassy since birth.
- When in doubt, wear pink!
- Sparkle like nobody's watching.
- Shine bright like a diamond 💎
- Keep calm and be fabulous 🤍
- Pretty in pink and ready for anything.
Girly Instagram Captions
- Who runs the world? Girls 💪
- She believed she could, so she did.
- Remember that every moment is a new beginning.
- Always be independent and never underestimate your power.
- Life is too short to wear boring clothes.
- Today I choose joy - always!
- Inhale the future, exhale the past.
- Feeling beautiful, powerful, and feminine today 🦋
- Beautiful things don't ask for attention.
- A woman with a voice is by definition a strong woman. 👩‍❤️‍👩
Instagram Captions for Baddie Girls
- Bad girls club! 🔥
- Turn that frown upside down ✨
- I'm my own definition of beautiful.
- Always classy, never trashy, and a little bit sassy.
- She is sugar and spice and everything nice - with a dash of bad behavior.
- Better to be strong than pretty and useless.
- Live for today; plan for tomorrow; party tonight!
- Baddie alert 🚨
- Rules were meant to be broken! 😉
- A sassy girl knows her worth - always remember that!
Sassy Instagram Captions for Girls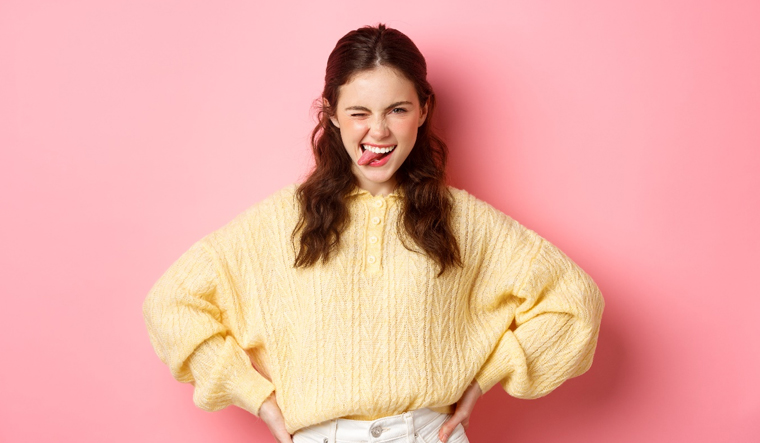 - Take me as I am or watch me as I go.
- I'm not gonna sugarcoat it - I'm not that sweet.
- Find someone who loves you as much as I love myself.
- No, my attitude hasn't changed - you're just seeing it for the first time.
- Keep rolling your eyes; maybe you'll find a brain back there.
- Don't worry, I've got enough sass for the both of us!
- Love me or hate me, either way, I'm gonna shine.
- Do more things that make you forget to check your phone.
- A wise girl knows her limits but a sassy girl will never accept them!
Instagram Captions to Empower Women
- Women are the real architects of society.
- I'm a strong cup of black coffee in a world that is drunk on the cheap wine of shallow love.
- Women should never be afraid to speak up and speak out.
- When women support each other, amazing things can happen!
- A woman is like a tea bag - you can't tell how strong she is until you put her in hot water.
- Give her two wings to fly, one is hope and one is faith.
- You have what it takes to be a victorious, independent woman.
- She was powerful not because she wasn't scared but because she went on so strongly despite the fear.
- The future belongs to those who believe in the power of their dreams.
Super Girly Instagram Captions
- Just a girl in love with glitter and sparkles.
- Life is too short to not wear cute shoes!
- Girls just wanna have sun ☀️
- Strong things come in small packages.
- Life isn't perfect, but my outfit is!
- I'm the kind of girl who can make anything look cute.
- She has fire in her soul and grace in her heart.
- No matter how you feel, get up, dress up, show up and never give up.
- A sprinkle of fairy dust and a whole lot of sass.
- Today I am choosing joy over sadness ✨
We hope this list gave you some inspiration for your next Instagram caption! Be sure to show yourself and other women some love - spread positivity and never forget how powerful, unique and beautiful each woman is! 💖
Looking for more captions? Checkout this list of 500+Best Instagram Captions to get more likes, views & followers!
Happy posting! 🤳🏽