On October 31, 2017, the UNESCO included Chennai in its Creative Cities Network—a group of 180 cities from 72 countries—for its "rich musical tradition". Soon this recognition was equated with Carnatic music and the December music festival, touted to be the largest music festival with more than 1,500 performances, spanning for six weeks.
Although Chennai houses different genres of music such as gaana—fast beat songs that originated in north Madras—Tamil rock, Tamil rap and film music, Carnatic music and the December music festival often cast a shadow on these other music genres. The Urur Olcott Kuppam Vizha (UOKV), an art festival started four years ago by Carnatic musician and Ramon Magsaysay award winner T.M. Krishna and environmentalist Nityanand Jayaraman, attempts to bridge this gap.
It all started when T.M. Krishna stepped into Nityanand's office for the first time and shared his concern regarding "Carnatic music becoming elitist and being stuck in certain spaces which only certain audiences can access". According to Nityanand, this "ghettoisation" of Carnatic music has deprived artists of reaching out to new audiences and also prevents music from carrying out what it is expected of it—building bridges across society.
"It was just a thought of what will happen if we do a vizha [festival] in a different context," said Krishna. "That is when I met Nityanand Jayaraman and Saravanan from Urur [where the vizha happens]. We came up with the idea of creating a space where people from different walks of life, from different sections of the society and with different cultural backgrounds can come to a fishing village in Chennai, where they can witness various art forms in an equalising space."
It was Saravanan who first suggested the idea to host different art forms on one stage. And this simple idea, according to Krishna changed the context of art. Today, the vizha has grown into a multi-genre festival with mixed audiences. Every year, as part of the run-up to the vizha, T.M. Krishna sings in front of a varied audience at the Eliot's beach. And this year, Koothu—Tamil street theatre—was performed in a sabha which usually hosts Carnatic concerts, where audiences are predominantly upper class and upper caste.
By reversing the venue, the UOKV has questioned the tag of "classical" and "folk" often associated with these art forms. "Urur Olcott Kuppam Vizha is an initiative that breaks class boundaries both in terms of space and art," said A.R. Venkatachalapathy, professor, Madras Institute of Development Studies, Chennai. "Historically there has always been interaction between various art forms. This vizha provides a contemporary opportunity and the space to continue this interaction. Art cannot be exclusively cloistered within walls. Art has to be public as well."
"Performing in front of a varied audience is artistically more rewarding," said singer and rapper Sofia Ashraf, famous for her viral single Kodaikanal Won't. Ashraf who performed in the sabha [Raga Sudha hall] in Chennai, with her band Mallipoo & The Alwas, as part of the lead up to the main vizha. "As musicians, our primary goal is to make music reach different kinds of audiences. Performing for certain audiences not just affects the artist, it also restricts audiences to just one kind of music."
To unshackle art forms from their defined performance space, the UOKV aims in reclaiming public spaces. "After first two years the vizha became an idea," said T.M. Krishna. "It is not bound to a geographical location. The next thought was why not take it to other places in the city, public spaces, where all kind of people will come. The moment we change the location of an art form, everything changes—the art form changes, the artist changes, the audience changes and the experience changes. The most fascinating thing about being in a bus or railway station is you are completely vulnerable, which means you are opening up yourself to the art, and audience are free while experiencing it."
Last year, a government bus was converted into a "musical caravan" which hosted various performances ranging from Carnatic music, devotional songs to Tamil rap. For this year's event, Bharatanatyam was performed at the Chennai Central railway station.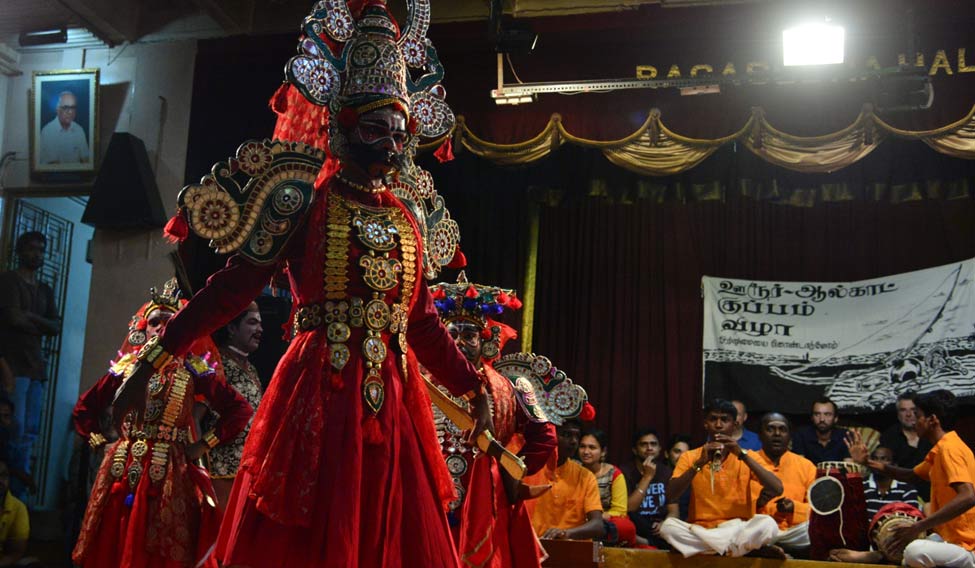 The main vizha happens in the Urur Olcott Kuppam, a centuries-old fishing village in south Chennai. According to R. Sundaramurthy, head of Urur-Olcott kuppam panchayat, the once flourishing village is now restricted to few kilometres because of the expansion of urban space. With the creation of Besant Nagar in the 1970s—now an affluent residential area in Chennai—and the burgeoning cafes, restaurants and business outlets, the village was further sidelined and soon people ignored the existence of the village. "The vizha has helped in putting the village back on the map," said Sundaramurthy. "It has also been instrumental in breaking the stereotypes associated with our village," he added.
Said T.M. Krishna: "The village is very important, it's not just a host. There is a misconception that keeps brewing that they are just a host. They are curators, it is their festival." The vizha, in the process of blurring the boundaries within different art forms, has also made way for conversations between people from different communities, sociocultural and economic backgrounds, who otherwise have no means to converse with each other.
The village has been facing the problem of choked and overflowing drainage for many years now, due to the lack of an underground drainage connection. "In Besant Nagar, underground sewage lines were laid out by the authorities even before the people came to reside there," said Nityanand. Last year, a retired bureaucrat came to the vizha and the people approached her for help in constructing an underground drainage connection; she referred them to the officials at Chennai Water Supply and Sewerage Board who soon acted on it. "The amount for underground sewage connection has been sanctioned," said Sundaramurthy. "The work will commence after this year's vizha."
ALSO READ: You have to politicise art, says T.M. Krishna
Media and popular narrative often make the mistake of portraying the vizha as an effort by T.M. Krishna to take Carnatic music to slum children. "To us, Carnatic music is just another art form," said Saravanan, a volunteer from Urur village. "The vizha is an opportunity for us to invite others to our village which has been stereotyped and neglected for years and gives us the chance to show our culture and way of life. And the vizha is not about just any one person, it is a combined effort of all the volunteers and people of the village."
On February 10, on the day of the main vizha, the children of Urur Olcott Kuppam enacted a drama titled Thaadakai an adaptation of the Malayalam poem Thadaka Enna Dravida Rajakumari by Vayalar Ramavarma, in which Thadaka is described as a beautiful Dravidian princess rather than a demoness, and how Lord Ram falls in love with her. Through the performance, the kids conveyed how popular narrative and history often silence the voice of some and how their stories are never told. Even if told, they are gravely misrepresented.
The Urur Olcott Kuppam Vizha has provided the village an opportunity to narrate their story and has provided a stage for all art to come together, to set history right.