Bhavesh Bhatia is allergic to sympathy. "Let's not give sympathy but opportunity," reads the motto on his visiting card. "I hate the word," he says.
Bhatia, 46, is blind. Macular degeneration set in early in his childhood, and gradually took away his sight.
In school, as his eyesight started fading, he yearned for sympathy. He wept, not able to take the bullying. He often got into fights; he smacked the ones who mocked him.
"Unlike my sight, my arms were strong," quips Bhatia, CEO of Sunrise Candles, which has an annual turnover of about Rs 20 crore, in Mahabaleshwar, Maharashtra. However, one day, unable to bear the trauma, he threw his schoolbag and called it quits.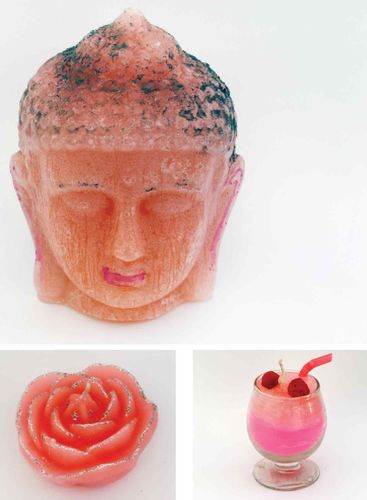 "I was dejected, but my mother comforted me," he says, with his palms on his chest. "She told me to extend the hand of friendship to the boys who mocked or bullied me. It worked! Some of them are still my friends. She told me to never think negatively. And, that philosophy has guided me to date."
Bhatia, whose ancestral roots lie in Gandhiji's land, says there should be a fourth 'wise monkey' in the pictorial maxim—one which does not think bad things or negatively. Perhaps, that is why he named his son, who is studying engineering in Chennai, Kunal, which means 'one who sees beauty in everything'.
"Nothing is impossible," says Bhatia, who is a big Osho fan. He had proven that nothing is impossible to himself and the world at 17, when he cycled, along with two sighted friends, all the way to Kathmandu, covering 5,620km in 45 days.
"That expedition gave me immense confidence," he says, thumping his fist on the sofa's armrest. "I also learnt the importance of embracing fellow humans through the warmth we received from various stops on our way. Some people took us home and offered food, a chemist gave glucose packets, a roadside vendor offered free fruits.... It was an amazing experience."
Bhatia struggled his way up and completed his postgraduation in economics. He soon got a job as a telephone operator/desk manager at a three-star hotel.
But, tragedy struck again. His mother was diagnosed with cancer. His father, who worked as an accountant with a private company and is now a social worker, spent his entire savings on treatment. She, however, lost the battle.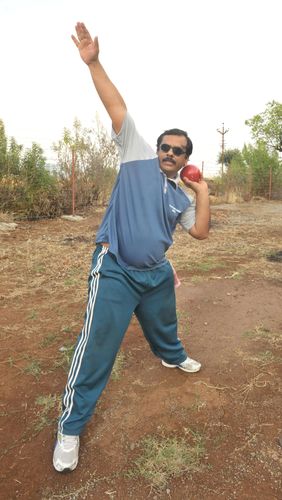 It was a double blow for Bhatia, who was in his early twenties then. "That was the time I became 100 per cent blind," he recalls. "Losing my mother left me in complete darkness."
Battling depression, Bhatia, who had quit his job, left for Mumbai in 1994. There, he learnt candle-making at workshops conducted by the National Association for the Blind. "I always liked moulding things," he says.
He returned to Mahabaleshwar and started making candles. He hired a pushcart on daily rent and sold his products near the Holy Cross Church.
Every night, Bhatia converted five kilos of wax into candles. Today, his Sunrise Candles factory processes about 25 tonnes of wax a year. It employs about 330 "visually impaired friends", who earn Rs 8,000 to Rs 40,000 a month.
And that growth has a beautiful love story behind it. "If I do not mention my wife at this juncture, she might not serve me rotis tonight," says Bhatia, who won the president's medal for the best self-employed blind person in 2014.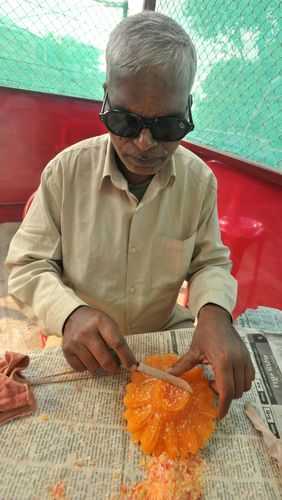 His wife, Neeta, suppresses laughter and serves us fresh strawberries. (Mahabaleshwar produces about 80 per cent of India's strawberries.)
I comment that Bhatia's way of talking is sweeter than the strawberry. "That was one of the reasons I fell in love with him," she says, dropping her guard. "I love the way he cooks, too."
Bhatia gushes: "South Indian, north Indian, Chinese... you name it, you got it! I used to help my mother with her daily chores, including cooking. That's how I became an expert (laughs)."
Neeta's favourite preparation? "He makes real yummy noodles," she says.
Neeta, who hails from a well-off Gujarati family in Mumbai, met Bhatia while holidaying in Mahabaleshwar with her parents. She struck up a conversation with him as she bought candles. He waxed lyrical, and she was enamoured.
"I was interested in social work, but my feelings were not driven by sympathy," says Neeta. "It was a call that came from deep inside."
Her family blasted the idea. Bhatia himself tried to convince her that it could be just a momentary fascination. Neeta, however, was resolute.
Eventually, her parents asked her to wait for a year and then take a decision. "Our love only grew stronger," says Bhatia, who used to write romantic poems to her. "I realised that even I was madly in love with her when my friends pulled my leg over my frequent trips to Mumbai for purchasing raw material. The monthly trips became a weekly affair!"
After their marriage in 1996, the couple raised funds by selling "all her gold" and taking bank loans, and set up Sunrise Candles. Today, the company counts Reliance Industries, Big Bazaar and Ranbaxy among its clients. It also exports products to 65 countries.
"We have about 9,700 designs," says Bhatia, as he takes me through his home-cum-factory. The designs include the Buddha, Sachin Tendulkar, bikini-clad models, flowers, teddy bears, beer mugs and strawberry milkshake.
The factory has neat dormitories for his visually impaired friends who work at the factory. "Currently, there are 40 females and 47 males at the hostels," says Bhatia. About 250 people work from their homes, too. Including marketing agents across India, Sunrise Candles has a network of about 1,850 visually impaired people.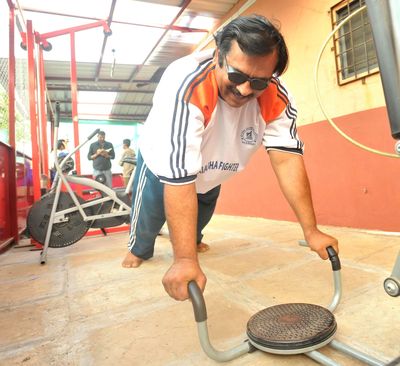 "Bhatia is like a candle, which burns out to spread light to others," says Lakshman Thupsunder, 55, who works at the factory. Despite postgraduate degrees in history and politics, he could not find a good job, as "faulty treatment" had left him blind. "Today, I am standing on my own feet because of Bhatia," he says.
People of Mahabaleshwar say Bhatia's passion and compassion are what define him. "I first met him ten years ago at his roadside stall," says Sachin Vaid, who owns Anand Van Bhuvan resort in Mahabaleshwar. "I was so impressed by Bhatia's creativity that I set up a small counter to promote his products at my resort. He is extremely humble, and, though he is in darkness, he spreads light with his attitude."
Attitude is everything, says Bhatia, as he shows the gym at his home. "Many people's hearts are blind, mine is not," he says. "My mother always told me, 'Do not be sad that you cannot see the world; do things in such a way that makes the world sit up and look at you.'"
It is with this attitude that Bhatia won over 100 medals—including national golds—in shot-put, discus throw and the javelin throw. He also represented India at the London Paralympics.
Guess who his favourite coach is? "Neeta helps me train," says Bhatia. "Since 2007, every day I run 8km holding a 12ft nylon rope fastened to our car, which she drives. And I get my dinner—see, again, it is a question of rotis—only if I complete 500 push-ups!"
What's his next mission? "Mount Everest—I will do it next year," he says. "Besides that, I am working towards setting up an old-age home for the blind and an eye hospital for the needy."
Bhatia also wants to publish a compilation of his poems. "I have written about 2,500 poems," he says.
Sample one of his favourite lines:
Never tell your destination where the hurdles are; but certainly tell your hurdles where the destination is.